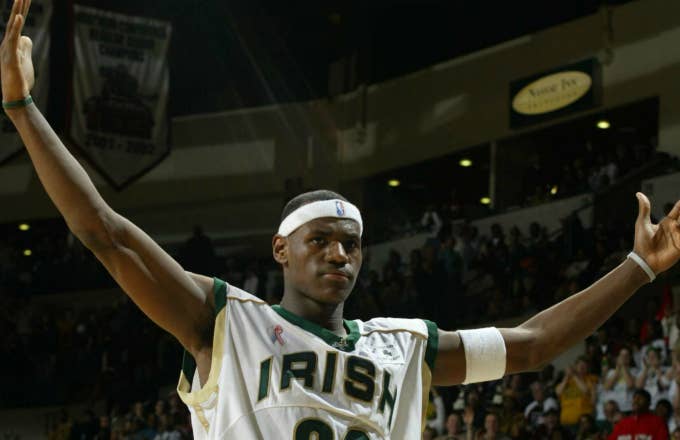 The legend of high school LeBron James will be told for years to come. Although much of his dominance was televised for the world to see, Bron blossomed in the pre-social media era, which means there is still a stockpile of stories that have not been shared with the public. Metta World Peace added to the folklore by recounted a story of a young, high school LeBron giving him and other NBA stars buckets.
During an appearance on the Knuckleheads podcast with Quentin Richardson and Darius Miles, World Peace recalled playing pick-up against LeBron, when he was just a sophomore at St. Vincent-St. Mary's. He also shared the drastic measures he had to take in order to guard him. "I gave him a forearm on a fast break," World Peace said at the episode's 19:32-minute mark. "He was coming. He was cooking. Nobody could guard him. LeBron James. They couldn't guard him. I'm like, 'he's embarrassing us.' He coming down the court full speed... I lay him on the floor. He get up and start cooking more."
World Peace also discussed that time he broke Michael Jordan's ribs during a 2001 pick-up game. 
"I was sad for two days," he said at the interview's 20-minute mark. "I was in my house. I lived in downtown Chicago and I couldn't get out the bed thinking about Mike, right. And he heard about this because I was talking to my agent... And then Mike called me, yo... He said, 'Hey, man don't worry about. It's alright, man. It happens.'"