Kevin Garnett Says Celtics 'Broke' LeBron James, Forcing His Move to Miami
Garnett held nothing back during his recent appearance on 'The Bill Simmons Podcast.'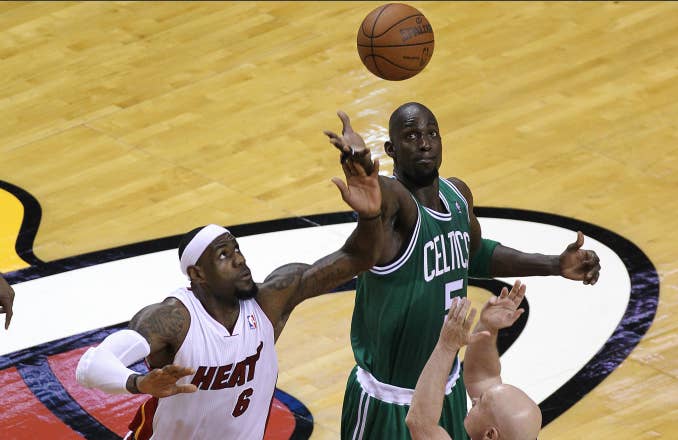 Getty
Image via Getty/Barry Chin/The Boston Globe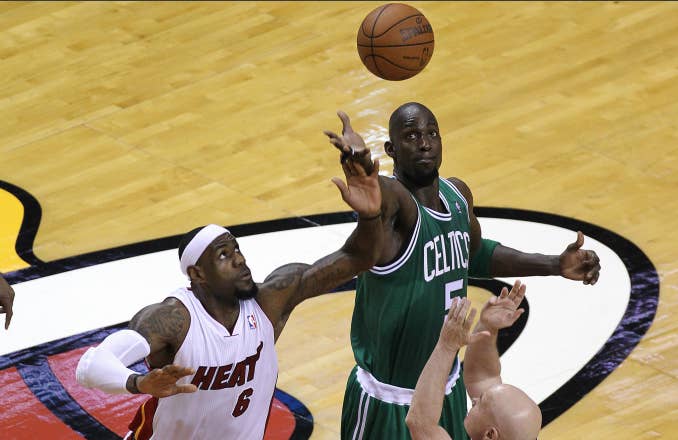 The rivalry between LeBron James and the Boston Celtics began during his first stint with Cleveland and extended through his early years with Miami. It came to a head during the 2012 Eastern Conference Finals, when LeBron willed the Heat past Boston in a seven-game series. Despite being nearly ten years removed, the loss seems to still sting Kevin Garnett. 
During a recent appearance on The Bill Simmons Podcast, Garnett told Simmons that the Heat only won because the NBA wanted them to win. "The league knew they had an agenda in which we wasn't a part of the agenda," KG said. "That's how they ended up winning that series. Yeah, I said it." 
Garnett also said the 2008 Celtics "broke" James, forcing his move to the Heat because he was afraid of the Celtics. "We broke LeBron…you understand how he got to Miami?" Garnett said of his team's dominance over LeBron's Cavaliers.
"The Cs, we didn't give a fuck about LeBron. We didn't fear LeBron and we didn't think that he could beat all five of us. And that's how it felt. He was trying to consolidate because he didn't want the pressure on him."
Garnett appeared on the pod alongside Adam Sandler, his co-star in the upcoming crime thriller, Uncut Gems. The film is set during the second round of the 2012 postseason and opens in theaters nationwide on Christmas day.