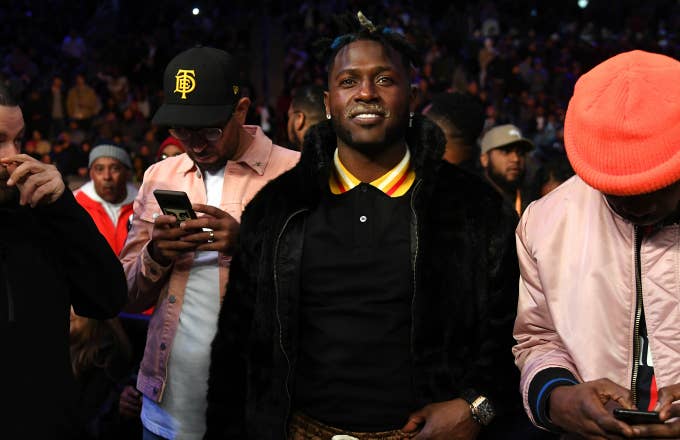 Since requesting a trade from the Pittsburgh Steelers, Antonio Brown has attempted to personify the phrase "know your worth." He took it a step further during an interview with ESPN, where he claimed to play the sport of football out of love and not necessity. 
"I don't even have to play football if I don't want," the wide receiver told ESPN. "I don't even need the game. I don't need to prove nothing to anyone."
Although this comes off as somewhat of a bold sentiment, Brown's accolades have made him a future Hall of Fame candidate. Since being picked in the sixth round of the 2010 draft, AB has led the NFL in receiving yards and receptions on multiple occasions while grabbing the most receiving touchdowns in 2018. He's also a seven-time Pro Bowler and five-time All-Pro honors in less than a decade.
Brown also appeard on the latest episode of LeBron James' HBO show, The Shop. While talking about his plans after professional sports, Brown claimed that many NFL legends do not put themselves in the position to be successful post-retirement the way NBA icons do.
"Most NFL guys'll do whatever," Brown explained. "I don't think they set themselves up for the career after, if you look at all the greats...what are they doing now?"
Brown hasn't gone into detail about his post-NFL plans, but for now, he's made it clear that if he's going to play in the NFL, it will be on his terms.
"If they wanna play, they going to play by my rules. If not, I don't need to play," Brown said to ESPN. "Obviously, I want the game, but I don't need the game. It's a difference."