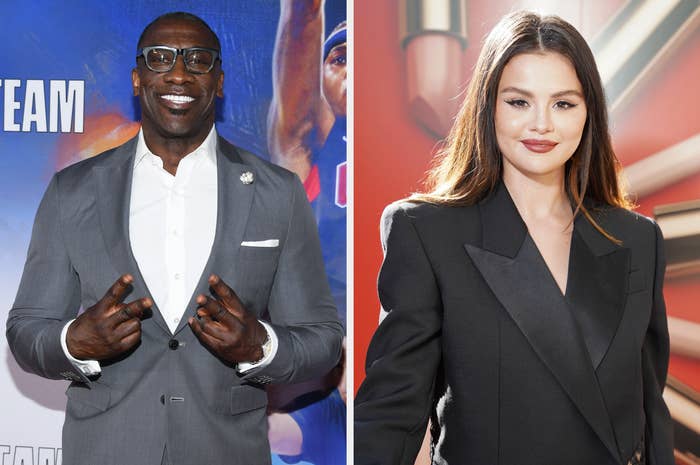 There is definitely a celebrity hierarchy in Hollywood—and Shannon Sharpe experienced it firsthand.
On Monday night after his dinner, the Hall of Famer and Super Bowl champion was standing outside Giorgio Baldi, speaking with paparazzi about the FIBA World Cup, when Selena Gomez exited the restaurant. Per TMZ, Sharpe's conversation with a cameraman was immediately put on hold as they captured the actress/singer walking to her car.
In a clip, someone can be heard saying, "Hold up, one second," while Sharpe was mid-thought.
The cameraman apologized when he returns to Sharpe, to which the 55-year-old says, "Nah, bro, you good." The pair continued their conversation about Team USA's performance at the World Cup.
Sharpe caught a tweet by a user who wrote, "Why the paparazzi play Shannon Sharpe like that 🥲 We understand it's Selena Gomez and all but that's UNC! Put some respect on @ShannonSharpe!"
The commentator's candid response in a quote-tweet? "Had I realized it was her. I ABSOLUTELY would've asked her 4 a pic. 🤣🤣🤣."
In a subsequent quote-tweet he added, "I bet IF* I'm ever in the same place as she is again. I'll get a photo. Walk right up and say, excuse me. Would you mind taking a photo with me.
Perhaps more eyes are on Selena Gomez following the arrival of the latest season of Hulu's Only Murders in the Building. Now in its third year, the original star-studded cast—which featured Gomez, Steve Martin, and Martin Short—has gotten even glitzier with the addition of Paul Rudd and Meryl Streep. Gomez also released the song "Single Soon" in August.
And for Sharpe's part, he's gearing up to appear on ESPN's First Take with Stephen A. Smith every Monday and Tuesday during the NFL season.