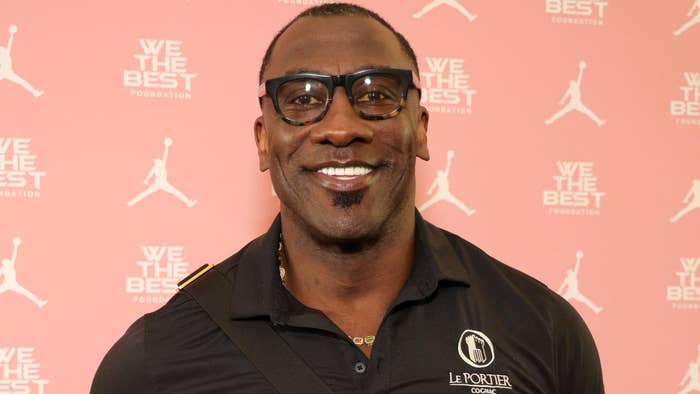 On the latest Stephen A. Smith Show, the First Take fixture told fans "we all know [Sharpe joining is] something that I want" and said he'd "be a tremendous asset to the show."
"It'd be great to have him. Here's the issue: we don't. … It's a bit premature," Smith said, as seen below. He continued, "It has not happened yet. I'm still confident it'll happen, I still believe it will happen, I think it needs to happen—and I have no doubt that I'm gonna exhaust any means that I have available to me to make it happen."
Before he and Skip Bayless launched FS1's Undisputed in 2016, Sharpe made guest appearances on First Take during its time on ESPN2. After parting ways with the network, Skip and former FS1 boss Jamie Horowitz believed the NFL Hall of Famer was the right person to join them on this new venture, based on previous experiences.
"The opportunity that you gave me to become what I became, I'm forever indebted to you," Sharpe told Bayless in his final episode in June. "I'll never forget what you did for me. You've helped me grow more than you'll ever know."
Their relationship publicly appeared to worsen over the last few months. Sharpe intentionally missed an episode of Undisputed the morning after Buffalo Bills assistant athletic trainer performed life-saving CPR on Damar Hamlin on the field after he suffered from commotio cordis.
When Sharpe returned, he made it clear that his absence was due to disagreeing with a tweet from Skip questioning why the NFL would not continue the game given the potential playoff implications.
In December 2022, Sharpe became visibly upset when Bayless took a swipe at the eight-time Pro Bowler's career while defending Tom Brady. "This is just straight hate by a guy who's jealous that he's still playing at a high level at 45 when you had to stop at 35," Skip said, as transcribed by Mediaite.
"That's what you do, every time I call something into question, I'm jealous," Sharpe fired back. "Skip, I did what I did. You make it seem like I was a bum! I'm in the effing Hall of Fame! I got three Super Bowls!"