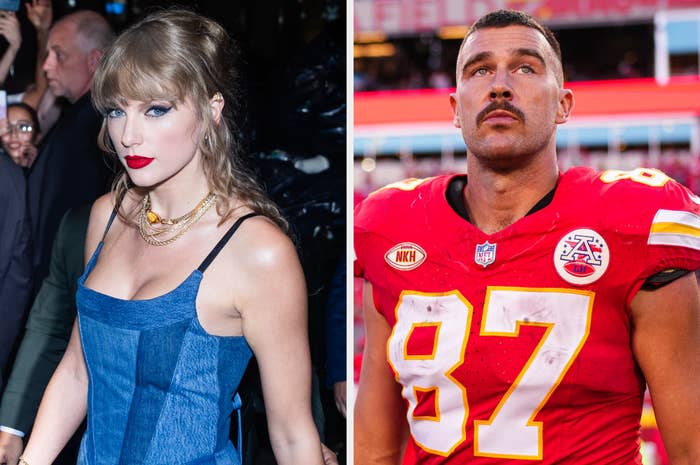 An Oklahoma couple's Halloween costume predicted Taylor Swift and Travis Kelce's eventual rumored relationship.
Back in 2020, Makayla and Nick Stephens dressed up as the two celebrities for the spooky holiday, and now, the Instagram photo has gone viral.
"I don't know any world in which Taylor Swift + Travis Kelce would be in the same room together, but apparently in this one they're married?" she wrote in the post.
In the image, Makayla wore a pink top, white jeans, and a pink heard around her eye as a reference to Swift's Lover album cover, while Nick donned Kelce's Kansas City Chiefs jersey and black paint under his eyes.
Following the news of Swift and Kelce's apparent budding romance, Makalya revisited the moment in a TikTok video. She revealed that she and her husband threw the costumes together at the last minute for her in-laws' Halloween party.
"My husband has always been a huge Kansas City Chiefs fan," she said, "I have always been a huge Taylor Swift fan."
"I'll be Taylor Swift since I have things that I can make work for Lover," she remembers telling Nick. The memory resurfaced when she was scrolling through TikTok and a suggested costume idea was Swift and Kelce.
"I was like, 'Oh my God. I've already done this,'" Makalya added. "Long story short, I'm not saying I manifested their supposed, alleged relationship—or situationship if you want to call it that. But, I am saying that… I did the Halloween costume first."
Following the couple's viral moment, they attended the Chiefs' game against the New York Jets at Metlife Stadium in New Jersey, sporting their 2020 Halloween costumes. Swift was also in attendance to watch Kelce play.