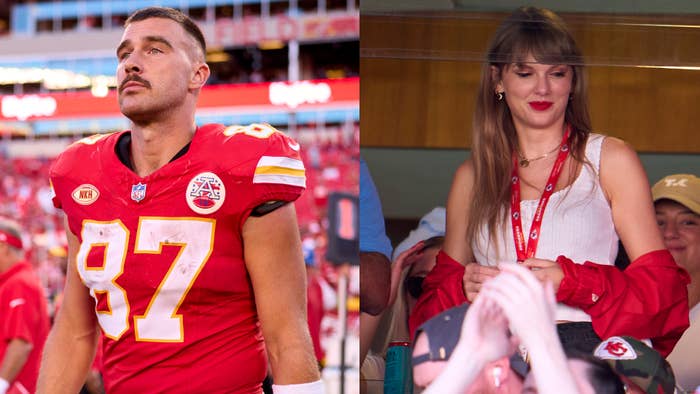 Travis Kelce says Taylor Swift was "ballsy" to show up at a recent Chiefs game to cheer him on, thus spurring a slew of headlines that remain in progress at this very moment.
During a recent New Heights discussion, Kelce, as expected, was asked to say what he could about the current Swiftuation. After pointing out that he's noticed "paparazzi outside my house" and "shit like that" as of late, he was quick to praise Swift for her much-discussed appearance at the game against the Bears.
"Shoutout to Taylor for pulling up. That was pretty ballsy," Kelce said around 33 minutes into the video below. "I just thought was awesome how everybody in the suite had nothing but great things to say about her, you know, the friends and family. She looked amazing and everybody was talking about her in a great light. And on top of that, you know, the day went perfect for Chiefs fans of course. We script it all, ladies and gentlemen."
From there, Kelce enjoyed a hearty laugh when asked how it felt to be "finally" put on the map by Swift. He also shared his thoughts on how it felt to see the level of excitement in the stands, as well as in the suite.
"That shit was absolutely hysterical," he said. "It was definitely a game I'll remember, that's for damn sure. And then we just slid off in the getaway car at the end. Took my Chevelle to the game."
Kelce also addressed the uptick in jersey sales, stating that it "sounds like the Swifties are also part of Chiefs Kingdom" now. But as for specifics regarding dating rumors, Kelce graciously declined to provide such info.
"I know I brought all this attention to me, right? I'm the one that did the whole friendship bracelet thing and told everybody how butthurt I was that I didn't get to meet Taylor," he said. "So yeah, I think what's real is that it is my personal life and i wanna respect both of our lives. She's not in the media as much as I am doing this show every single week."
A superfun side effect of the Travis/Taylor coverage has been watching some of the more footballian among us absolutely lose their minds to see Kelce being referred to in this context, particularly when it comes to assertions that he was not a widely known figure prior to getting The Swift Bump. The irony, of course, is that many of those pissed off about this part of the media chatter would gladly do the same if the situation were flipped.
Next up in the Swiftiverse is the theatrical expansion of her wildly successful Eras Tour, which is being given the cinematic experience starting in October. Advance ticket sales for the screenings have been downright astronomical, at one point even being linked to the release date shuffling of a new Meg Ryan film.
Also on the horizon is the Taylor's Version rework of 1989, also due next month.