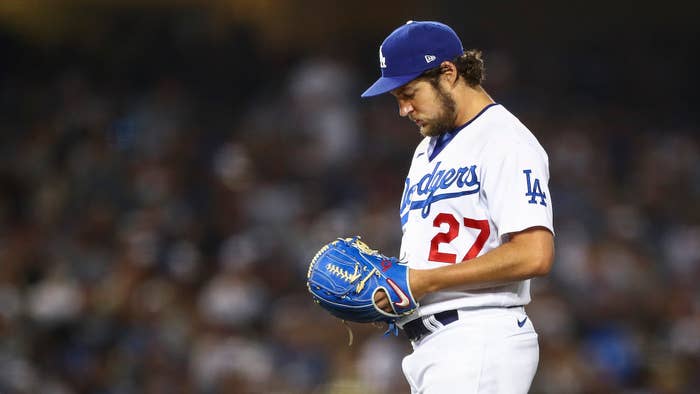 EDITOR'S NOTE: this story has been amended to accurately depict temporary ex parte restraining order and claims made against Trevor Bauer.
Major League Baseball has hit Trevor Bauer with a lengthy suspension over sexual assault allegations.
According to Yahoo! Sports, league commissioner Robert D. Manfred Jr. announced the decision Friday, following a thorough investigation that determined the Dodgers pitcher had violated the MLB's joint domestic violence, sexual assault, and child abuse policy. Bauer's suspension will span 324 games (two full seasons) and will not include pay.
The Los Angeles Dodgers pitcher responded to the news in a Friday tweet, in which he reiterated his innocence as well as his intention to appeal the league's decision. 
"In the strongest possible terms, I deny committing any violation of the league's domestic violence & sexual assault policy," he wrote. "I am appealing this action and expect to prevail. As we have throughout this process, my representatives & I respect the confidentiality of the proceedings."
In June 2021, California law enforcement confirmed Bauer was the subject of an assault investigation. The alleged victim claimed the 31-year-old athlete had assaulted her on two separate occasions earlier that year. 
The woman was previously granted a temporary ex parte restraining order against the pitcher. It was later dissolved after she was denied a permanent restraining order, with Judge Dianna Gould-Saltman describing it as "materially misleading" and saying the woman "was not ambiguous about wanting rough sex in the parties' first encounter, and wanting rougher sex in the second encounter" in her communications with Bauer. The woman had claimed that Bauer wrapped her hair around her neck and choked her until she "lost consciousness," and also repeatedly punched her in the head. Messages between Bauer and the woman included her saying "it was a 'game changer' when she was choked out," and that she'd "never been more turned on in my life," according to his attorney Shawn Holley.
"If she set limits and he exceeded them, this case would've been clear. But she set limits without considering all the consequences, and respondent did not exceed limits that the petitioner set," Gould-Saltman said, adding, "We consider in a sexual encounter that when a woman says no she should be believed. So what should we do when she says 'yes'?"
"I had consensual sex with this woman on two occasions at my residence in Pasadena, during which we engaged in rough sex," Bauer wrote in a statement last year. "This is something that she brought up, we discussed together, and both agreed to engage in. We established rules and boundaries and I followed them. On both occasions, she consented beforehand when we established those boundaries. She also repeatedly consented during sex, when I asked her multiple times if she was enjoying herself and if she wanted to continue. In fact, she continued to direct me as to what she wanted in no uncertain terms."
MLB placed Bauer on leave pending the outcome of the Pasadena Police Department's probe. In February of this year, the Los Angeles County District Attorney announced they would not pursue criminal charges against Bauer because there was a lack of evidence.
Bauer filed a defamation lawsuit against his accuser last month.