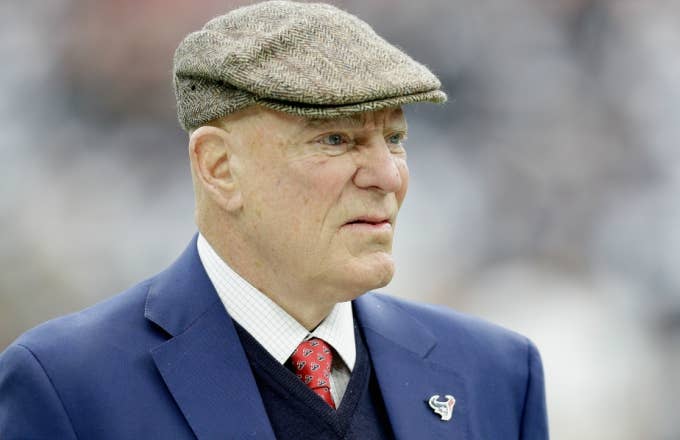 In early October, a group of NFL owners hand-selected by NFL Commissioner Roger Goodell and a handful of NFL players met in New York City to talk about the protests that have been happening during the national anthem before games this season. Those protests—which were obviously kickstarted by Colin Kaepernick last season—have created a shitstorm for the NFL and forced them to deal with angry fans and sponsors, and all indications are that they're starting to have an effect on the NFL's ratings and, more importantly, their bottom line. So the purpose of the meeting was to have NFL owners and players discuss the protests and talk about how to handle them moving forward.
According to a new ESPN The Magazine piece by Seth Wickersham and Don Van Natta Jr., that meeting actually went better than expected. While there were, naturally, some tense moments as the NFL owners and players discussed the real issues at hand, it sounds like both sides were cordial and actually listened to one another, which could, in theory, bode well for the future of the league.
However, it doesn't sound like subsequent meetings featuring just the NFL owners went quite as well. Those meetings featured all of the NFL owners—including Jerry Jones, who was purposely left off the guest list for the first meeting due to some statements he's made about the protests—and while they went fine on the first day with the owners listening to Goodell talk about what was discussed with the players, the second day was a different story. Jones reportedly pushed for the owners to act with a sense of urgency as far as forcing players to stand for the national anthem moving forward, and some in the room agreed with him. Redskins owner Daniel Snyder, for example, reportedly said that Jones "gets it."
One other owner who agreed with Jones' take on the situation was Texans owner Bob McNair. And McNair, who, as ESPN pointed out, is a Donald Trump supporter and campaign contributor, went as far as to make an incredibly cringeworthy comment with regards to the protests. While talking to his colleagues, he said, "We can't have the inmates running the prison," in reference to the players kneeling during the anthem against the wishes of the owners.
That comment apparently left many people in the room "stunned." None more so than NFL executive Troy Vincent who took issue with McNair's characterization of the players as "inmates." He told the owners that he had been called many things throughout the course of his NFL career, including the n-word, but he said he'd never been referred to as an "inmate." That led to a heated back-and-forth exchange between Vincent and Jones.
According to ESPN, McNair did apologize to Vincent for his extremely poor choice of words. He told Vincent he didn't mean for them to be taken literally, and Vincent reportedly "appreciated" him going out of his way to track him down to make an apology. McNair also released a statement on Friday after his words went viral.
But if you read the ESPN piece, you'll see how that moment led to things taking a dramatic turn and made the room even tenser than it already was as owners battled it out over whether or not they would try and force players to stand during the national anthem. You can go here to check out the entire ESPN piece on the situation and to get a better idea of where certain NFL owners stand on the protest issue.