NFL Owners May Create New Rule That Forces Players to Stand During National Anthem
The NFL owners are reportedly going to try and force players to stand during the national anthem.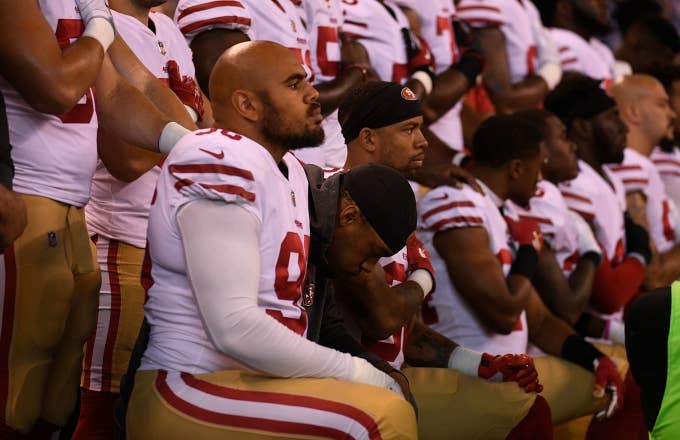 Getty
Image via Getty/Bobby Ellis/Stringer
The New Orleans Saints just traded Adrian Peterson to the Arizona Cardinals in exchange for a conditional draft pick, but DON'T LET THAT DISTRACT YOU FROM WHAT THE NFL OWNERS ARE TRYING TO DO RIGHT NOW.
Just minutes after the AP trade was announced, a report emerged indicating that NFL owners are apparently considering a rule change that would require all players to stand during the national anthem moving forward. Dow Jonesis reporting that the change will be discussed during a meeting next week and that, if it were to go through, it would make it mandatory for all NFL players to stand, which would theoretically end the #TakeAKnee protests that have become more prominent throughout the NFL since the start of the 2017-18 season.
NFL Commissioner Roger Goodell sent out a letter to all 32 NFL teams on Tuesday regarding the upcoming discussions.
In fact, you can read that letter in full here:
The news about this rule change comes on the heels of President Trump sending out this tweet about the NFL "getting massive tax breaks while at the same time disrespecting our Anthem, Flag and Country" on Tuesday morning.
It also comes on the heels of Cowboys owner Jerry Jones saying that he would be open to benching any player who took a knee during the national anthem. Jemele Hill was suspended by ESPN on Monday for suggesting that NFL fans should consider boycotting the Cowboys' advertisers as a result of Jones' decision to come down hard on Dallas players who decide to protest.
The NFL Players' Association has not yet responded to the report about the NFL owners pushing for a rule change. But it's safe to say that they will not be on board with the idea of limiting players' freedom to protest.