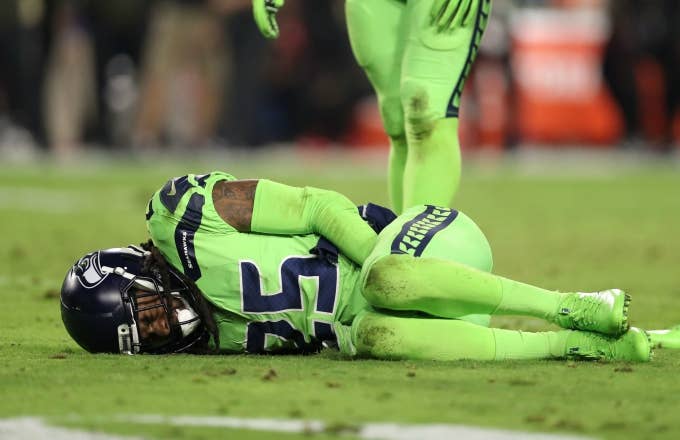 The Seahawks won their Thursday Night Football game against the Cardinals this week, but they lost one of their best players in the process. Richard Sherman suffered a ruptured Achilles tendon while making a tackle in the third quarter and will miss the remainder of the 2017-18 NFL season as a result of it.
After the game, Sherman—who was obviously emotional about the injury—revealed that he's been dealing with an Achilles issue for at least a few weeks now. He was actually listed on the Seattle injury report because of his Achilles this week, and he said that he knew it was going to give out on him at some point.
"One of those things that you have to play through for as long as you can," Sherman said. "When it goes, it goes. I've put a lot of stress on it. Think it would have gone eventually."
But some of Sherman's teammates suggested it wasn't that simple. They believe that Thursday Night Football is to blame for Sherman's injury and some of the other injuries that have plagued the league this season. By forcing players to take part in games on very short rest, those players think the NFL is putting players at an increased risk for injury. And several of Sherman's teammates said they hope that his Achilles injury proves that it's time for the league to reconsider the Thursday night games.
One of the Seattle players who feels strongly about TNF is wide receiver Doug Baldwin. He said TNF should be "illegal" after the Seahawks' 22-16 win. He also called on the league to do something about the problems it presents.
"This shit should be illegal," Baldwin said. "It is not OK. It's not OK. You can quote me on that."
Like Sherman, Baldwin was playing with a quad injury on Thursday night that didn't have the proper time to heal prior to the contest. He also said he sustained a groin injury while warming up for the game.
Seahawks linebacker Bobby Wagner echoed Baldwin's sentiments and said that he doesn't think TNF is good for the NFL, either. He said it's "tough" to play on a Thursday night, just four days after playing on a Sunday.
"It's extremely tough," he said. "You look at the game, you see guys dropping down on both sides with serious injuries, minor injuries. We play a very physical game, physical sport. To play on Sunday and ask us to turn around and have our bodies OK on that Thursday is tough for us to do. I hope the league is watching and will look at it."
Seahawks defensive end Frank Clark chimed in on the issue on Twitter as well. He pointed out that playing two games in just four days isn't ideal.
Ironically enough, Sherman himself has taken aim at the NFL at least twice for making players play on Thursday nights. In October 2015, he said it's "rough on the body" and called it "another one of those simple contradictions" that shows how little the NFL cares about players. He also reiterated his point in December 2016 by calling TNF a "poopfest" and writing a long The Players' Tribune piece about how much he hates it.
There's no telling whether or not Sherman would have eventually injured his Achilles if he hadn't had to play on Thursday night this week. But it's clear that NFL players still do not like playing on Thursday nights, and we'd be shocked if they didn't fight hard to take Thursday night games off the schedule during the next CBA negotiations.