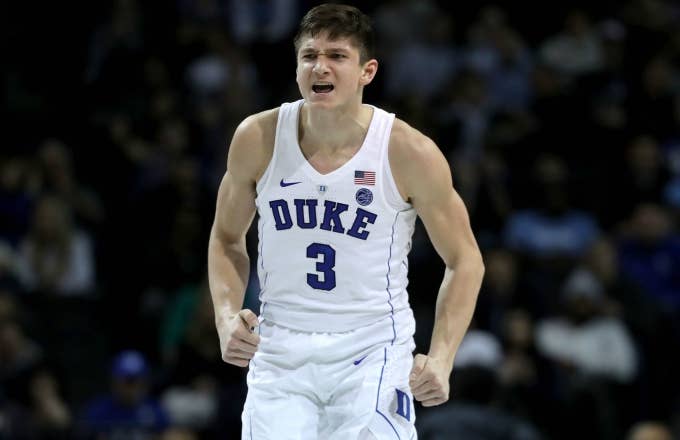 Duke basketball players aren't quite as annoying as they used to be. While Duke's roster was once littered with guys like Steve Wojciechowski, J.J. Redick, and Christian Laettner every season, Duke—thankfully—got with the times and started embracing the one-and-done mentality over the course of the last 10 years. As a result, their most recent teams have been led by guys like Kyrie Irving, Brandon Ingram, and Jayson Tatum as opposed to guys like the players listed above, which has made them slightly more bearable for all the Duke haters out there.
But a reputation can be a hard thing to shake, and no one knows that better than the Blue Devils. Furthermore, no one knows that better than Duke guard Grayson Allen, who has solidified a spot for himself on the long list of annoying Duke players that have played for Mike Krzyzewski over the years. In fact, this would have been almost unfathomable a year or two ago, but you could almost argue Allen has unseated Laettner as the most annoying—and subsequently, most hated—Duke player of all time. Allen has single-handedly kept the negative perception of some Duke players alive through a series of dirty plays and questionable on-court tactics.
Earlier this week, Gilbert Arenas and the rest of the Out of Bounds crew discussed Allen's latest dirty play and touched on all of the other annoying players who have suited up for Coach K. You can check out the discussion above. As you prepare to root against Duke during their game against Iona in the first round of the 2018 NCAA Tournament on Thursday, you can also take a look at the most annoying Duke players of the last decade below.
Gerald Henderson, Jr.
Ryan Kelly
Miles, Mason, and Marshall Plumlee
Jon Scheyer
Years Played: 2011-2012

This was how Rivers revealed what number he would wear at Duke.
He didn't need to play a single minute for the Blue Devils to get on everyone's nerves.
Greg Paulus