Jimmy Butler's Trainer Torches Bulls After Surprising Draft Day Trade With Timberwolves
Jimmy Butler's trainer unloaded on the Bulls general manager after he completed a surprising trade with the Timberwolves on Thursday night.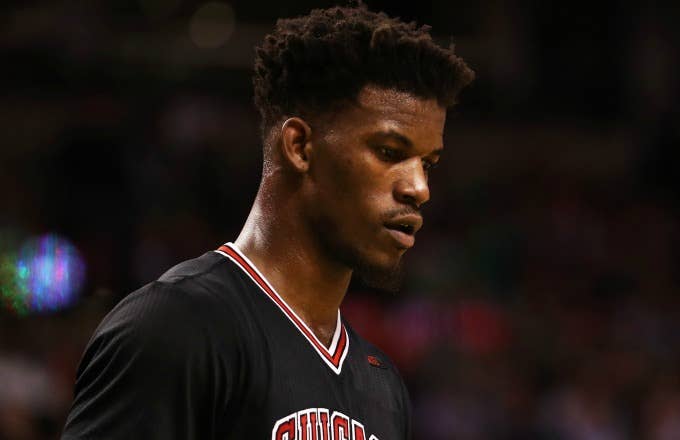 Getty
Image via Getty/Maddie Meyer/Staff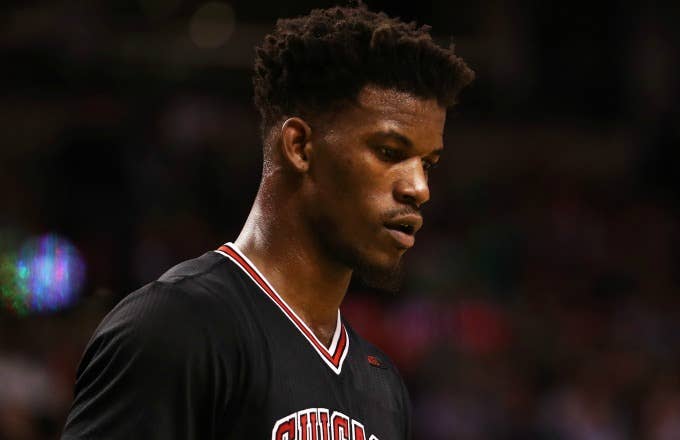 The beginning of the 2017 NBA Draft on Thursday night didn't feature many surprises as far as picks were concerned. As expected, the 76ers selected Markelle Fultz No. 1 overall, the Lakers went with Lonzo Ball at No. 2, and the Celtics landed Jayson Tatum at No. 3.
But while all of that was going on, there was one stunning transaction that was made between two teams. The Bulls agreed to a trade with the Timberwolves that sent Jimmy Butler and the No. 16 pick in the draft to Minnesota in exchange for Kris Dunn, Zach LaVine, and the No. 7 pick. It sent shock waves through NBA circles and had just about everyone second-guessing the Bulls for completing a deal that, on the surface, looked pretty one-sided.
And NBA fans and analysts weren't the only ones left scratching their heads after the deal was completed. Butler himself didn't have a whole lot to say about the trade. He's currently vacationing in Paris with now-former teammate Dwyane Wade and was informed of the deal in the middle of the night over there, so he didn't issue any kind of formal response to it right away. But his personal trainer sure did.
Travelle Gaines, who was with Butler on Thursday night according to location stamp on a pair of tweets he sent out, responded to the news of the trade by sending out this tweet asking for realtor recommendations in Minneapolis:
And while that tweet was innocent enough, Gaines followed it up a couple hours later with another tweet that featured him absolutely torching Bulls general manager Gar Forman. Gaines referred to the Chicago GM as a "liar" in the tweet and said the Bulls have "the worst culture in the league." He also compared Forman to drug dealers:
As you might expect, that tweet sent out almost as many shock waves as the news about the Butler trade did, and it got quite a response from fans who took the tweet to mean that Butler's camp isn't thrilled with the way the Bulls conducted business towards the end of Butler's tenure with the team:
We'll have to wait and see what Butler has to say about his time in Chicago once he's had a few days to reflect on what just happened. But it's clear his trainer won't miss anything about the Bulls or their organization moving forward.