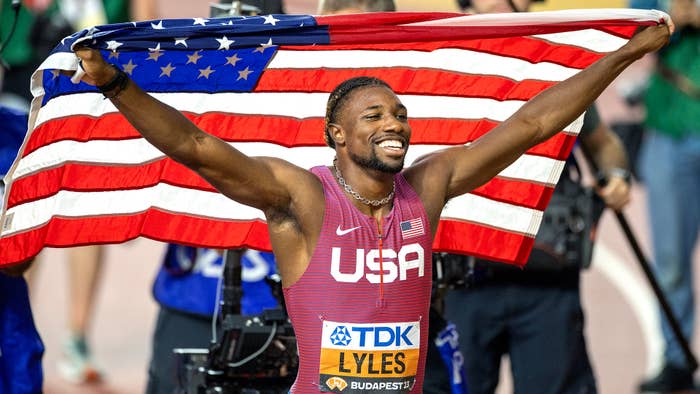 Track and field star Noah Lyles has prompted reactions from the world of basketball and Drake after he questioned how winning the NBA Finals makes someone a "world champion."
"I watch the NBA finals and they have 'world champion' on their head. World champion of what? The United States?" he said in a press conference after taking home three gold medals at the World Athletics Championships last week. "Don't get me wrong. I love the US at times but that ain't the world. We are the world. We have almost every country out here fighting, thriving, putting on their flag to show that they are represented. There ain't no flags in the NBA."
When the clip started to circulate online, many of the biggest stars in the NBA felt the need to chime in. "Somebody help this brother," wrote Kevin Durant in an Instagram comment. Durant's Phoenix Suns teammate Devin Booker simply left a facepalm emoji, while Aaron Gordon wrote, "Whatever... I'm smoking buddy in the 200m." Damian Lillard commented "tf [the fuck?]" alongside a pair of laughing emojis.
Even Drake offered his take on the comments. "He thought this speech was gonna be so hard in the mirror the night before," he wrote. "Now the whole league doesn't rate u."
While there are a lot of international players in the NBA, such as Joel Embiid and Nikola Jokic, what Lyles said isn't exactly wrong. The NBA is composed of 30 teams, 29 of which are in the U.S. and one in Canada. That's not exactly the world, but that doesn't stop the league from crowning NBA Finals winners "world champions." The same criticism is often said of the NFL and MLB, which are also not international leagues. Still, it appears that Lyles touched a nerve.