Toronto Fans Camped Out Overnight for Raptors' Championship Parade
The North is dedicated.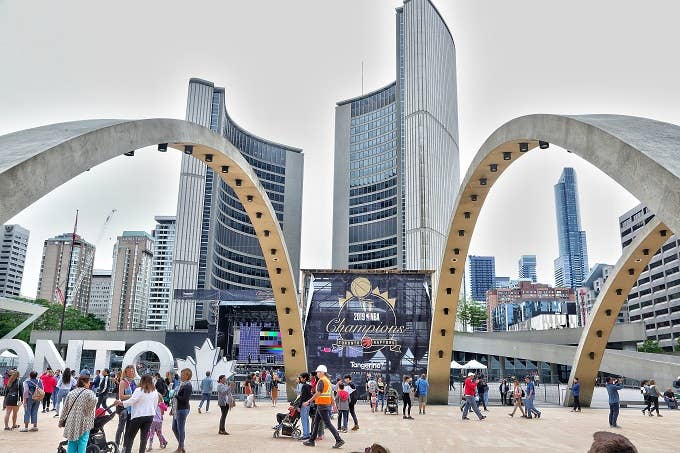 Getty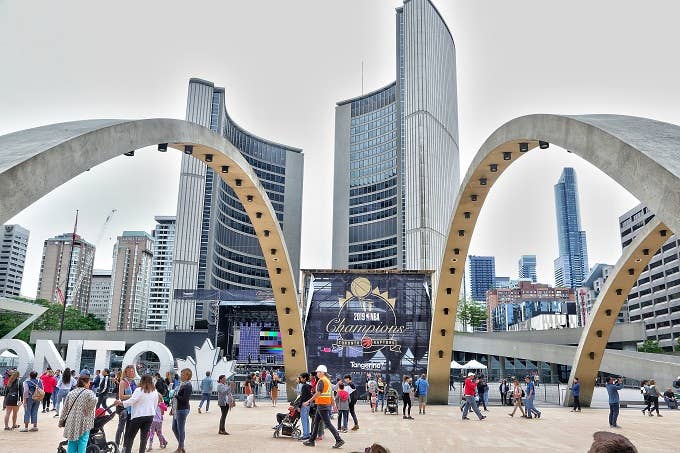 Drake might be the most visible die-hard Toronto Raptors fan, but he's far from the only one. The Raptors plan to celebrate the first championship in team history with a parade later today, but fans started camping out along the parade route yesterday afternoon to secure a spot.
Sportsnet's Faizal Khamisa reported that around 100 people were set up in front of Toronto's city hall in anticipation of the parade, ready to spend the night waiting. 
Raptors ownership are expecting a massive turnout for the parade. MLSE Head of Community Affairs and Events Mike Bartlett, speaking for the group that owns the team, said they expect between 1.5 and 2 million people to turn up. That's not bad at all for a city of 2.7 million people. 
That staggering participation rate echoes the insane levels of support that the team saw during its playoff run. Almost half of the country tuned in at some point to watch the Raptors Game 6 win and over 80 percent of televisions in Toronto were set to the game when Kawhi Leonard and the rest of the Raptors brought it home. 
Of course, all this enthusiasm could be a necessary outlet, as the band might not be getting back together next season. Leonard has the potential to become a free agent this offseason and experts like Adrian Wojnarowski see him skipping town. 
"There was always the risk of him going back west," he said on SportsCenter. "The L.A. Clippers are at the very top of that list, and I think the Raptors still have work to do between now and June 30 and the start of free agency to keep Kawhi Leonard in Toronto." 
Of course, the rest of the Raptors aren't worried about that right now. Fred VanVleet told reporters that if Kawhi landed with another team, they will "just have to kick his ass next year."