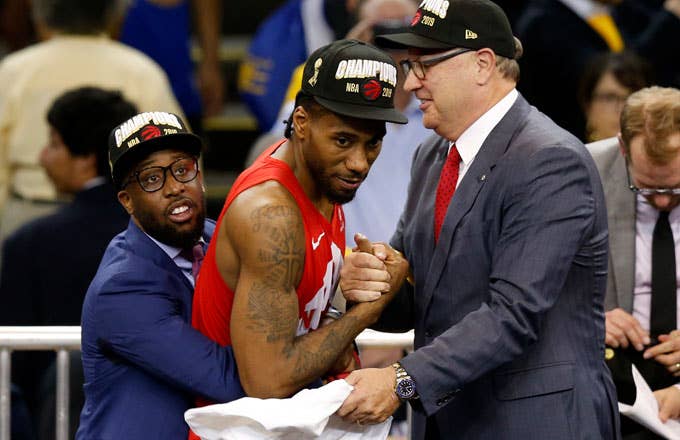 Just because the Raptors won a title in Kawhi Leonard's first, and thus far only, season in Toronto doesn't mean he's a lock to come back next year. At least not according to the Wojbomb father himself, Adrian Wojnarowksi. He said as much on Friday morning's SportsCenter.
While the day after winning their first title in franchise history may be a bummer time to bring this up to Raptors fans, Woj said that it's still believed to be a one-and-done situation. For those unaware, Leonard can opt-out and become a free agent within the next couple of weeks. Woj, echoing a point he previously made, added that he thinks Leonard is still leaning towards a deal with the Clippers while simultaneously stating his belief that the Raptors "still have a lot of work to do."
"Kawhi came to Toronto, with the idea from San Antonio, this was a very fine one year way station and I'm sure exceeded his expectations how they managed him physically to be a Finals MVP again, to win a championship," the league inside said, as quoted by Bleacher Report.
"But there was always the risk of him going back west. The L.A. Clippers are at the very top of that list, and I think the Raptors still have work to do between now and June 30 and the start of free agency to keep Kawhi Leonard in Toronto."
In 24 postseason games this year, Leonard held per contest averages of 30.5 points, 9.1 rebounds, 3.9 assists, and 1.7 steals.
Toronto acquired Leonard, along with Danny Green, last offseason from San Antonio in an exchange that sent DeMar DeRozan and a protected first-rounder to the Spurs. At the time it was already known that Leonard could leave after a single season but, no matter what happens, the move was undoubtedly justified when Toronto won the NBA title on Thursday night.