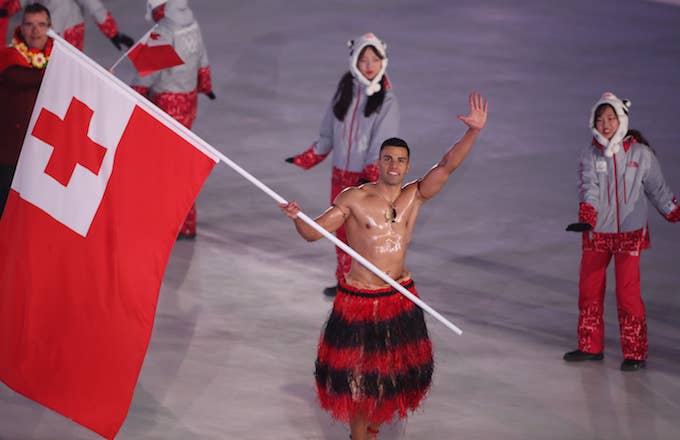 The 2018 Winter Olympic games are over, which means not only that figure skating outfits, hockey rivalries, and U.S. men's curling are done but also that there's now a shirtless Tongan flag-bearer-shaped hole in our hearts. But fret not: It looks like we won't have to wait another two years to see the internet's favorite flag-bearer. Word on the street is that the athlete is working to become a shirtless model, which is a pretty seamless career transition if you ask me. Honestly, it's surprising that this didn't happen sooner.
The oiled-up Tongan, whose real name is Pita Taufatofua, has become a fixture at Olympic ceremonies since he carried his country's flag during the 2016 Rio Olympics opening ceremony in Brazil. Many people didn't even know where the island of Tonga was located (or that it existed) until Taufatofua's abs made a glistening appearance.
Now, Taufatofua is headed to Hollywood, according to TMZ. He told the outlet at LAX that he's "got a few things lined up" for his new modeling career. "At the end of the day, it's what can I do with it to encourage other people to have something positive in their life," he said.
Taufatofua competed in Taekwondo in the Summer 2016 games and returned for the 2018 Winter Olympics in Pyeongchang as a cross-country skier. Some were unsure if he would reclaim his iconic, flag-bearing position sans top. Even in the bitter cold of a South Korean winter, he did. 
But the athlete is much more than oily eye candy. He's dedicated a chunk of his life to helping others by counseling homeless youth in Tonga. Taufatofua hopes that his modeling career will also become a force for good. "I'm about brands that actually help people, that help people feel good, clothing that they wear makes them feel good," he told TMZ.
I truly can't wait to see what kind of shirtless activities await our favorite Tongan. In the meantime, follow him on Instagram for your necessary fix.