Ravens' Marcus Peters Goes After Jalen Ramsey Following 'MNF' Game
Peters was recently traded from the Los Angeles Rams.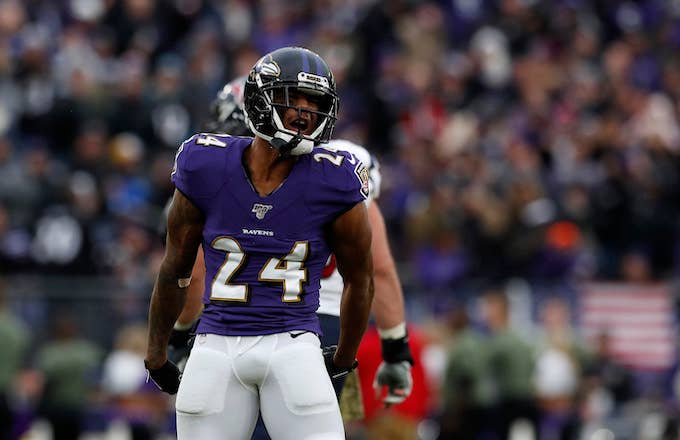 Getty
BALTIMORE, MARYLAND - NOVEMBER 17: Cornerback Marcus Peters #24 of the Baltimore Ravens reacts after a play during the second half against the Houston Texans at M&T Bank Stadium on November 17, 2019 in Baltimore, Maryland. (Photo by Todd Olszewski/Getty Images)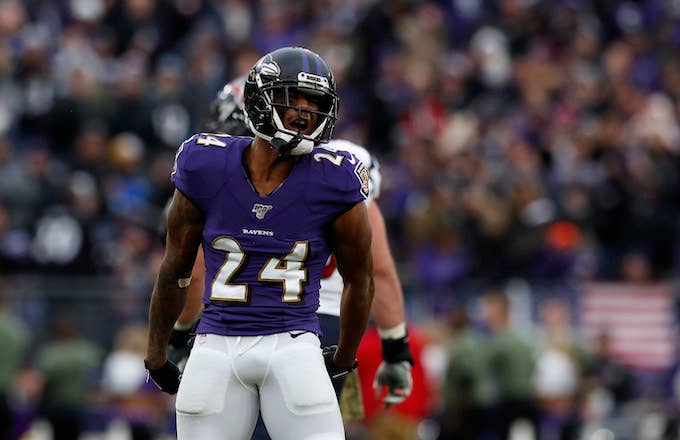 Although it's hard to tell exactly what Peters was saying, it seems pretty safe to say that he was taking some shots. ESPN's Jamison Hensley reports that Peters told Ramsey he would kick him from the playoffs. 
Ravens CB Marcus Peters was extremely vocal on the way to the locker room after beating his former team the Rams. He said, "kicking your ass out of the playoffs."
Jalen Ramsey was basically being escorted to the locker room by Rams personnel. Taking his time, too, like he was expecting some confrontation.

https://t.co/vLySMrsva5
Peters kept going all the way to the tunnel. 
On the flip side, Ramsey had to be held back.
After the game, Rams CB Jalen Ramsey was being restrained by Rams personnel in the tunnel while shouting at Ravens players and staff going into their locker room.

@NBCLA pic.twitter.com/UD7j9R1ycF
Peters' trash talking didn't start after the game ended. He was seen yelling out Ramsey's name while he was on the sidelines during the game.
It's probably worth pointing out that Peters was previously on the Rams. He was traded to the Ravens back in October. 
The final score of Monday's game was 45-6.