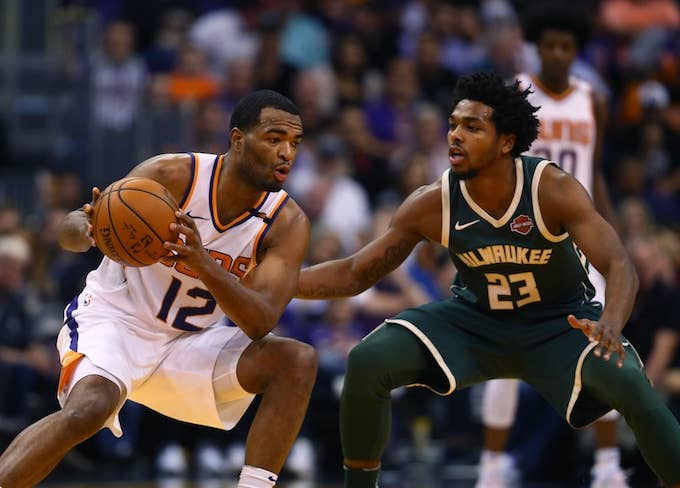 In January, Milwaukee Bucks guard Sterling Brown was arrested and tased after he parked illegally outside of a Walgreens. Troubling footage of the arrest surfaced in May, and Brown is in the process of suing the Milwaukee Police Department.
Brown's team filed the lawsuit Tuesday, which included even more troubling information. For example, one of the officers involved in Brown's tasing joked on his Facebook account about having the opportunity to do the same thing to J.R. Smith after Smith made a bone-headed blunder at the end of Game 1 of the 2018 NBA Finals.
"I hope JR Smith double parks in Walgreens handicap Parkin spots when he's in Milwaukee!" the officer, Erik Andrade, wrote.
From lawsuit filed today: One of the officers involved in the tazing of Milwaukee Buck Sterling Brown joked about the incident on Facebook and then - after Game 1 of the NBA finals - joked about doing the same thing to JR Smith

pic.twitter.com/TK9MkgmlJv
The lawsuit also details the officers' handling of Brown's arrest.
The portrait Sterling Brown's 40-page lawsuit (largely backed up by publicly available videos) paints of the Milwaukee officers who tazed him: needless escalation, bragging about overtime for beating someone up, coordinating their stories, racist FB posts

pic.twitter.com/RrJKSxX4vv
You can read the full suit here. Brown released a statement about the incident in May and explained why he's suing.
"This experience with the Milwaukee Police Department has forced me to stand up and tell my story so that I can help prevent these injustices from happening in the future," he said.