Lots of celebrities love Halloween. Eric Andre, Nas, Adele, Rae Sremmurd, Big Boi, and Kelly Rowland are just a few of the celebs who killed it with their Halloween costumes this year.
But do you know who really loves Halloween? Russell Westbrook. Some people might argue that Westbrook treats every day like Halloween—who else do you know showing up for an NBA game dressed like a photographer in one of the most well-orchestrated troll moves of all time?—but year in and year out, the Thunder superstar goes all out for Oct. 31.
Maybe you need a little inspiration when putting together a last-minute costume for yourself this year. Or maybe you just want to look back and enjoy some of the epic looks Westbrook has pulled off in the past. But whatever the case, here are Westbrook's most over-the-top Halloween costumes, ranked. This guy clearly bleeds black and orange.
6. Beekeeper
Year: 2017
Westbrook actually had two different Halloween costumes this year (and who knows, there might still be enough time for a third?). And while we'll get to his other one here in a second, this one was pretty damn adorable. Westbrook and his wife Nina aren't the first parents to dress their baby up as a bee, but they are one of the only set of parents to go the extra mile and dress up as a queen bee and a beekeeper to bring it all together. Family fun.
5. The Plug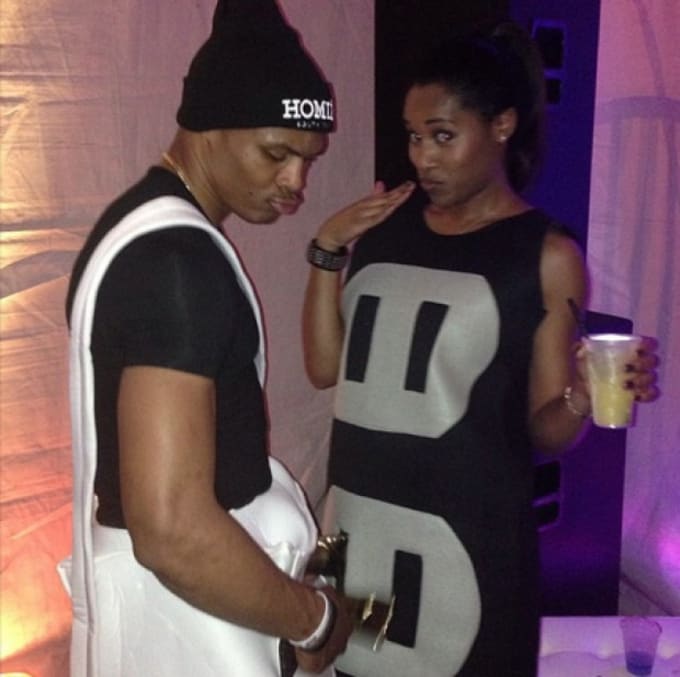 Year: 2013
This is how baby bees are made.
4. Steven Adams
Year: 2015
You have to appreciate the commitment here. Westbrook could have easily just thrown Adams' uniform on and called it a day. But he's Westbrook, so he didn't do that. Instead, he threw on a wig, a fake mustache, and even tattoos that look just like the ones Adams has. A for effort, and Adams looked like he loved it.
3. Officer Mendez from Orange Is the New Black
Year: 2014
Be honest. If this guy walked by you, you would say, "Yo, great costume," and not even realize it was Westbrook. That 'stache is just too good.
2. Joe Dirt
Year: 2016
So is it just us, or does Westbrook really seem to enjoy Halloween costumes that allow him to apply fake facial hair? He's talked about how he struggles to grow facial hair on his own, so… maybe that's it? Regardless, he's applied fake mustaches and beards on a few occasions, and he did it again here with this Joe Dirt get-up that was spot-on, right down to the mop.
1. Sidney Deane from White Men Can't Jump
Year: 2017
I mean, does it get any better than this? Westbrook and his Thunder teammate Nick Collison got together for this amazing White Men Can't Jump take. And it actually did get better once they revealed that they got their spouses in on it, too.
Good luck topping this next year, Russ.