Shoemaking, an art form that has heralded some of the most coveted and long-lived cultural products the modern world has ever seen. From the iconic offerings of Tinker Hatfield for Nike to Sidney Swartz's offering of the Original Yellow Boot (10061) to the world in 1973, the bright and radical minds of the footwear design industry have been the driving force behind these products. 
Continuing the trailblazing ethic of forward-thinking design and inspiration is ConceptKicks, conceived by Dan Baily. Through ConceptKicks Dan has provided the world with a platform for promotion and collaboration with some of the best in the field, and the Timberland® Construct: 10061 is no exception. Coming together as a collaboration between VF Corp Global Innovation Center and ConceptKicks, Timberland® Construct: 10061 wholeheartedly embraces innovation and the processes that drive it in an intimate and transparent format. 
With access to the Timberland factory in the Dominican Republic, Founder of ConceptKicks Dan Bailey brought together some of the strongest talents within footwear to shake up the design DNA at Timberland under the theme of #BootsBeyondBorders. Each talent was brought onto the team for what they have to offer to the design process, resulting in some seriously exciting product concepts.
We sat down with Dan to get a better understanding of what the project has to offer, and the makers, hackers, and innovators driving the process forward. 
COMPLEX: Innovation through collaboration seems like a core concept of the project as a whole, and also as something that yourself and ConceptKicks were eager to champion. Who was brought on board, and what was each member of the team able to offer to the project? 
Dan Bailey: From my side, I brought shoe artist, Helen Kirkum - she brought a development hacking mentality that culminated in Timberland experimenting with their direct inject sole moulding process that had never been done before. David Mawdsley - he's someone that has been involved in a lot of different facets in the footwear industry. Jelske Peterson and Jarah Stoop are two incredibly skilled shoemakers that constantly questioned the standard methods of making, and Nathan Alexander Walker, the youngest of the group and my former intern at ConceptKicks brought a super creative and fresh perspective. Suzanne Oude Hengel - a knitwear specialist, brought an entirely new dimension of material innovation to the project. We also worked with VF's Creative Director of Innovation, Alex Dardinski, and Timberland designer, Nick Dunleavy - as well as the super talented shoemakers that worked in the factory.
Going into the project, were any expectation you had personally, or for what yourself and the team would output? 
I really had no clue. To be completely honest, I set an exception from the gate that I'd be happy if we came up with 6 well-executed samples by the end of the trip, so the fact that we came up with over 30 ideas far surpassed any of my initial expectations. A really key part in the success of the whole project though was the collaborative aspect. I knew pretty much everyone involved personally before the event but we had never really collaborated on any projects together. The fact everyone was so open to help and push each other was really what made that type of output possible.
How often is it that a footwear brand as big as Timberland open their doors to creators like this, with such a high level of transparency on the design process? 
As far as I know, this is a first.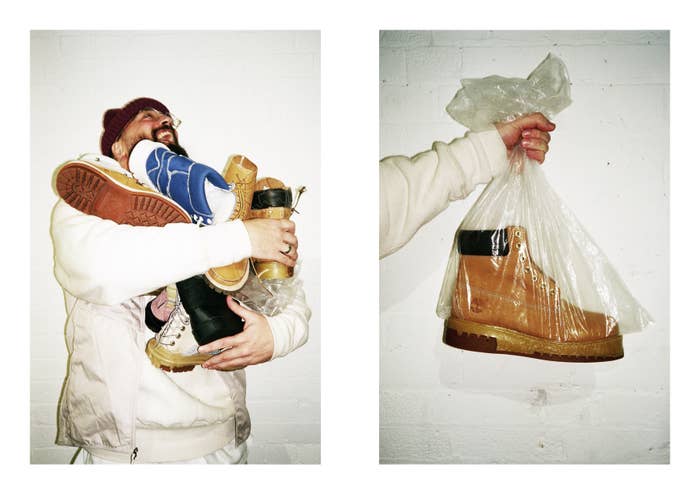 Do you think opportunities like this, giving creators access, play an important role in ensuring footwear design continues to push the boundaries?
Absolutely. Having access and being given the room to experiment is a key component to innovation, which is important to the progression of this, and really any industry.
The project gives consumers a powerful insight into the entire process, from initial design to physical concept, was this something yourself and the team were keen to provide? 
For me, and I think I speak for the team as a whole, the process is the best part, and it's something that more often then not, the consumer doesn't get to see. Being able to share that process, to see how rough some of the first samples look compared to how refined they'll be when we release the collection is important for people to see. Not everything (in fact most) designs aren't a hit right out of the gate. Seeing the process, understanding the story and even seeing the progression of why and how something looks and functions the way it does can completely alter the way in which you view a product. Sharing all of that was very important to everyone involved.
You've all worked together to offer a diverse range of concepts, eventually, people will get a chance to get their hands on a final product. How many concepts are expected to make retail, and how exclusive will they be? 
We're looking to bring the collection down to a range of about 6 total concepts, that will be, purely by the intricate nature of the development methods used to create them, extremely limited. Really none of these concepts in their current format will be easy to produce on mass, which will be reflected in the small number of quantities they'll be available in. We're talking numbers in the low hundreds of each concept, at the very most, perhaps quite a bit lower for some.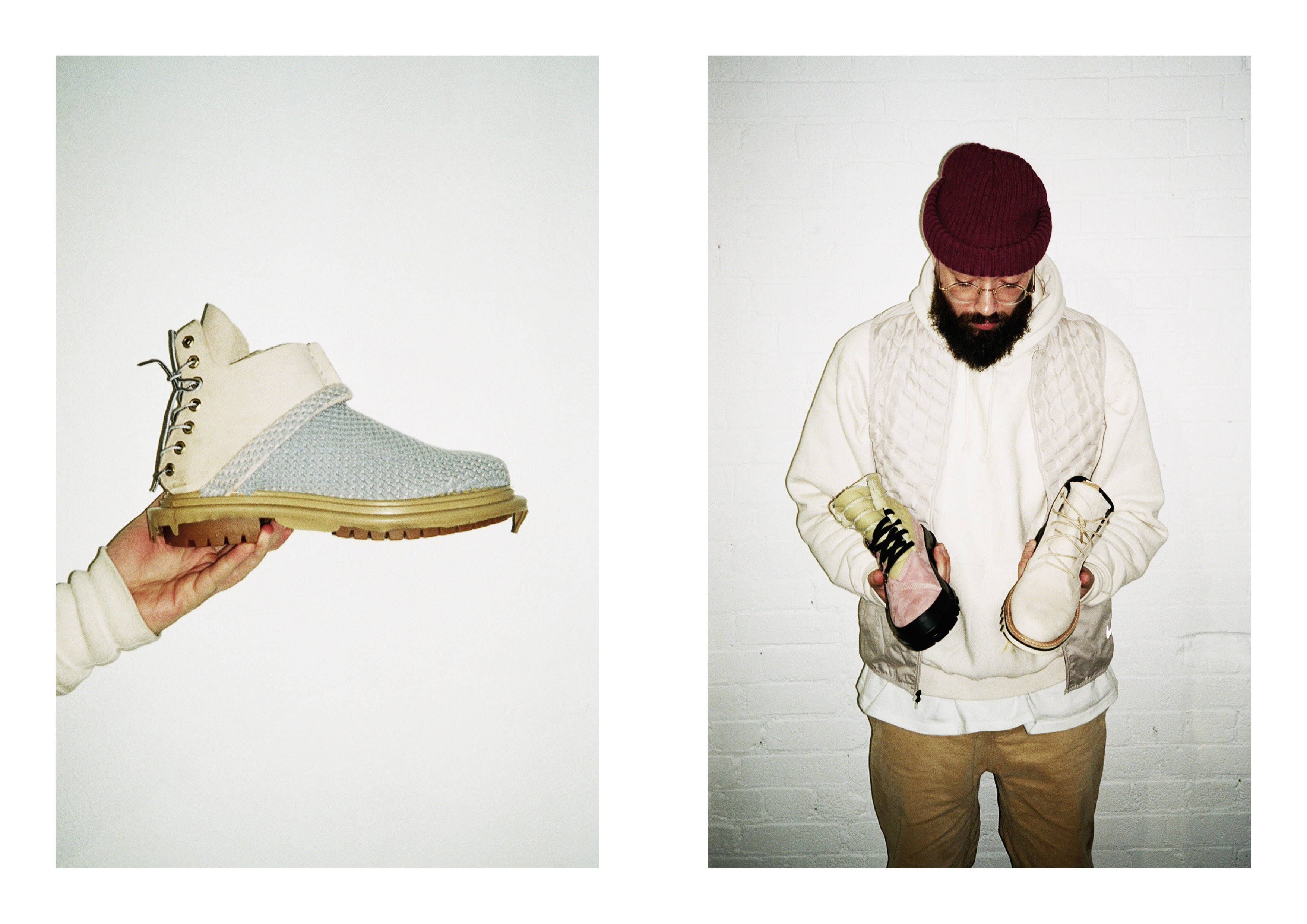 Could this project and its insights herald the next generation of footwear designers to think outside the box?
I hope so. Going back to your earlier question about access and transparency, I think those are two things that were integral to this project. The access that was granted is something I feel you have to earn, and the transparency allows others to see what happens once you've earned that type of access.
Giving that access and documenting the entire process with a team of creatives that were challenged and given the opportunity to question and experiment with machinery and development processes, is something I hope the next generation of designers, creatives and people in general that are interested in any type of design and innovation get to see and hopefully take something from. How is something made? why is it made in that particular way?...design is much more than just drawing pretty pictures.
Immerse yourself in the Timberland Construct: 10061 Project via the video narrated by Jeff Staples up top, and get a better look at some of the concepts the team has created so far below. For more information on the team, each silhouette, and more, head over to the Timberland Construct: 10061 site now.