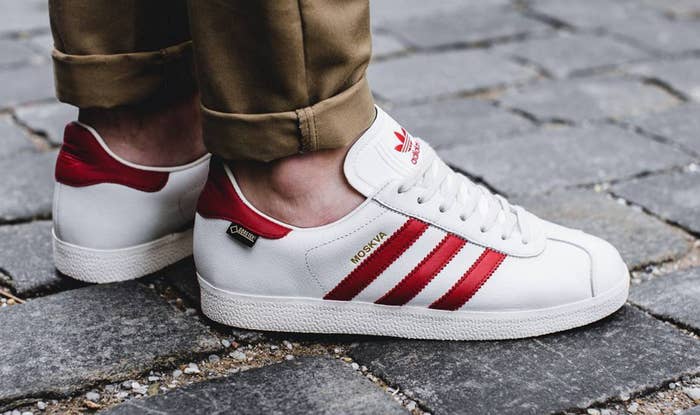 Dry feet are happy feet, and no fabric keeps water away from your toes better than GORE-TEX. Not only is the material being used in outerwear of all sorts, but it's also become a mainstay in cool-guy sneakers as of late, too.
In a recent story by Highsnobiety, they explore why GORE-TEX has become so popular in the sneaker and streetwear industries (besides the fact that it's awesome).
"We've been active in the city-wear/lifestyle garment sector for decades, but it's not that [noticeable] because our communication was geared towards outdoors," says Andreas Marmsoler, GORE-TEX's Global Head of PR.
Virgil Abloh has used GORE-TEX in Off-White's clothing collections, and said he's "a long time admirer of GORE-TEX's technical ability to perform." "I thought it was a unique opportunity to give something you can't necessarily see with the naked eye an identity," he also added, "[one] that can be seen from across the street."
"Plus, honestly, the name [GORE-TEX] is just cool as hell," Raised By Wolves founder and Highsnobiety editor Pete Williams says. "It's been a goal of mine to work with GORE-TEX since the inception of [Raised By Wolves] 10 years ago, so it was a dream-come-true when Reebok agreed to bring them in as a third partner for our collaboration."
GORE-TEX recently has popped up everywhere, from sneakers by Adidas, Reebok, Converse, and more, and it doesn't seem to be going anywhere, except on our feet.
Read the rest of the report here.