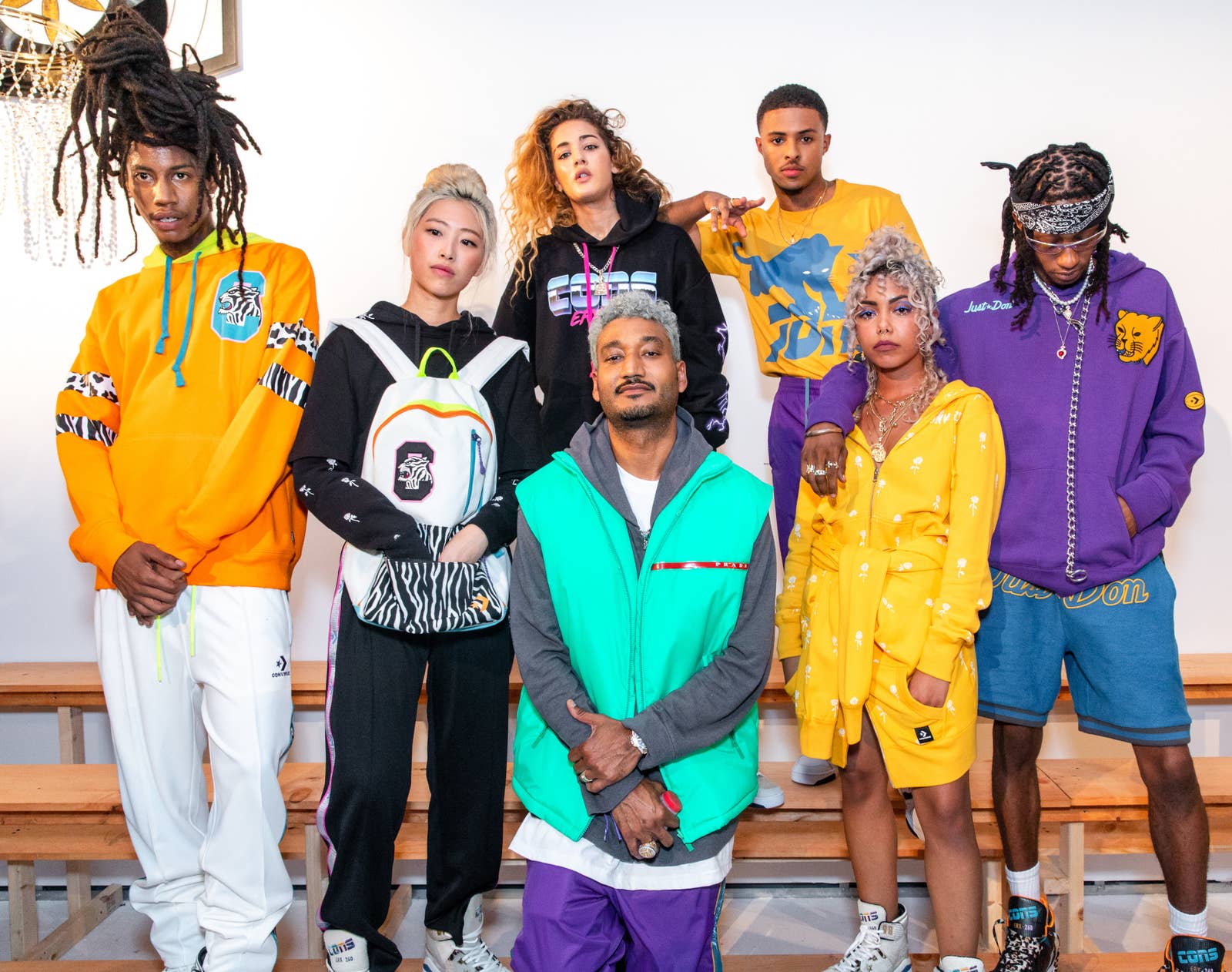 Don C has been a busy man this year. He was the first non-athlete to release an original silhouette with Jordan Brand with the 312 Legacy, a lifestyle shoe that pays homage to his hometown of Chicago. He's had LeBron James wear his shorts and Jonah Hill wear his jersey, two big wins for his clothing line, Just Don, while also starring in the Foot Locker Week of Greatness campaign. Now he's tasked with relaunching the Converse ERX, a basketball shoe from the '80s and his childhood memory, along with a matching apparel line.
Don's put his signature Just Don touch on the high-top sneaker: It has white pony hair on the upper, gold jewels on Converse's chevron logo, and the "CONS" on the tongue is replaced with "DONS," an ode to his work on the shoe.
There's an underlying reason why people want to work with Don C, behind his name recognition or hype factor: He's the real deal when it comes to sneakers, streetwear, and sports. You often get the idea when talking to creatives in the sneaker space that they know a little bit about shoes, but not the fine details. Not with Don C—he knows everything. He doesn't pause to remember names or skip over major details. You don't need to fact check him or nod along in agreement as he makes egregious historical mistakes. He remembers it all like it was yesterday, because he was involved in it yesterday, and he wants to use that knowledge to help propel the story of his footwear projects today.
Don admits himself that he was never good at basketball, but rather it made him obsessive about the sport and want to find a way to contribute to the sport, thus getting into sneakers and spotrswear.
"There are only so many people who can do what Don does in regards to having that authenticity in sport," says Converse's Senior Director of Special Projects, Jimmy Manley. "It felt like an easy relationship to build on. One that was authentic for him, and one that was authentic for the brand, and the kids."
Don's work on the Air Jordan II and the Nike Air Force 1 has proved successful in the past, and it's made him one of the most sought-after collaborators in the game. He's not just Kanye West's friend, but someone whose name holds its own weight.
The sneaker itself will release today on Just Don's website and November 24 globally at Converse retailers, but here's an indepth understanding of the history of the shoe, the collaboration, and Don's involvement with shoes.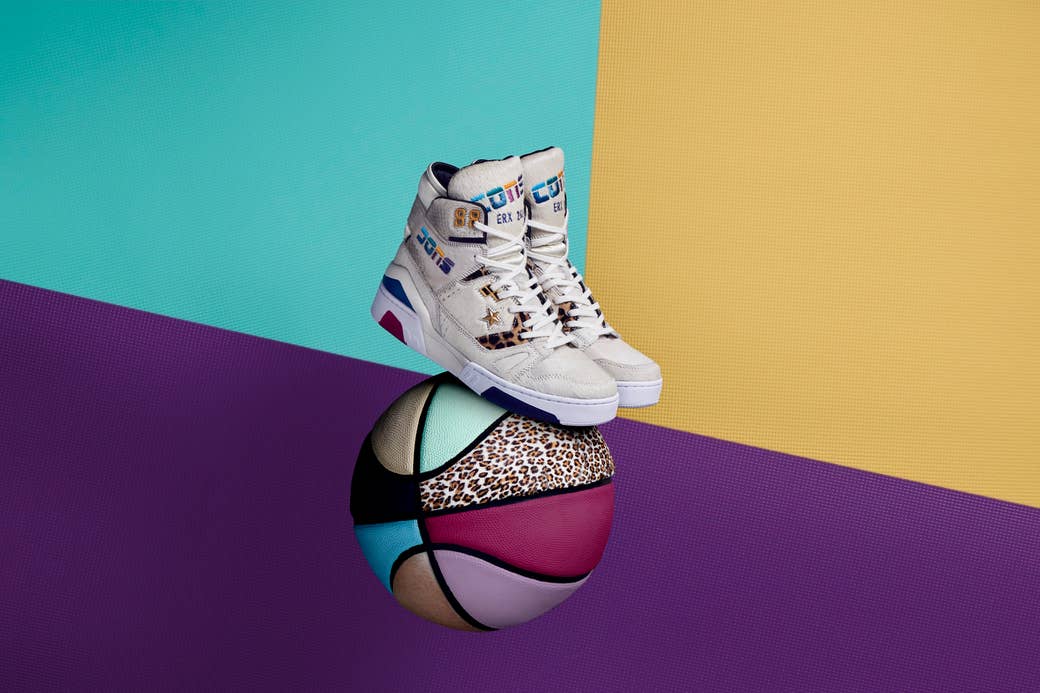 How did the collaboration with Converse start?
I remember the first day they just had me give feedback on where I saw the brand and where I thought an authentic approach would be from the brand to come out in the basketball space. That turned into ideas of coming from the streets, because I felt Converse really didn't have the representation in the NBA, because the NBA seems to be dictated by deals. But Converse is the original, that's the O.G. I felt that it would be cool to tell stories of the history of the brand, the history of some of the the models that have been stars for the brand. That has evolved into the ERX. It was just a different approach, like the approach working with Nike celebrating the history of the Air Force 1 being 35, or the Jordan projects trying to fuse luxury with basketball. That's how it originally started. That was that approach. I wanted to talk about the heritage [of Converse] and how we could infuse like new modern energy to the brand and make it for the kids on the streets.

Axl Rose wore the Converse ERX. Was that an influence?
Absolutely. I hope it came through with some of the shoes. It's part of the authenticity of the shoe. The shoe was a rock basketball shoe—rock 'n' roll dudes gravitated towards it. Heavy metal gravitated towards it in the late '80s. We definitely have some or that influence infused in some of the designs. He had a pair that said "Axl" on them, that's an iconic image to me. I feel like they should expound on that more, because I think people would appreciate it. That's one thing I try to do, because I have had the privilege to work in the community for so long. I've seen multiple generations in the game. For the generation that's running it now, I try to give them experiences and information that i have without force feeding it to them. Just give it to them in a manner they like to receive it, which is usually in product.

What was your first memory of Converse?
My first pair, probably, was in second grade. I had some All-Stars, but I didn't like them then. I thought it was like my dad's shoe. I was like, "I don't want this, my dad wears this." The first ones I really loved, I forgot the model, but it was around the ERX time. It was like early, early '90s. It wasn't the Weapon, because the Weapon, I loved the marketing of the Weapon, but I didn't really consume that shoe, because it was when Jordans first came out. I jumped on them right away when Mike came to the league, but I appreciate the Weapon later, and the marketing behind the Weapon is arguably top five basketball marketing of all time. I can remember the rap song verbatim right now from the original commercial. The influence of Converse is falling on fashion sneakers for years. We look at the Dior, Louis Vuitton runways, and we are seeing Converse influence in the sneakers. It's bigger than us.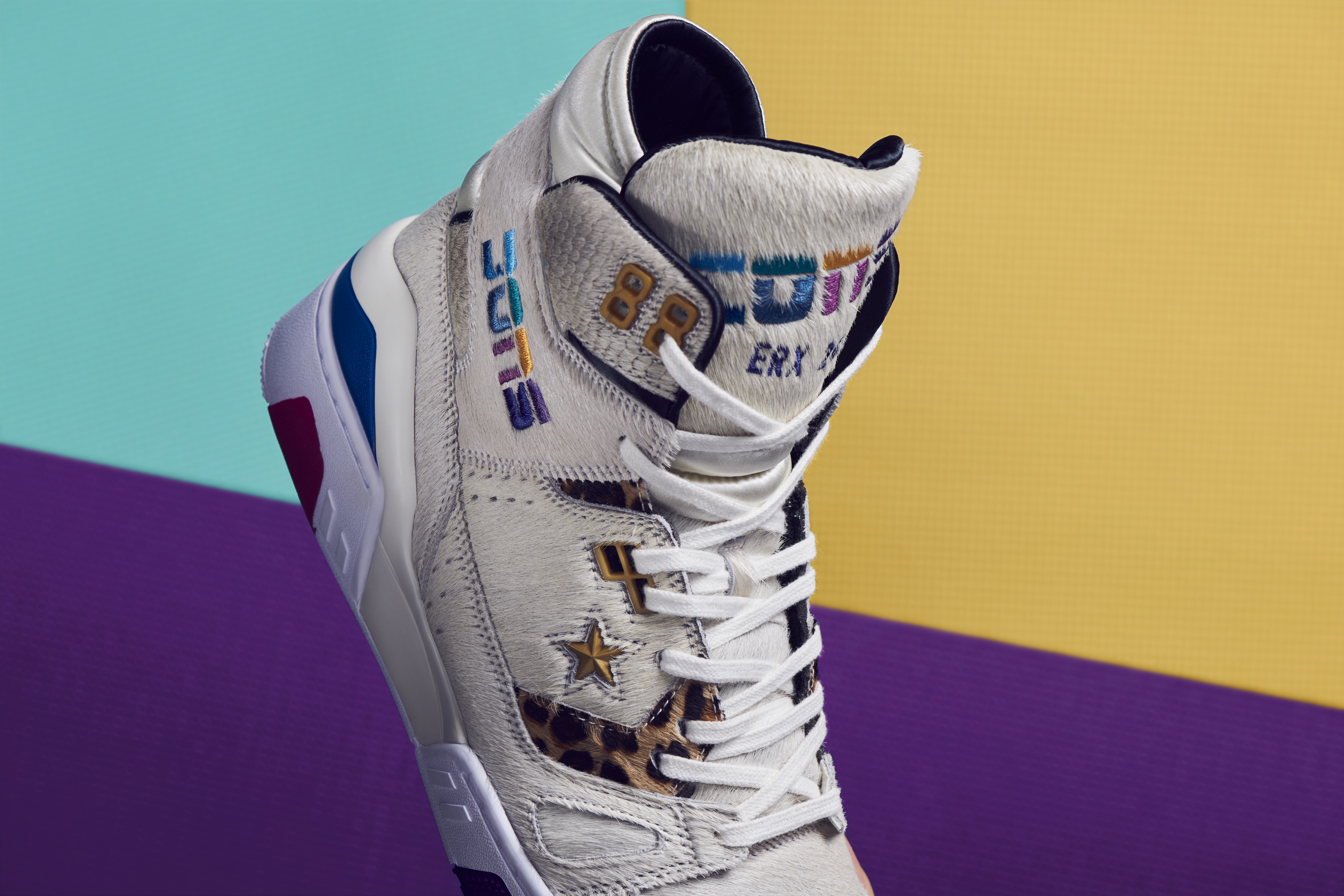 Tell me about your collaboration.
I wanted it to be a street basketball shoe, but I want to show the beauty that comes from the streets. That's why we played with the jewel tones and stuff like that to represent that this is a shoe that is rooted from the streets, but it has qualities of animals and it has qualities of precious metals. That was sort of like my thought process with it, and we went with like animal prints and animal skins and then using the jewel tones to represent precious metals so it's like the rose that grew from the concrete. You know that something amazing can come from a disturbed foundation or situation. I think we expounded on it more for the whole ERX collection, where we tapped into the rock bands, and we tapped into having competition, and it is going to be animals vs. jewels. It is going to be metal vs. liquid. I will say more and more projects I do I want to get more and more out the box, because once you tell a concise story, it's also cool to build upon it. My new favorite thing is trying to be authentic to what the subsistence of the project is. I like to work with somebody that does not care about the authenticity, but is just a good creative and see what they come up with, because a lot of times I'm confined because I am so in love with the foundation of the project or the foundation of the brand that I might not think outside the box.
Do you feel the need to compete with Virgil Abloh, since you're good friends and both have collaborations with Converse, Nike, and Jordan?
Oh no, not at all. I can't never outdo Virgil. He is a way better designer than me. He is on another level. I just appreciate that I have him as a friend and someone that I can bounce ideas off of, because that could make me better. But I know when somebody better than me, that's OK. I'm actually happy about that. So, yeah, I can't compete with Virgil.
Do you want the shoe to be hyped?
I'm wack for this, probably, but I don't be focused on hype. I hope it is commercially successful, so I know we can do it again. So money is necessary, but I don't care. I don't want to compete with shoes that are [hype]. I want people to have these shoes, whether they stand in line or whether they go for more on StockX or whatever. I don't really care about that as much as the people that do have them love them, and connect with them, and that community grows.
Do you consider yourself a hypebeast?
I'm kind of non-hype. People have called me a hypebeast in the past, because it's funny. One of my friends told me, he was like, "Man, Don, you the only person I know that got a lot of money and will still stand in line. Most cats like that, they got bread they not gonna be standing in line." But I said, "That makes me even more valuable. I got the bread to buy it out, and I'm going to stand in line." I don't look at it as hype, I look at it as more, like, collecting. I'm a collector. I just like collecting things that I'm attracted to and are of the community that I love to be a part of.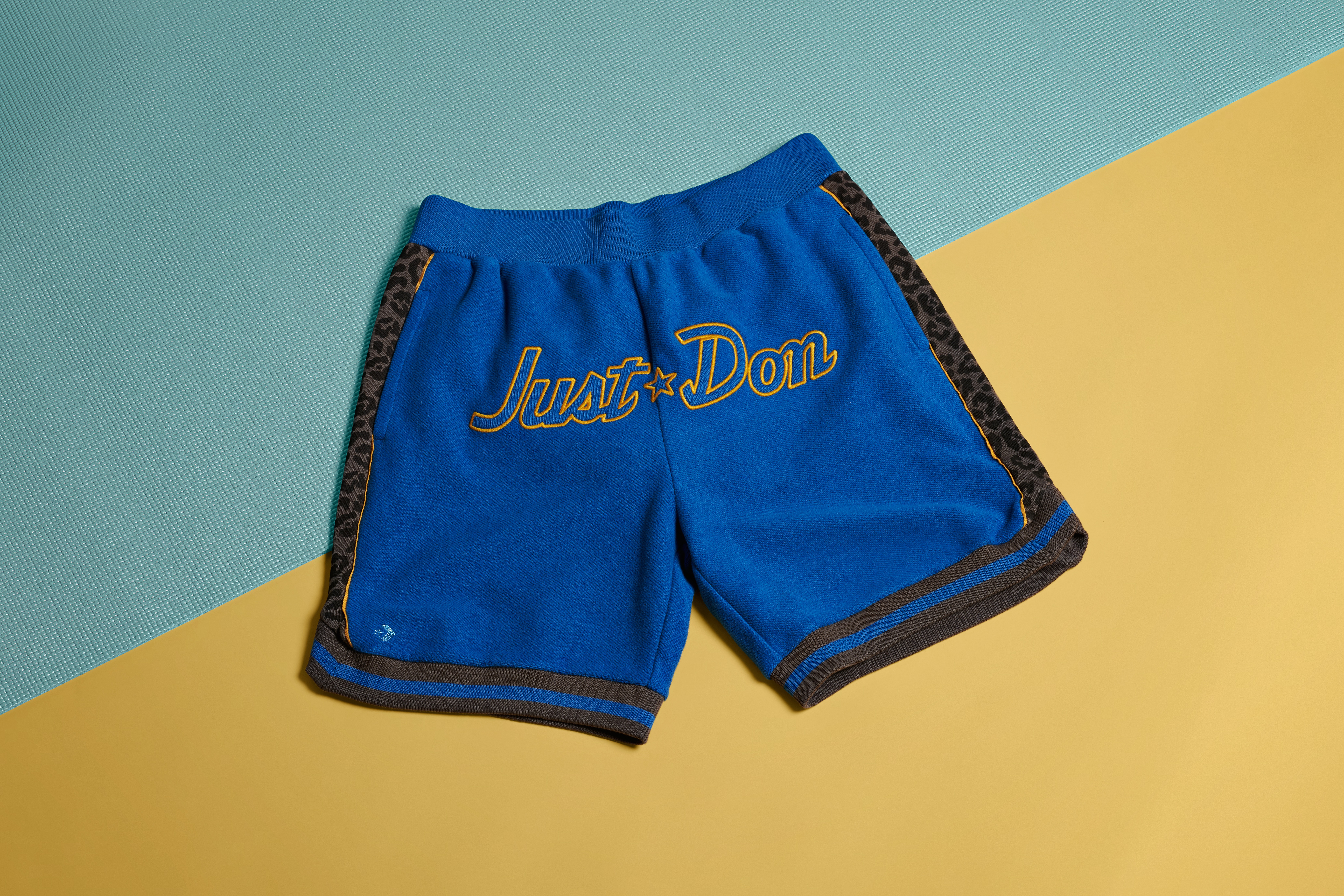 How many sneakers do you have in your collection?
More than probably anybody you know. I'm going to just tell you this: When I lived in New York, my storage from out there had like 5,000 pairs of shoes. That's just the storage I haven't seen in 14 years. Anything before '04, that's out here in New York, I have 5,000 pairs of shoes. In L.A., my storage in Studio City, I probably got about, I've dipped in it in the past, but it's about 2,000-3,000 pairs. I keep collecting. I probably got like 10,000-12,000 pairs of shoes. I'm scared that my NY storage is a bunch of crumbles. Every once in a while some of my friends will be like, "I know you got Yeezy 1s and Yeezy 2s," and sometimes I'll go to my storage and give them a pair and be like, "Here you go," for their birthday or something—"Here are the original Yeezys." It's not good, it's kind of bad. One of my goals, so I'm definitely going to throw it out in this interview, I want to have a public archive of all my shoes, and all the stuff I collect where other people can benefit from it, because it's not doing nobody no good just sitting in storage right now. I would like to have a public archive that anybody can come to, and that's like one of my goals with RSVP gallery: I want it to grow to be that to be like a public archive, part of the business, because I look at kids in Chicago that can't afford even a computer or can't afford certain things. They can still go to the library and learn. I would like some type of community center where I could donate everything that I have for other people to be able to get out other ideas from it.

How did you feel about the bait trucks in Chicago?
Man, this is going to be unpopular for me to say this, but I think that was just propaganda against the Chicago Police. The Chicago Police are so bogus, we all bit into it. It's like one of those type of things like, "Trump is so bad." It's like making up a bad story about him, you know, where I don't agree with that. I think just let a person be as bad as they are you, ain't gotta make up no extra sauce. The Chicago Police don't have time to buy shoes and bait kids in the streets. People gonna diss me for that one, I know, but I'm just trying to be real. I'm a truth speaker. I felt as if that was propaganda, and we all bit into it, because it's cool to hate the law, because they do so much bogus stuff. But police ain't got time to be buying no shoes and sitting in front [of the truck]. I literally, with my own eyes, have seen trains robbed of sneakers, so don't act like in the hood in Chicago they don't do that. We robbed the freights, and we steal shoes all the time. What I believe is that they got caught. I ain't trying to shut down nobody's. I supported the anti-bait truck, even though I personally felt that the police were not baiting kids. I thought it was a really cool gesture to give kids free shoes. You all hear about how many shoes I got, and I wanted to donate shoes, because I was afraid that they were going to be passing out weak shoes to the shorties. I was like, "I'll make sure these shorties deserve Yeezys and Nikes and Jordans and, you know, Converse." I donated everything I had that I thought was heat, because I was like, "You know, man, I been there. Shoes was not going to reflect my income and my family's income. I wanted to look fresh, because that was me."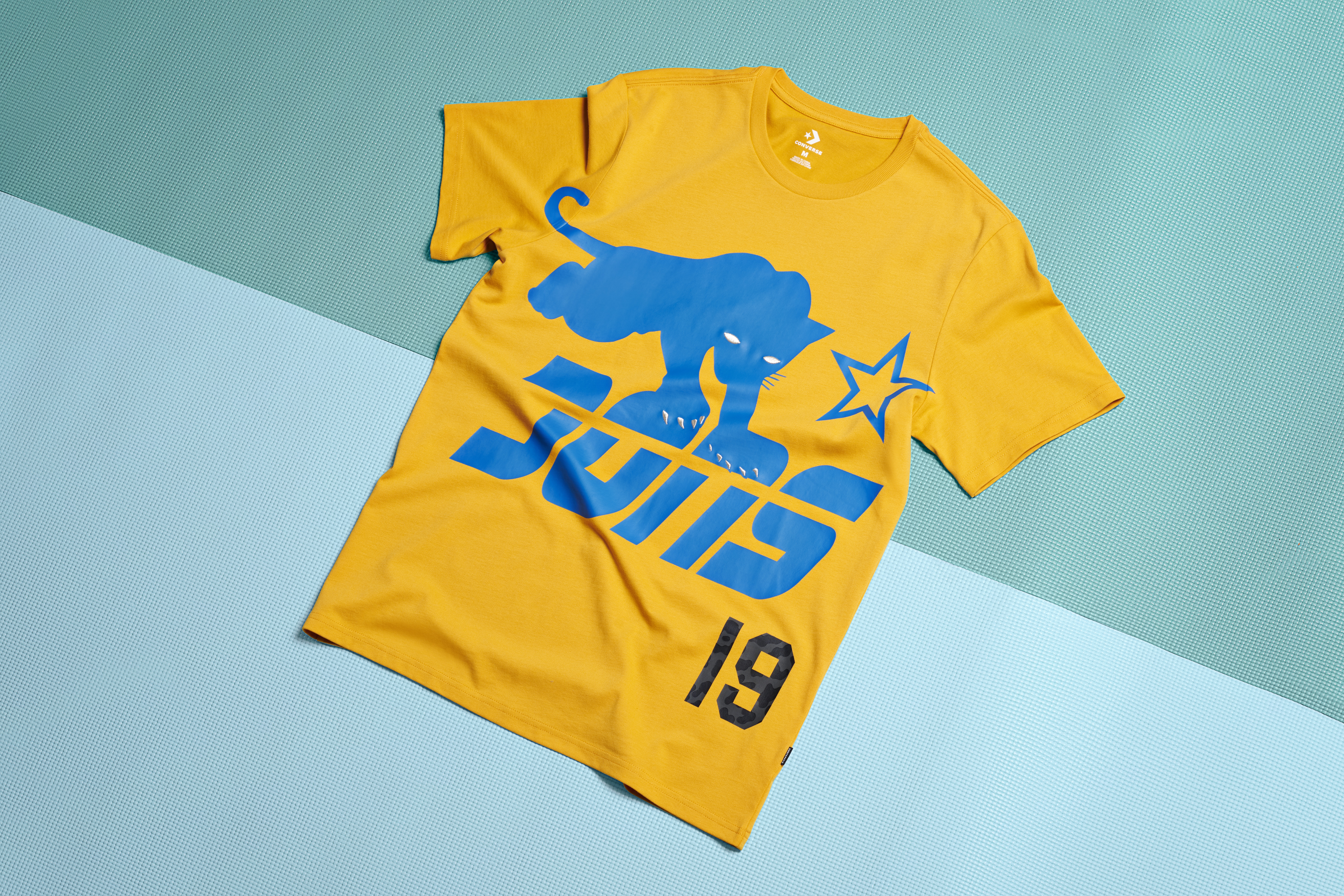 How do you feel about all the Just Don knock-offs?
Emotionally, sometimes—it bothers me if I see somebody copy me, but I try to remind myself and keep on saying that if I can be used as a tool to help others, I have to swallow my emotions and be like, "Man, you know, what if this person saw my idea and is inspired by it?" I just want to tell kids: Don't copy, be inspired by, and that's a blurred line. I've had people come up to me, and be like, "Man, I was inspired by your shorts, now can you wear them and promote my brand." It's like, "Man, you seem like you're finessing me a little bit." At the end of the day, this is commerce, man. The ideas that I have, I have been able to use to make money so my family can be straight and to help other families, because I have a very big extended family of people who don't only share the same blood as me. I don't want nobody shutting down my revenue stream. I do want people to be inspired, I just don't want nobody copying me exactly. That's the reason I don't really do hats no more. I really came with the hats, and then everybody was copying it. I was like, "Man, like, can I live?" If you all gonna do the hats, then I'm going to let you all do the hats. Let me start doing something else. So I sat back and thought of the shorts, and then when people where copying that I felt like, "Damn, I can't keep changing who I am and what I'm trying to do because of people putting out similar product."
Do you have people who help you collaborate on the project?
I got mentors that help me. Part of that creative process, honestly, I learned from Kanye. That's how he worked in the studio. He welcomed everybody. I always say, "Principles remain the same, situations change." Others look at him in the studio and see, "How I can appropriate that principle on other things?" That's why I want to keep encouraging other people that are inspired: Don't exactly copy, be inspired by. Use it in a different setting. The principle that you love about this person, apply it to something else you know. It's like, everybody got good ideas, everybody got perspective. I want to hear as many as possible if I am working on a project. I want as many possible people to like it.