When the Air Jordan II was originally introduced back in 1987, it represented a tremendous change in direction for the fledgling Air Jordan brand. The Air Jordan 1 was a mainstream hit, selling millions of pairs at $65 apiece, putting "Air Jordan" into the vernacular and revitalizing—if not outright saving—Nike in the process. The II was a different story. A sleek Italian-made design, the II did away with Nike's signature Swoosh, added a lightweight polyurethane sole, and nearly doubled in price to $100. Having captured a huge swath of the sneaker-buying audience with the 1, Nike sought to refine it with the II.
This was a tactic, while planned at the corporate level, that the sneaker-buying public was not quite prepared for. And while the new direction would go on to define Air Jordan all the way up until, well, now, the II was never truly appreciated, both for what it stood for and what it actually was. The Tinker Hatfield-designed III got the credit for being this revolutionary product, but much of what made the III great—the Swooshless upper, the exotically inspired materials—started with the II.
Some of us noticed, though. Out on Long Island, I bought a pair of IIs on clearance when the IIIs came out, and wore them until the soles literally fell off. And when a longtime Jordan fan from Chicago by the name of Don Crawley—better known as luxury-hat impresario and Kanye West inner-circle member Don C—got a chance to collaborate with Jordan Brand on a sneaker, he chose the II. He went from putting Kanye in retros to designing one of his own.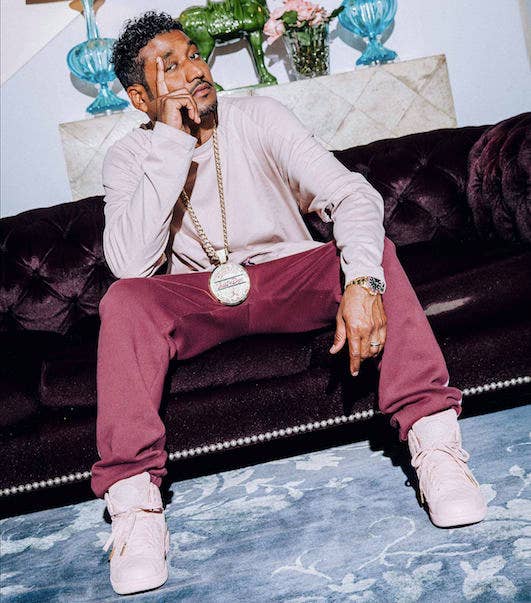 And he did it exactly right. The third iteration of his shoe drops this weekend, an "Arctic Orange" creamsicle monochrome take of the II that will strictly be available in GS sizes. Like the previous styles, a royal blue in 2015 and "Beach" tan last year, the Arctic Orange features the same Chanel-like quilting of the upper—a luxe take on an already luxe shoe, with pricing and exclusivity to match.
If anyone was going to take the II to new luxe heights, it was Don C, who had previously taken the humble snapback/strapback cap and enhanced it with genuine python on the brim and strap, complete with gold hardware. He took a mass market item that retailed for $35 or $40 and turned it into a $500 status symbol. Others had done similar things, but he made it official. And if he was going to do the same for a sneaker, it made sense it would be an Air Jordan. After all, those are the sneakers he grew up wearing. But first they were something to aspire to.
Here is what then-Nike spokesperson Kevin Brown told Sports Illustrated about the Air Jordan II back in 1987: "If you're the coolest boy on the block and you're aware that you can buy these shoes anywhere, maybe you decide you don't want them." Thirty years later, "boy" part aside, the sentiment remains as true as ever when it comes to high-end sneakers, or fashion, for that matter. The ultimate release is one that everyone wants, but not everyone can get. The trick is finding the balance point between a sellout and selling out.
As Jordan has grown exponentially more popular over the years, expanding from a brand to a Brand, it's a balance point the company has struggled with. And the retro era, which should have simplified things, has actually made everything that much more difficult. Now rather than the Air Jordan just being the pinnacle of basketball performance and style, every new Jordan has to compete not only with the offerings of other companies, but classic Jordan designs from the past as well.
There's more to it, of course. Since Michael Jordan retired for the final time following the 2002-03 NBA season, Jordan Brand has had about as much luck finding the next Jordan as the NBA has. Perhaps even less. Because while the "next Jordan" in the NBA could be anyone, Jordan Brand has been limited to those athletes willing to sign with a brand where their name would never come first. At the same time, on-court performance has never been less important when it comes to the off-court success of a shoe.
Enter Don C. What he did is turn the ultimate luxury Air Jordan into the ultimate luxury item for a new generation, comparable to anything his design was influenced by. At that level, the Don C II is an unmitigated success. Maybe what Don C did to and for the II isn't replicable on the scale that Jordan Brand requires for their larger business in 2017. But as Jordan continues to pursue that perfect balance between performance and luxury, accessibility and exclusivity, it would be entirely appropriate for them to let Don C—who is, again, from Chicago—play a larger role.