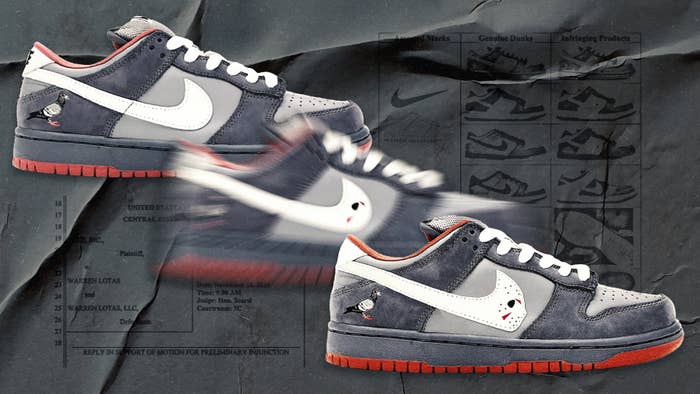 If it looks like a Dunk, sells like a Dunk, and is colored like a Dunk, then it probably is a Dunk. If it too closely resembles a Dunk, generates some of the same hype, but was in fact produced and sold without permission from the sneaker's original manufacturer, then a lawsuit is probably coming. Warren Lotas, a 25-year-old designer based in Los Angeles, had to know it was coming.
His versions of the Nike Dunk, an iconic sneaker that debuted in 1985 and lives on as a retro, are a few degrees shy of facsimile. Though they are often kept from true commercial success by legal action, sneakers like these have been successful before. Some seek to imbue existing designs with flavors Nike wouldn't; others work to undo the constricting grip of the brand's marketing forces. Unlike the most memorable bootlegs of the last two decades, the Warren Lotas shoes, which are now the subject of a legal battle initiated by Nike in October, are not completely clear in their message or intent.
"Initially, we didn't even intend to sell a shoe," Lotas says.
Before the Dunk episode began in 2019, the designer tried selling legitimate Nikes that he'd customized. He even attempted, to no avail, to get pairs directly from the brand for wholesale prices. Sans an actual Nike connection, he bought shoes at retail to remake with his horror flick graphic hits.
"I would go to Foot Locker and buy Air Force 1s," Lotas says. "I would take off the Swoosh and take them to a cobbler, on a Nike product. It wasn't the most lucrative business in the world."
His next muse was the Nike SB Dunk Low, a version of the Dunk designed specifically for skateboarding that first released in 2002. Rather than physically altering the shoes, he posted an image on Instagram of a 2006 SB Dunk Low sample done in Jason Voorhees colors, replacing the Swoosh's curving end point with a hockey mask à la the Friday the 13th character. It was Lotas' attempt to bring his namesake brand's ghoulish imagery into the world of sneakers. But just having the image wasn't enough.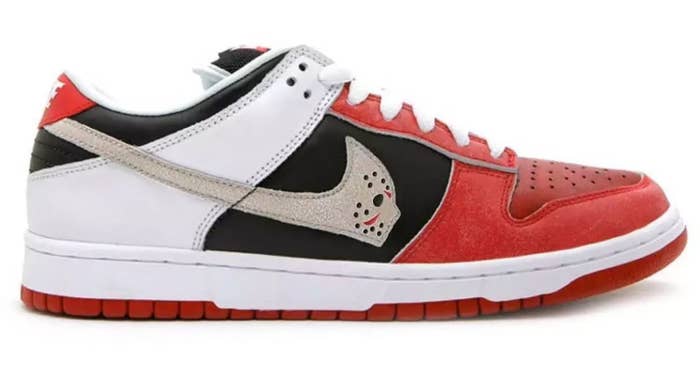 "We gotta try to bring this to life," the designer remembers thinking in 2019. "I want to wear these. I want to have a hockey mask on that low-top sneaker."
He began the long process of figuring out how to actually make and sell the shoes from there. The Warren Lotas footwear is distanced from its obvious source material. The shoes are stripped of the word "Nike," the instances of the brand name replaced with the designer's initials. The four designs he's sold reference the colorways of rare, real SB sneakers, like the Stussy one from 2005 or the Heineken pair from 2003. Lotas started selling that first Voorhees design in November 2019, charging $300 per pair on what he said was an initial run of 1,000 pairs. Less than a year later, Nike filed a lawsuit. Somewhere in there, whatever substance the shoes had became obscured.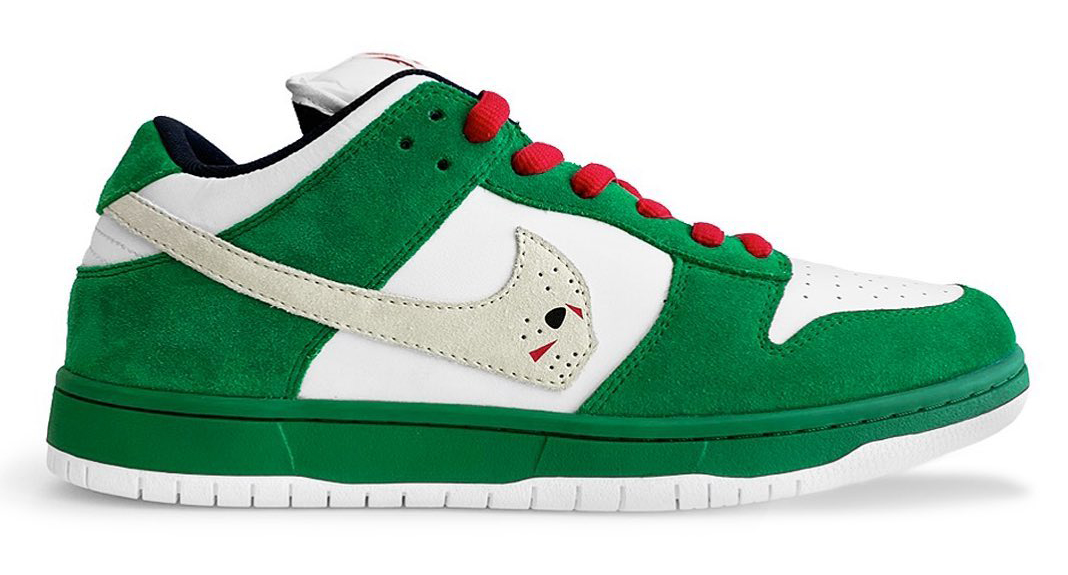 "There really was no meaning behind it," Lotas says. "It was kind of lost in translation a little bit."
The lawsuit, filed in the Central District of California, accuses Lotas of trademark infringement and condemns his shoes as "illegal fakes." Nike wants to stop Lotas from selling the shoes and is asking for three times the damages incurred, plus profits from the sale of the sneakers and legal fees. The litigation arrived after a summer cluttered with similar lookalikes fashioned after recognizable retros. There was the Air Jordan 1 with a middle finger Swoosh, another Jordan that replaced its logo with a lightning bolt, and the "I Sperm Climax," a Nike Blazer-style shoe that looks like it sounds.
None of these are Nikes, but the brand argues that shoes like Lotas' are close enough to be mistaken as such. Their panels and shapes ape those of well-known Nike silhouettes. The arrangement of these pieces for popular shoes make up their trade dress, a type of trademark that concerns a product's physical appearance.
"For consumers, when they see those elements put together, regardless of whether the sneaker has a Swoosh on it, they see that and they can link it to a single source," says Julie Zerbo, founder of The Fashion Law. "That single source being Nike."
A Nike spokesperson declined to comment, saying the company doesn't comment on litigation.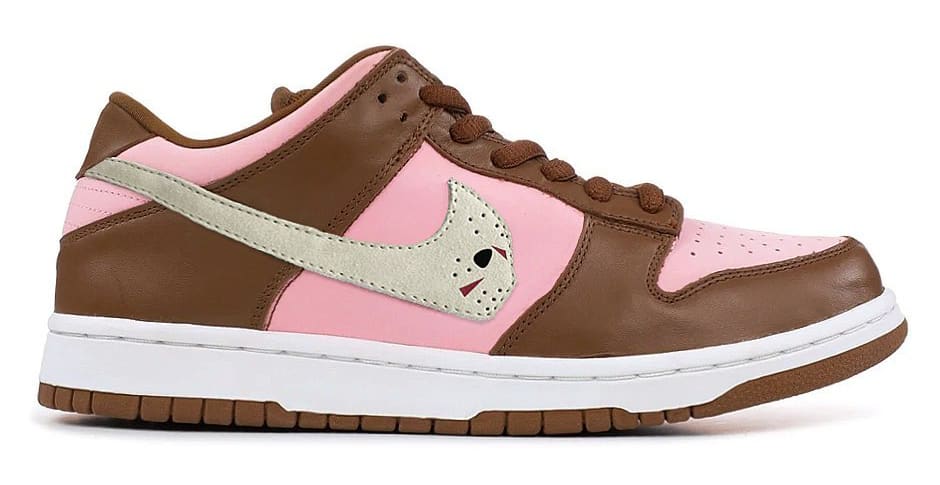 The brand's lawsuit uses screenshots from Instagram comments in an attempt to establish that there are people who genuinely believe the Warren Lotas shoes are Nike products, but it's unclear if anyone who actually bought them has been duped. His sneakers are designed to appeal to the enthusiast who knows the value of the original releases they nod to, a consumer knowledgeable enough to know that Nike isn't going to just reissue the Stussy shoes with a more angular Swoosh. At worst, they could be misconstrued as customs. They are disruptive of the resale market, offering a shortcut that erodes hype Nike has cultivated for the past two decades. Instead of buying a real pair of SBs from 15 years ago that costs thousands of dollars, one could instead spend $300 on a Warren Lotas version that evokes the same history.
"I definitely can't afford the regular Dunk at this point," says Danny Mina, a sneaker collector who bought the pre-order for the "Pigeon" Warren Lotas shoe created in collaboration with Jeff Staple, the designer of the legendary "Pigeon" Nike SB Dunk from 2005. That shoe, sold in September, was the last Lotas design promoted before the Nike lawsuit.
Mina isn't hopeful that the shoes will make it to him. As with other Lotas releases, they were a pre-order, meaning he'd have to wait three to four months for them to ship. After Nike sued Lotas, the designer claimed on Instagram that he'd still fulfill the pre-orders for all the sneakers he'd sold. Nike filed a preliminary injunction in an attempt to block that, and he's since pivoted to offering a makeup shoe that looks less like the Dunk and does not feature the Pigeon elements.
Mina would rather seek a refund than test his patience during the litigation with the possible reward of a pair of shoes. Plus, his buy-in was based on the promise of owning something similar to the real "Pigeon" SB Dunk, a classic shoe that's celebrated as a high point for Nike SB.
"I don't got 10 racks to blow on a pair of Pigeons right now," Mina says.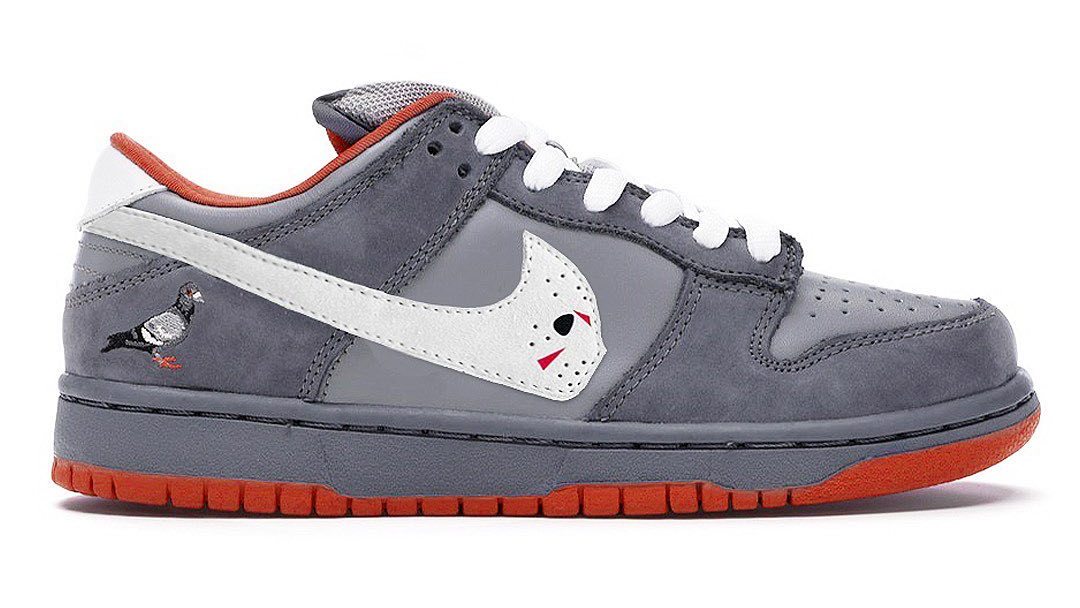 He has no qualms about spending his money on what he calls a "blatant ripoff" and believes the Lotas project has some legitimacy, since Jeff Staple, the designer of the "Pigeon" Dunk it's based on, approved the project. The involvement of Staple, who built a sizable streetwear business off the strength of his Pigeon brand and has decades of Nike work on his resume, did not convince social media of the project's worth.
There, users flooded comments sections under images of the shoes, accusing Staple of sacrilege. How could he desecrate such a grail? Why would he co-sign what was essentially a knockoff of his own shoe? It was not great on optics, especially considering that the most salient criticism of Staple is that he is hasty to accept any footwear project offered to him and slap a Pigeon logo on it.
Actually, according to Lotas, Staple initiated the collaboration, via an Instagram direct message, in June 2020. The two parties never met in person, working instead over Zoom and phone calls.
"I was surprised that they supported the idea," Lotas says, "and it meant a lot to me coming from someone like that, who's been in this industry for so long."
Staple declined to comment for this story, citing the ongoing lawsuit. He gave the same response in an interview with reseller Benjamin Kickz posted to YouTube earlier in November but went on to talk about the history of imitation footwear. In the interview, Staple questioned why certain bootlegs, like Bape's Bapesta take on the Nike Air Force 1, are accepted, while others, like any of the imitations Skechers has been sued for, are rejected.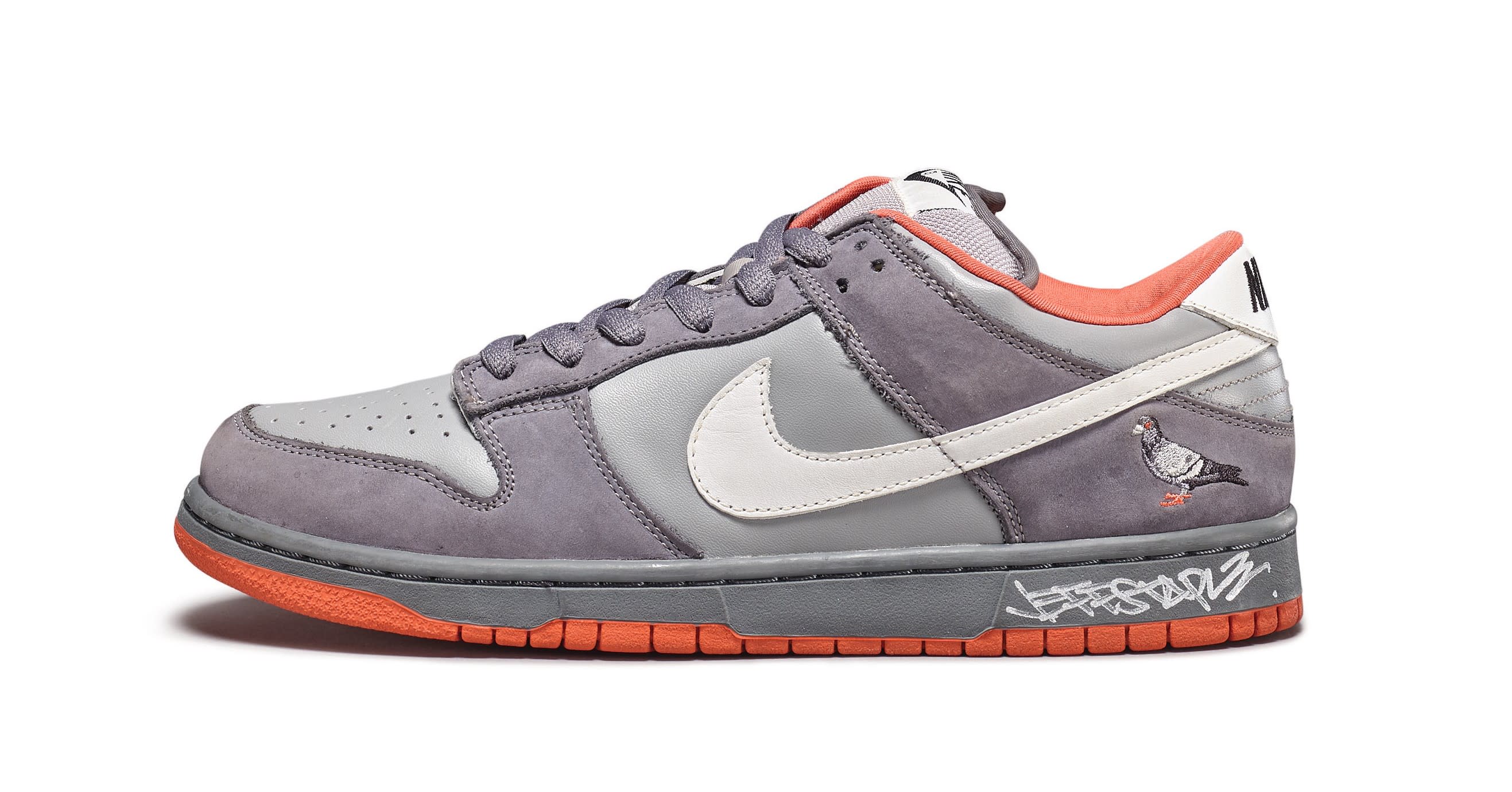 "The founder of Nike Inc. is the OG shoe dog bootlegger," Staple said, recounting how the company began as Blue Ribbon Sports, a distributor of Onitsuka Tiger sneakers, and got in legal trouble for applying its logo to Tiger shoes and selling them. "The whole company is built on a bootleg."'
It's a good anecdote for understanding that even big brands bootleg, but it simplifies Nike co-founders Bill Bowerman and Phil Knight's contributions to Onitsuka Tiger. They were actually informing design and building Tiger's international reach through their sales efforts in America. As with Bape's high-end riffs on the Air Force 1, there was something additive beyond just a transfer of logos. A bootleg finds value when it is able to give as much as it takes.
"You can't build that value without a story," Ari Forman, a designer whose replica Air Force 1s sparked legal action from Nike and the Lorillard Tobacco Company, said on an episode of the Complex Sneakers Podcast in October. "Otherwise, you can only be a flash in the pan and go away. But when you have a story and you have that depth, you can go up and down in popularity and in profit, but you will weather the storm. There's a pedigree, a provenance to the product."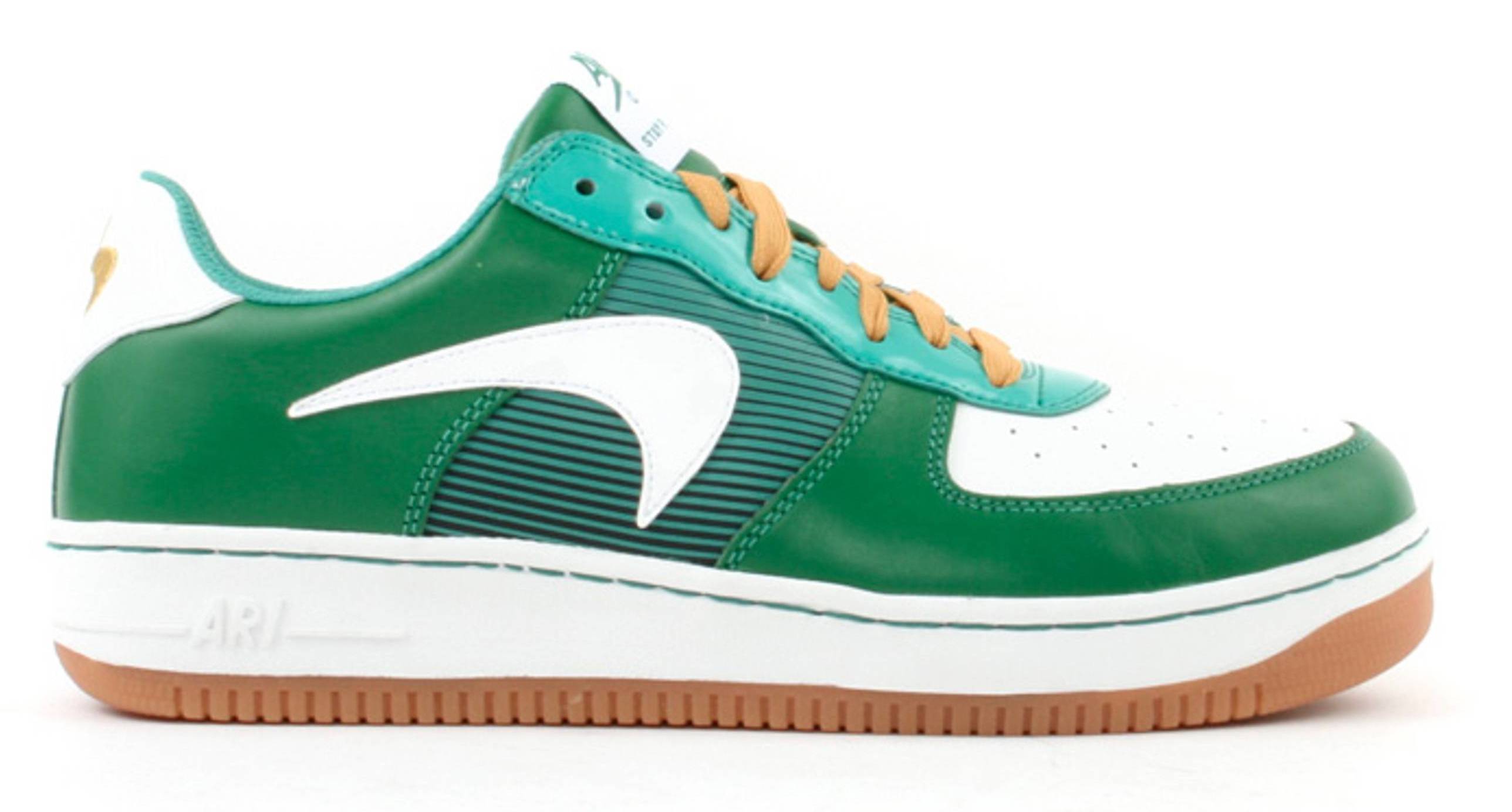 His shoe, the Ari Menthol 10, highlighted the similarities between Nike's Swoosh and the spinnaker logo used on Newport cigarette packs. Forman flipped the former into the latter, releasing a shoe in 2006 that was built to look like a collaboration between Nike and big tobacco. It showed a parallel in the addiction to and consumption of sportswear and cigarettes. He likes to say that he didn't design a sneaker but a statement for which footwear was the canvas. The Ari Menthol 10s, some of which were sold in jumbo cigarette-box-inspired packaging, were dedicated to "the two brands that have taken the most and given the least." They were a solem smirk toward customers willing to consume without question.
"They'll spend their whole lives giving their money away to a corporation who couldn't care whether they live or die," the designer said in the podcast interview.
Forman produced his shoes for $4.50 per pair (Bapes cost $2.25 to make at the time) and sold them exclusively at New York City sneaker stores Clientele, where they retailed for $225, and Alife, where they came packaged with extras that drove the retail price up further. Nike sent a cease-and-desist. Lorillard Tobacco, which made Newports, pounced on him with a lawsuit that ended in a strict settlement and cost him $15,000 in legal fees. The whole endeavor cost him $50,000. He was ordered to buy back the shoes and send them to the tobacco company to be destroyed. Forman wasn't allowed to own the sneaker he designed, or even a picture of it.
The edicts came from the tobacco company, not Nike—it didn't pursue him beyond its cease-and-desist. Forman didn't see the brand's response as vicious, especially since there was an element of confusion around his shoes.
"There's people that think this was a genuine Nike thing that got squashed and leaked out," Forman said on the Complex Sneakers Podcast.
Nike wasn't even that concerned with Forman taking its recognizable Air Force 1 silhouette, but more with his mutilation of its logo. This complaint is ironic now, given how Nike became significantly more prone to bending its branding in the 2010s. A Nike Blazer release from 2019 designed in collaboration with Italian boutique Slam Jam features upside-down Swooshes that are a few Photoshop skews away from looking like Forman's own flipped tick.
There was a time when the sacred geometry of the Swoosh was more protected by internal guidelines. Collaborators were not allowed to alter it significantly or remove it from shoes. When graffiti writer Stash first worked with Nike in the early 2000s, he wanted to do a shoe with a removable velcro Swoosh, but the brand wouldn't allow it.
Those rules have shifted; Nike's highest-profile collaborators now regularly reshape the logo. Tom Sachs tucked the tip of his behind paneling on the 2012 MarsYard Nikes. Virgil Abloh regularly distorts Swooshes on his Off-White x Nike collections. These shoes celebrated do-it-yourself craftsmanship and turned it into a hype aesthetic. Nike capitalized with similar inline styles and efforts to push consumers to rework their shoes. At its massive booth at ComplexCon in 2017, the brand let people tear apart Air Force 1s, chopping them up and removing or adding logos. That people like Lotas are now doing this on a bigger scale and without its permission shouldn't come as a surprise.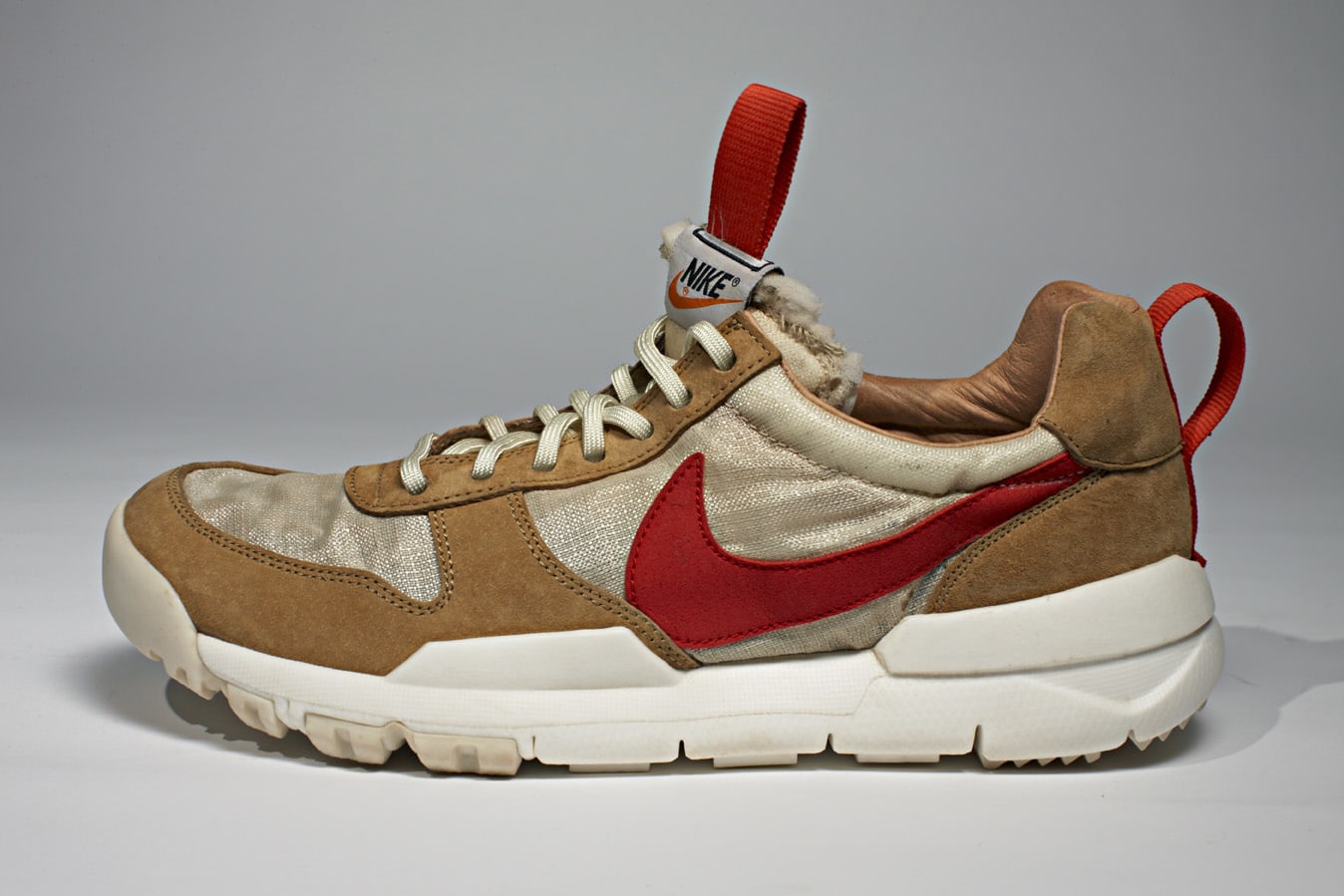 Not everyone modifying Nike's products and making serious money from it has been subject to lawsuits. Nike's claim against Lotas makes it clear that it finds some of these alterations acceptable—it makes a point to differentiate the Warren Lotas shoes, which are not produced in Nike factories, from "legitimate customizations." Custom sneaker creators like Mache and The Shoe Surgeon have been selling their remixes of authentic Nike product for years, even working with the brand in some instances, and have not been sued for it.
Supreme's mostly forgotten Downlow, a short-lived sneaker from 2001 that was very much a Swooshless Air Force 1, didn't preclude the brand from working with Nike on some of its most memorable shoes of the 21st century. Bape and its Bapesta sneaker, another clear copy of the Air Force 1, have avoided lawsuits around the design, despite the model's consistent popularity since its launch in 2002. 
According to one former Bape employee, company founder Nigo was able to get away with lifting the Air Force 1 because he first released Bapestas in a period when Nike let its trademark around the Air Force 1 lapse. The Bapesta shape has morphed over the years, perhaps in an effort to protect itself—the latest version has tweaks that further distance it from the original inspiration. The Bapesta was a mutation from the beginning, though.
The shape was familiar, but the styles were far flashier than what Nike was offering on the Air Force 1. Nigo was giving the retro model depth that Nike couldn't at the time, dressing it in shiny patent leather and playful, searing colorways. His Bapestas were significantly more expensive and harder to find than Air Force 1s.
"He's the man that created absolute luxury value in sneakers—no one else," said Forman, who was inspired by Nigo's work to make his own knockoff. Forman called his Menthol 10s a crime of passion. They were based on a reverence but also a cynicism around the relationship between Nike and its customers.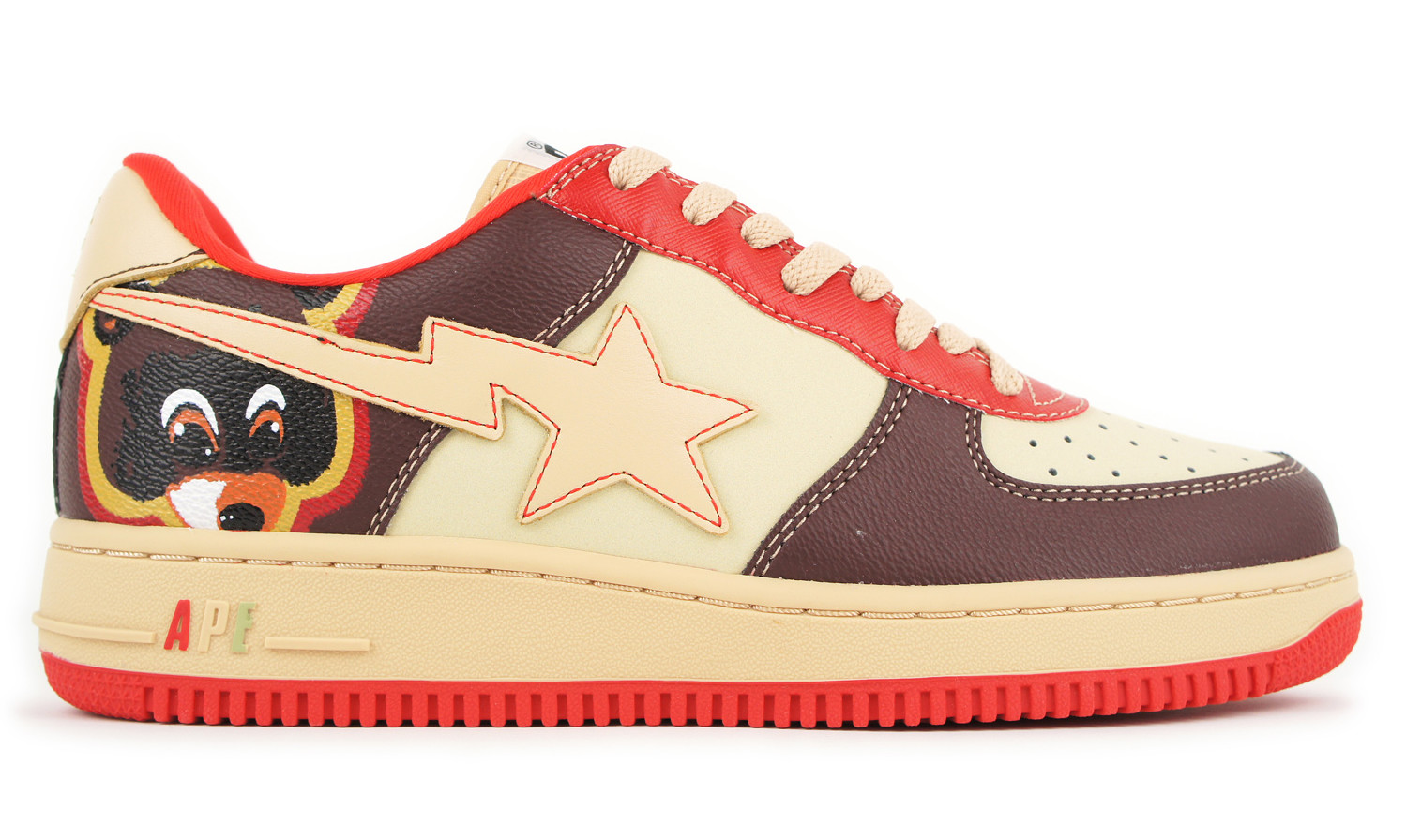 Stripped of any sort of reverence and bloated with cynicism was the BS Drunk shoe, a design by skateboard company Consolidated that released in 2006. That product, a Nike SB Dunk-style shoe that replaced the Swoosh with a Warholian banana, was a missive in a war the skate company had been waging against Nike since 1997. Consolidated saw Nike as an intruder when the sportswear giant tried to get into skateboarding in the 1990s and fought against its legitimization in the scene with a campaign called "Don't Do It." Whenever Nike made a push into skateboarding, Consolidated would respond with a push back.
"We were sending out flyers to all of our core shops and basically saying, 'Hey, you need to realize what a threat this can be,'" remembers Consolidated co-founder Steve "Birdo" Guisinger.
After a few misfires, Nike figured skateboarding out with its SB line in the early 2000s. Respected pros wore the shoes. Important shops worked on their own special-edition sneakers. Even Todd Bratrud, Consolidated's in-house designer, was tapped to help Nike SB color a pair of Dunks. Birdo saw it as an invasion and a hazard to the work he'd done to keep Nike out. Even worse, the Bratrud-designed shoes used Consolidated's colors.
Birdo says that he obtained an internal Nike email then, in which employees called the shoe the "Consolidunk," implying that they'd undone the skate company's anti-Swoosh efforts and convinced it to collaborate. At one point, it looked like Consolidated had the right to sue Nike. Instead, it let Bratrud release the shoe, the 2006 "Send Help" Dunk High, and promptly bootlegged it with its own banana-branded sneaker.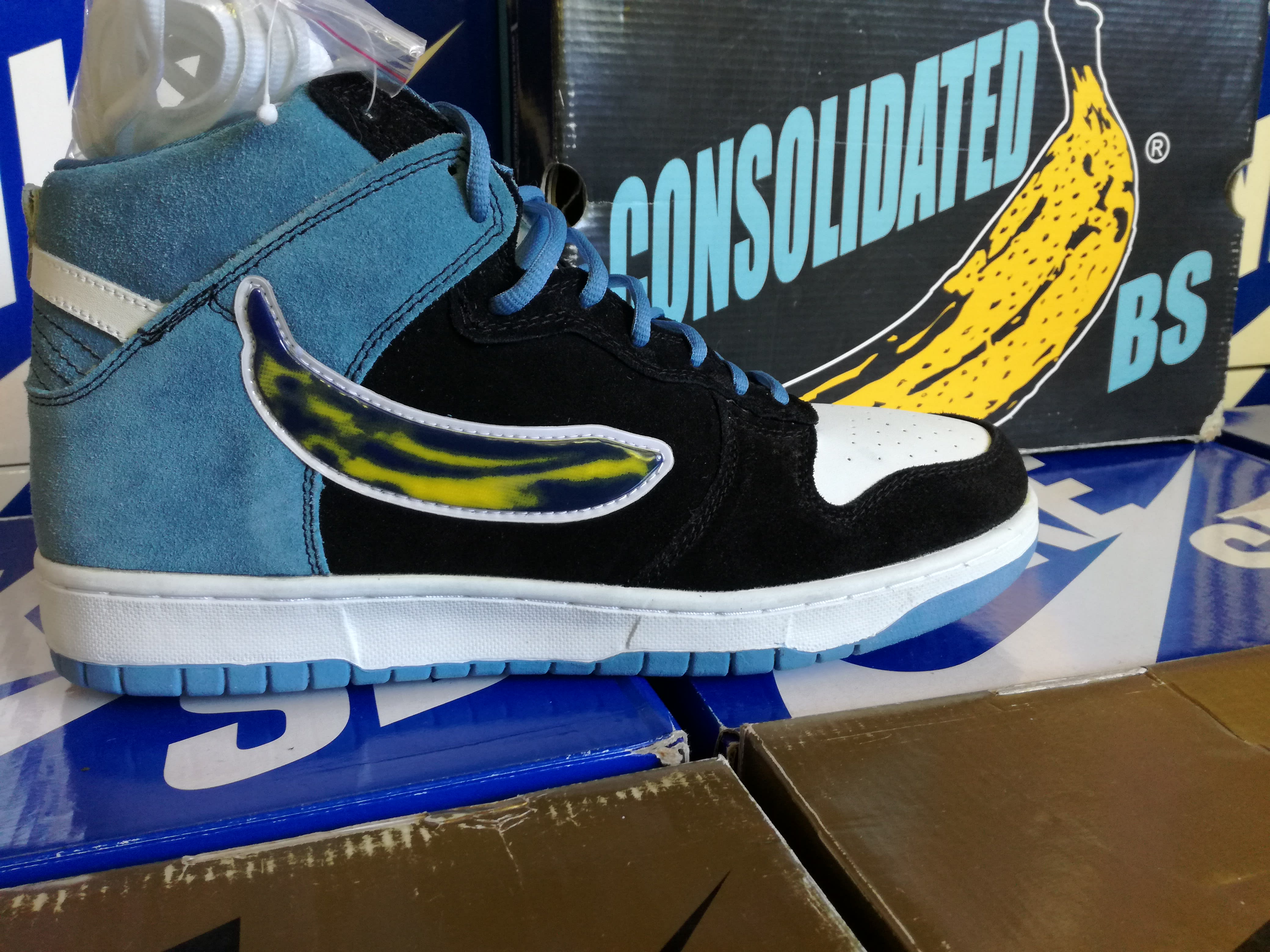 "We didn't want to be a shoe company. We were just making, basically, a political statement with our shoes," Birdo says.
Consolidated sold 600 pairs of the BS Drunk sneaker in its initial run, and then 2,000 more. That Dunk-esque sneaker has not been around since, but not because of litigation. The shoe, more parody than homage, never prompted legal action from Nike. The brand has resisted Consolidated's protest over the years, kicking "Don't Do It" picketers out of Nike-sponsored events, but never fought back against the sneakers.
How does Nike decide which of these battles against imitation sneakers to engage in?
"Nike is gonna leave you alone until you make money," says a former employee of Mike23, a tribute brand that ran afoul of Nike by applying its motifs to apparel and Converse Chuck Taylor-style shoes. The employee asked not to be named out of sensitivity to the settlement Mike23 reached with Nike after a cease-and-desist in 2008.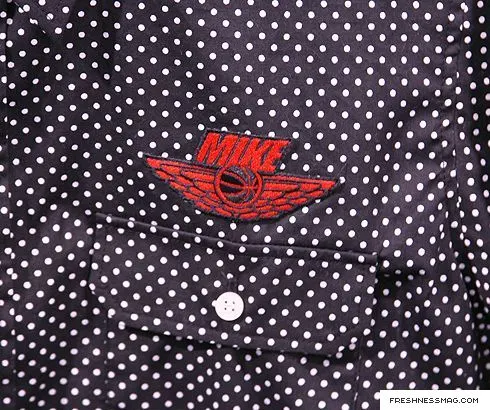 Mike23 shut down after the settlement, but the old product still exists. According to the employee, it's sitting in a warehouse 12 years later. They say that while the brand was operating, designers at Nike liked Mike23 and even sent promotional gear to people at the company. Plus, the employee says, the two companies weren't really providing the same type of product at the time. Nike knew how to sell limited-edition sneakers, but hadn't figured out streetwear from an apparel side yet.
"We were getting into accounts that Nike couldn't," the Mike23 employee says. "We were in Collette, Isetann, all the lifestyle boutiques. Back then, Nike couldn't get into any of those boutiques."
Mike23 scored a placement on Paul Rodriguez, a top Nike skateboarder, who wore its apparel during a competition. The employee believes that this level of visibility on a Nike-affiliated athlete motivated the company to send the cease-and-desist. They speculate that, similarly, in the Warren Lotas case, the attention brought by the Staple co-sign led to the lawsuit. Their advice to Lotas now is to stay quiet and lawyer up.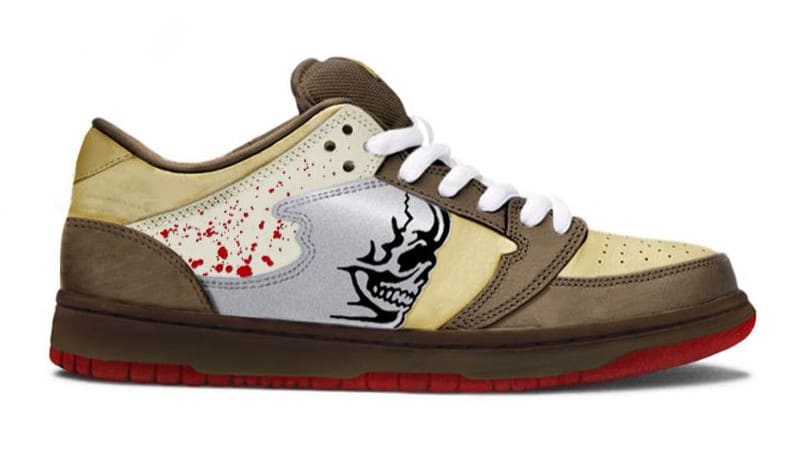 The young designer is not quite staying quiet. He has been vocal about the lawsuit on his Instagram Stories, where he's posted regular text updates on his plan to fight back. He says there that he's been bombarded with angry messages on social media from people who wish him dead and want him to kill himself. So intense is the wave of negativity his Dunk-like sneakers provoke that he usually doesn't even monitor reactions on launch days. 
"There's been some major outrage, even when the shoes were released, the lawsuit breaking," Lotas says. "I've read some crazy shit."
Some detractors doubt the quality of his shoes, which he says are assembled in Indonesia with leather from the Gruppo Mastrotto tannery in Italy. Others accuse him of pilfering Nike's catalog, making minimal changes to existing designs, and reaping the resulting profits. To that, Lotas responds that his straightforward approach didn't mean the process was easy. In fact, it took him around eight months to get the first round of shoes delivered.
"It wasn't out of laziness," he says. "It took a lot of legwork for that to be a tangible thing."
Lotas has lawyered up. He even countersued Nike, saying the brand's trade dress around the Dunk shoe is invalid because the elements of the shoe it's trying to protect are functional and trade dress does not apply to functional pieces of design. Zerbo, of The Fashion Law, does not see much hope for him in his defense against Nike.