There was a time where being a woman who loved sneakers felt hopeless. I don't love the term "female sneakerhead" because you don't have to be that to love or wear sneakers, and so much of the romance gets lost in the politics of giving yourself a title. Either way, being a woman in this community, as with many other male-dominated communities, demonstrated a void within the landscape. Our voices were merely whispers and our presence eclipsed by the shadows of the men among us while we struggled to find like-minded women to connect with.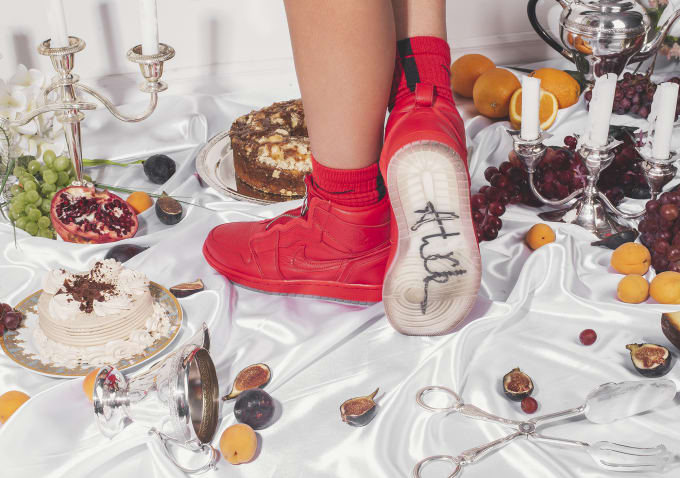 Never could I have imagined that women's sneakers would reach a level of popularity that it would birth a collaboration between Jordan Brand and Vogue - Anna Wintour approved and all.
The cherry on top would be the brunch hosted by Jordan Brand in Toronto to celebrate this launch with some of the (many) women in the city who propel the culture forward.
This means that not only are women finally being recognized as important players in the culture, but so is Toronto. We just didn't get nice things like this before. Not Toronto, and especially not women (in sneakers).
Last Thursday, Jordan Brand took over the space at Struck Contemporary art gallery. We were greeted with mimosas (just water for me please) while we mingled and networked before being seated for a delicious brunch. The entire experience was tasteful: none of the overly feminine accents that we come to expect at women's events.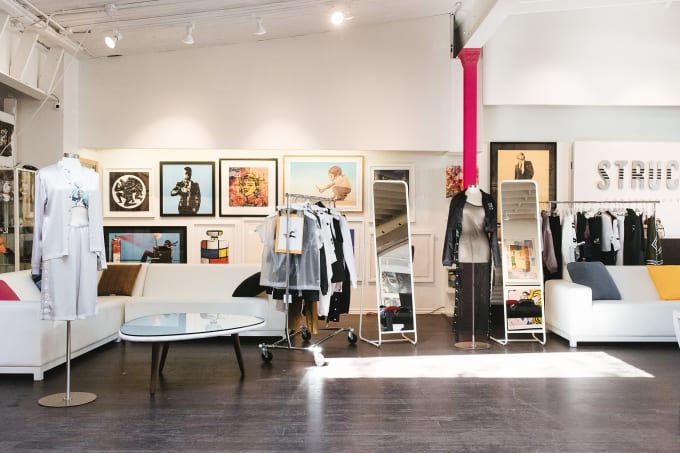 Rolling racks adorned with our photos and carefully curated articles of clothing awaited us to be styled in by Charlene Akuamoah; a sewing area set up with three machines for a personal mini cut and sew lesson with local designer Natalya Amres to customize a simple Jordan tee; and an ornate photography set designed by visual artist and photographer Briony Douglas to later capture us tied the entire fashion theme together. It is Vogue, after all.
Sneakers have not always been synonymous with fashion. And in reality, neither has Toronto. In recent years this city has really come into its own as a hub of talent: touching all categories from music, art, fashion and sport.
One could not have happened without the other.
So what does all of this mean? For women and for Toronto? This is bigger than just sneakers.
Brands are carving out more space for women because they are seeing the uprise of women. The same can be said about this city.
Thanks to many of our favourite artists such as Drake and The Weeknd (I'll leave the music opinions to its experts but feel free to ask me about shoes), Toronto has cemented its role as a creative force. "The face of our Rap / R&B music scene has always been that of the Boys' Clubs, but the little unknown secret is that the women have always been the backbone to the scene," says Erin Ashley, hip-hop editor for Exclaim.ca. "Whether it's in publicist positions, DJs, journalists, promoters and now, slowly but surely, managers and A&Rs, we've managed to find ourselves in positions that can elevate our music scene to the present heights that it's reached. Our scene isn't perfect, nor is it fully balanced in terms of gender, but for the most part, there's a mutual respect and a common goal that allows us all to work together to break down the doors of those longstanding clubs."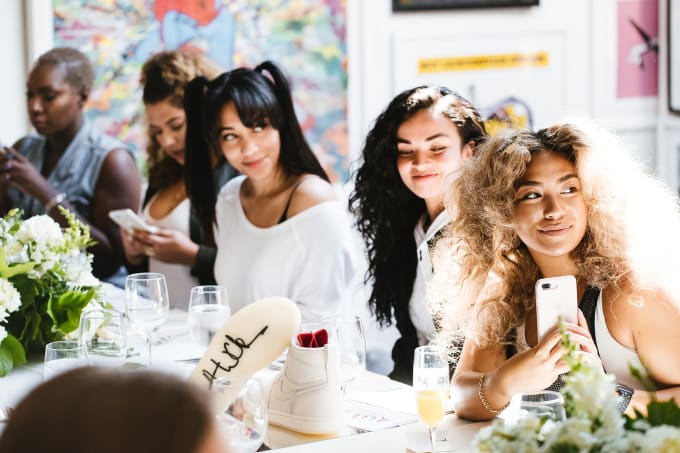 As for the visual arts world, Hayley Mitchell, founder of Verso Creative Agency, tells us: "Toronto holds an immense amount of talent, but that being said I still think we have a long way to go in terms of the acknowledgment of art and creative culture… once art is no longer viewed as a pastime for weekends here I think it'll be a major step in the right direction alongside other major cities. We have the talent, we just need the extra support." And as for women in the creative space, Hayley believes that "female artists are more unapologetic and united and it's only going to become greater with time."
Toronto is certainly making a name for itself and it's bringing a lot of talented women with it. The sneakers are just a bonus.
We also customized our own fragrances with Aromachology, a local women's owned business.
So here we were, celebrating a very important women's sneaker collaboration, while also celebrating women in our city. What a time. Oh, and all while also watching the worlds of sneakers and fashion collide. What a time, part 2.