Originally introduced in 1972, the Nike Blazer was the simplest of high-cut leather basketball shoes. Named for the Portland Trail Blazers and worn by star guard Geoff Petrie, they were essentially Swoosh billboards for fans of the National Basketball Association, another way to get the two-year-old company on the sneaker map. They stayed in production for a long while, into the '80s, then faded as Air Force and Air Jordan took over. For years, maybe even decades, the Blazer was just another old sneaker, remembered fondly by aficionados but forgotten by most everyone else.
Thirty years later, three releases changed that. In 2002, the Blazer was reinterpreted for Nike's new skateboarding (SB) line in "Paul Brown" and Mesa Orange, with an old-style fatbelly Swoosh. The Blazer had been used by skateboarders before and had influenced the second generation of skate shoes—its shape can be seen reflected in classic basketball-influenced models like the Vans Mid Skool 77—but this was the first time it was intentionally marketed as one itself. That same year, streetwear kings Stüssy released two Blazer collabs, in muted navy and grey, with Swooshes (small, modern ones) in vibrant colors, Turbo Pink and Poison Green respectively. They proved to be the most highly sought-after Blazer in 30 years. That was, at least until the following year, 2003, when legendary graf artist Futura reworked the fatbelly Swoosh version in varying militaristic shades of green with a crackle finished upper for Nike's first Artist Series. Like the Stüssys, the Futuras were extremely limited and highly sought after. The Blazer was back. The stage was set. And in 2006, the ultimate Nike Blazer hit the market.
Enter Supreme.
What Supreme did to the Blazer in 2006 was unprecedented in many ways. It wasn't that Supreme hadn't worked with Nike before, because they had—there were the now-classic elephant print Dunk SB Lows in 2002, the outrageous trio of gold-starred, croc-print, triple-laced Dunk SB Highs in 2003, and an understated (except for 3M hits) and underappreciated set of Delta Force Mid SBs in 2004. Then there was a gap of nearly two years. The Blazers, nobody saw these coming.
"I'm not really much of a Supreme 'fanatic,'" says Staple Design's Jeff Staple, with the quotes implied. "Like I don't find it necessary to cop each and every release. But for those in particular, I really wanted all three. I distinctly recall emailing [Supreme founder] James [Jebbia] directly for them, and you can imagine that trigger should not be pulled often. Anyway. I needed 'em. I loved 'em."
Supreme flipped the utilitarian Blazer in obscenely luxe form, with grey snakeskin Swooshes, green and red checkerboard nylon heel webbing and an embossed gold D-ring. Quilted leather uppers in black, cream and red channeled Chanel bags, while the heel strip was pure Gucci. They were perfect, in a completely over-the-top way, one that would have been equally at home in the pages of either Thrasher or Vogue. "What they really reminded me of was what Dapper Dan did back in the day," Staple says. Harlem's Dapper Dan was the true luxe-street pioneer, creating bespoke Gucci and Louis Vuitton gear of dubious authenticity for the likes of Eric B & Rakim and LL Cool J.
While the shoes themselves were something that hadn't been seen before, the general concept was pure Supreme: Take a relationship that had long existed and turn it all the way up. "Luxe has always inspired streetwear, and streetwear has always channeled luxe," says The Hundreds co-founder Bobby Hundreds. "It's a symbiotic relationship. Both need each other, infatuated with another, whether it's for credibility, aspiration, or cool points. Even though it wasn't called 'streetwear' at the time, look at what Shawn Stüssy was doing with those interlocking 'S' Chanel flips. Or, how Nigo implemented the hyper-exclusive, limited edition element to [A Bathing] Ape."
What's more, this wasn't something that was exclusive to streetwear. Skateboarders had been gravitating to high-end fashion for years—Supreme actually did a series of monogrammed "Louis Vuitton" decks back in 2000. A cease-and-desist ended that. "Luxury brands and skate have co-existed together since the '80s and early '90s," says Diamond Supply Co. founder Nick Tershay, "from skaters like Tommy Guerrero and Natas [Kaupas] wearing LV and Gucci hats in skate magazines which made me buy fake Gucci knock-off hats as a kid from the flea market so I could look fresh too." In New York City this relationship was easily fulfilled with fake LV belts from Canal Street or Air Force 1s with Gucci- or LV-monogrammed Swooshes from—wherever.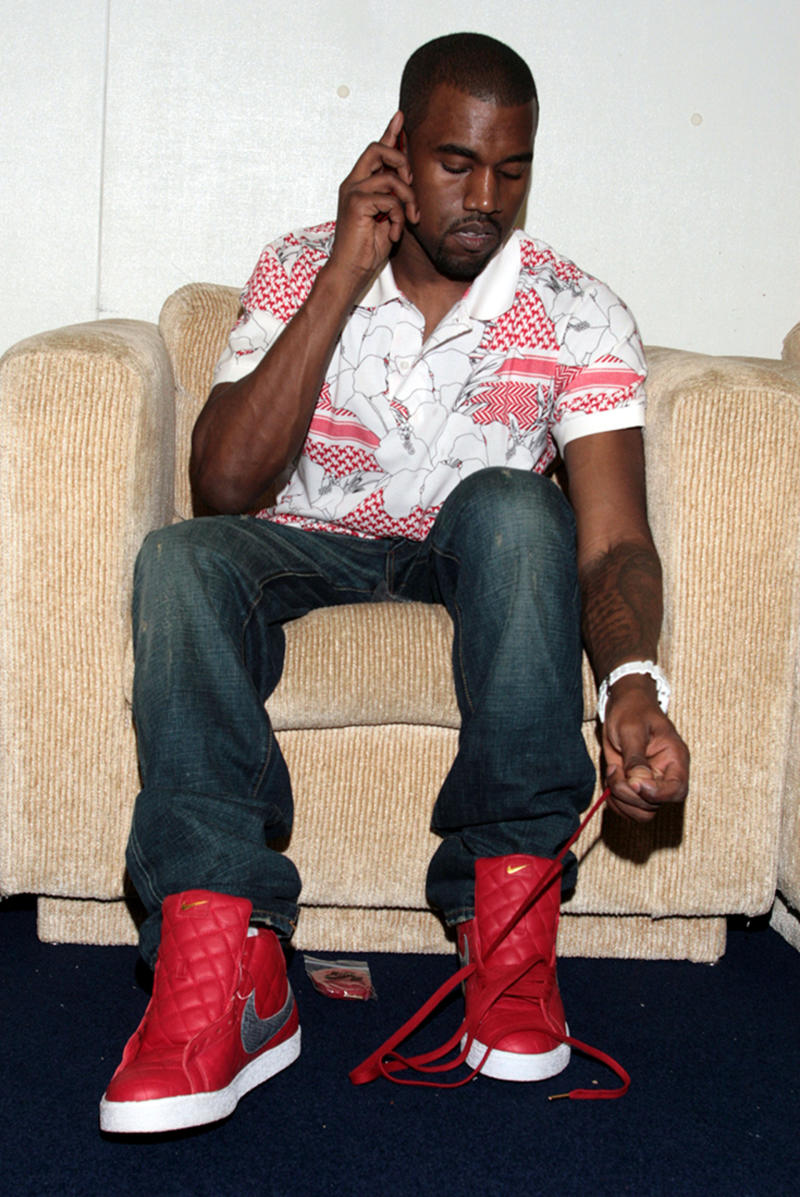 Like Staple, L.A. native Tershay had to have the Supreme Blazers. They had New York roots and bi-coastal appeal. "I went to Supreme [L.A.] the day they came out and copped all 3 pairs," he says. So did Crooks & Castles Dennis Calvero, whose own L.A.-based brand also used luxe fashion flips—most notably the Versace Medusa—to great effect. "When our brand first ​launched I always used luxe or high fashion as a point of reference in creating our core imagery," Calvero says. "Louis Vuitton and Gucci were big influences." The Blazers even got the coveted Kanye co-sign, as West laced up a fresh red pair for 2007's Grammy Foundations Starry Night party in July.
Hundreds didn't actually get the Supremes, but he appreciated what they stood for. "For the people who liked them, they couldn't take 'em off," he says. "I was personally never a fan of the Supreme Blazers, probably due to the quilted leather. I think the Blazer is a tricky shoe. Stüssy and Futura did it best, as far as collaborations—that sneaker always looks best with a narrow last and a tight silhouette. But [the Supremes] looked really good on girls!"
Ten years on, acquiring just one pair of Supreme Blazers will run you more than sneakers from an actual luxury brand—current resale prices start around $1,200. And, oddly enough, the influence has started to run in the other direction. Where previously skate and street brands mined luxe brands for cues, now you have luxury brands reflecting the street.
"A good amount of high fashion in 2016 to me looks basically like its skate or streetwear inspired," Tershay says. "A lot of luxury brands' styles look just like stuff Diamond, Supreme, 10 Deep or any other brand in our world have made. Go to Saint Laurent for instance, and a good portion of their collection looks like you could walk into any streetwear boutique or skateshop and get the same thing."
The Supreme Blazers weren't the first sneakers to reference high-end style. They weren't even the first Nike SB to do so, as Tershay's own Tiffany-box inspired Dunks had released the previous year. But in terms of pure ostentatiousness, of anything-worth-doing-is-worth-overdoing-ness, the Supreme Blazers reigned, well, Supreme. Nobody had done it better. And, 10 years later, even with similar drops like Don C's Air Jordan IIs, no one's topped them yet.