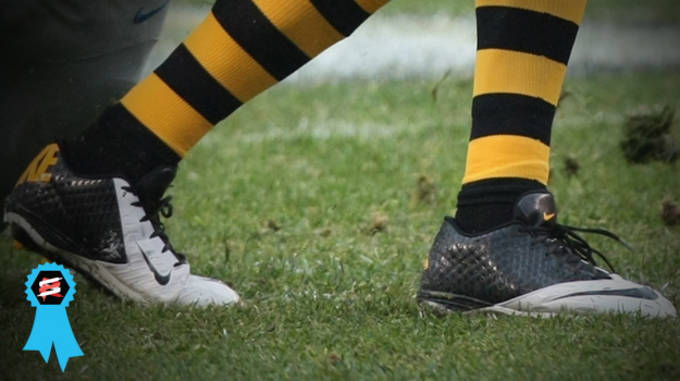 There was a full week of NFL action on Sunday featuring some great performances all around. The Pittsburgh Steelers had a mini-explosive offensive performance in a 37-27 win against the Detroit Lions. Quarterback Ben Roethlisberger had a strong four touchdown performance and wide receiver Antonio Brown had 2 touchdowns in the win. Somehow the Giants were able to pull even closer in the NFC East race by defeating the Green Bay Packers. Now with a 4-6 record, the Giants are only 1.5 games back of the division crown despite starting out 0-6.
There was some other sports action on Sunday with the NCAA Basketball season continuing a white hot start. The Belmont Bruins were able to upset the North Carolina Tar Heels 83-80 behind a late clutch three-pointer from J.J. Mann. In the NBA, the Portland Trail Blazers won their sixth consecutive game this season behind 25 points and 8 assists from point guard Damian Lillard in a 110-1000 overtime win over the Toronto Raptors. Here are the Shoes That Won Last Night.
Rafael Canton is a freelance writer from Queens, NY and contributor to Sneaker Report. Anytime there is a conversation about the NBA, music, or nutella, he can be found in the thick of the discussion. He can be found on Twitter @RafelitoC7.
RELATED: The Shoes That Won Last Night: Florida State, Ohio State, and Alabama Remain Undefeated, Kyrie Irving Slays Wizards with 41
RELATED: The Shoes That Won Last Night: LeBron Drops 39 on Dallas, ACC Teams Win Big in Men's College Hoops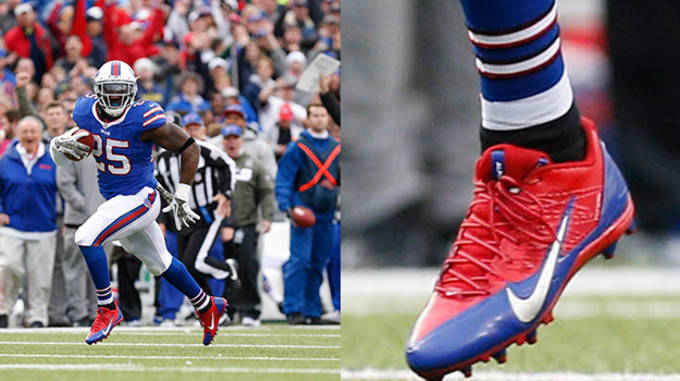 Shoe: Nike Alpha Pro TD
Player: Da'Norris Searcy
Game: Buffalo Bills vs. New York Jets
Furious defensive attacks can completely change the outlook of a game. The struggling Buffalo Bills know all too well about that. Buffalo's defense had a field day with rookie quarterback Geno Smith forcing the Jets youngster into 4 turnovers (3 interceptions and 1 fumble lost). One of the leaders of that attack was Da'Norris Searcy who had a 32-yard interception return in the middle of the third quarter for a touchdown that extended the Buffalo lead to 34-7. The Bills taught the Jets rookie a lesson. Every dog has its day.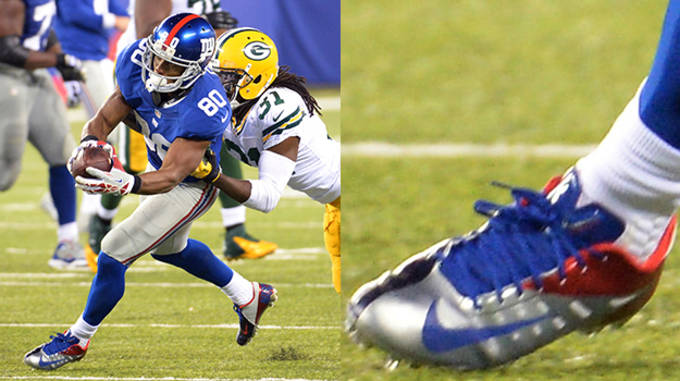 Shoe: Nike Vapor Pro Low TD
Player: Victor Cruz
Game: New York Giants vs. Green Bay Packers
The NFL season has featured more salsa dances from opposing players than Victor Cruz himself this season. Cruz still failed to find the end zone last night, but he has done a great job staying consistent and providing a key option for quarterback Peyton Manning. Cruz had 8 receptions and 110 receiving yards for the Giants in their 27-13 victory over the Green Bay Packers.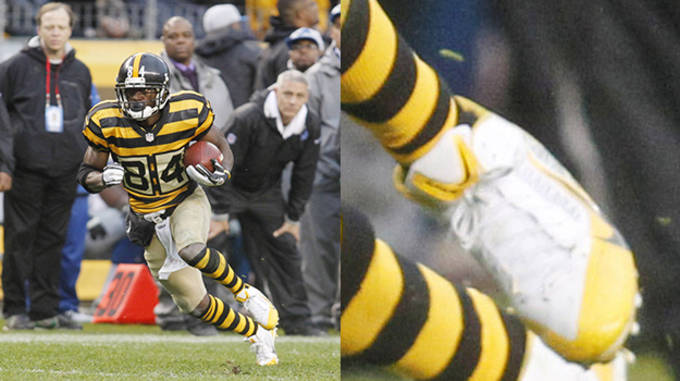 Shoe: Nike Alpha Pro TD
Player: Antonio Brown
Game: Pittsburgh Steelers vs. Detroit Lions
As much as we give praise to quarterbacks, the beauty is all within the chemistry they build with their wide receivers. Antonio Brown and Ben Roethlisberger have that connection and that was evident based on the great performances both had yesterday. Brown was the beneficiary of some great Big Ben passes in the first quarter. He set the Lions secondary on fire with two touchdowns in the first set and ended up with an astounding 147 yards receiving in the win.
$95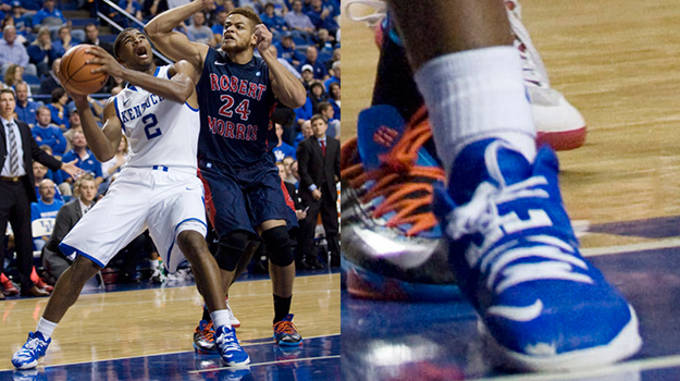 Shoe: Nike Zoom Soldier VII
Player: Aaron Harrison
Game: Kentucky Wildcats vs. Robert Morris Colonials
Some of these top seeds will have those games where they play subpar competition and make light work of them. That happened yesterday when the Kentucky Wildcats put an 87-49 whooping on the Robert Morris Colonials. Aaron Harrison stood out for Kentucky in the rout with a game-high 28 points, 4 rebounds, and 3 assists in the victory. Harrison was able to hit all 10 free throw attempts and also erupted for 4 triples in the win  while wearing the Zoom Soldier VII making it an easy victory with a great individual performance.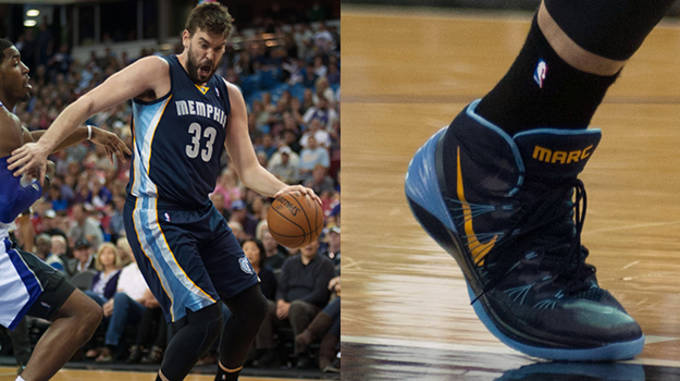 Shoe: Nike Hyperdunk 2013 PE
Player: Marc Gasol
Game: Memphis Grizzlies vs. Sacramento Kings
The Memphis Grizzlies have gotten off to a rocky start this season, but luckily an NBA championship isn't won in the first ten games of the NBA season. Marc Gasol will be at the center of any success that Memphis has this season and in the near future as well. Gasol was his normal self last night with 19 points, 8 rebounds, and 9 assists in the Grizzlies' 97-86 win over the struggling Sacramento Kings. It's just Sacramento, but it's encouraging to see Gasol put in work and put 'em in the dirt.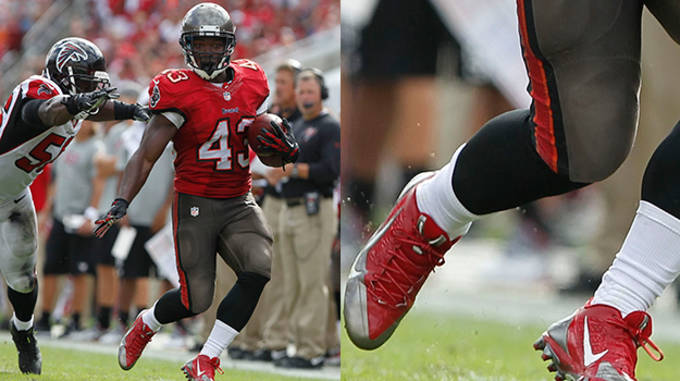 Shoe: Nike Alpha Pro TD
Player: Bobby Rainey
Game: Tampa Bay Buccaneers vs. Atlanta Falcons
Just two weeks ago, the Tampa Bay Buccaneers were 0-8 and looking like they had a good chance at going winless. The Bucs have put it together recently and won their last two games making them a little more respectable at 2-8 this season. Their success in their second win of the season can largely be attributed to the strong performance from running back Bobby Rainey. After being waived earlier this season by the Cleveland Browns, Rainey has found a way to become a major contributor for Tampa Bay. In yesterday's game, Rainey had 163 rushing yards and 2 rushing touchdowns in the 41-28 Bucs victory.
$75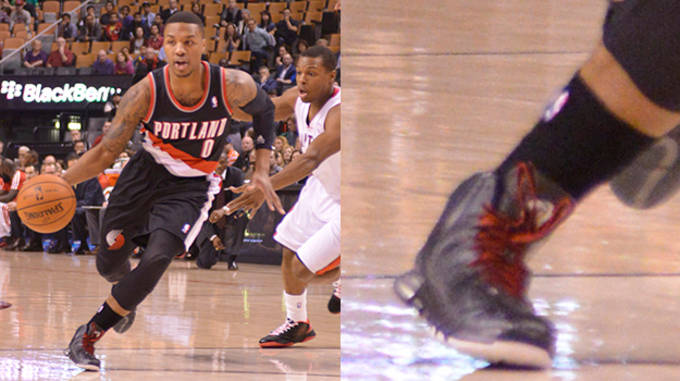 Shoe: adidas D Rose 4
Player: Damian Lillard
Game: Portland Trail Blazers vs. Toronto Raptors
As long as the Portland Trail Blazers have their high octane offensive starting lineup, they should be fine this season. The key to the lineup has to be second year guard and reigning Rookie of the  Damian Lillard who has an electric offensive game. Lillard was on full display in the adidas D Rose 4 as the Portland Trail Blazers managed to defeat the Toronto Raptors 110-100 in overtime. Lillard put together an impressive stat line with 25 points, 5 rebounds, and 8 assists in the win which was Portland's sixth straight win bumping them up to an 8-2 record.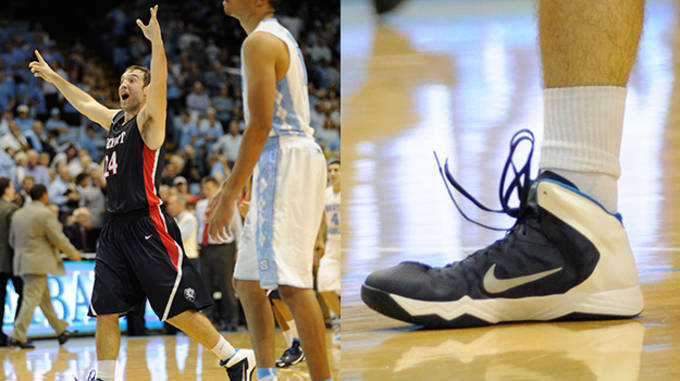 Shoe: Nike Hyper Quickness
Player: J.J. Mann
Game: Belmont Bruins vs. North Carolina Tar Heels
The number twelve ranked North Carolina Tar Heels have to be wondering what hit them after losing to the Belmont Bruins on Sunday. Guard J.J. Mann hit the go-ahead 3-pointer with 13.1 seconds left, helping the Bruins beat the Tar Heels 83-80 on Sunday in the Hall of Fame Tipoff. Mann did not have the best shooting performance, but he still had the confidence to shoot as evidenced by his 28 points. Mann was also able to manufacture 9 rebounds and 3 assists in the major upset victory for Belmont.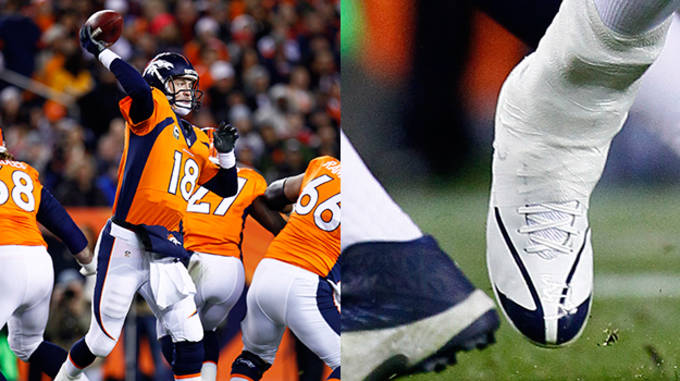 Shoe: Reebok Zig Blaze Mid SD4
Player: Peyton Manning
Game: Denver Broncos vs. Kansas City Chiefs
Peyton manning is always going to do Peyton Manning things. He's going to make quick adjustments, get the defense uncomfortable, and hit his wide receivers with the ball where they can make plays. Manning continued that by throwing for 323 passing yards and 1 touchdown pass in Denver's 27-17 victory over division rival Kansas City. The Chiefs couldn't find a way to get to Manning leaving him very comfortable which is dangerous for any opposing defense throughout the course of a game.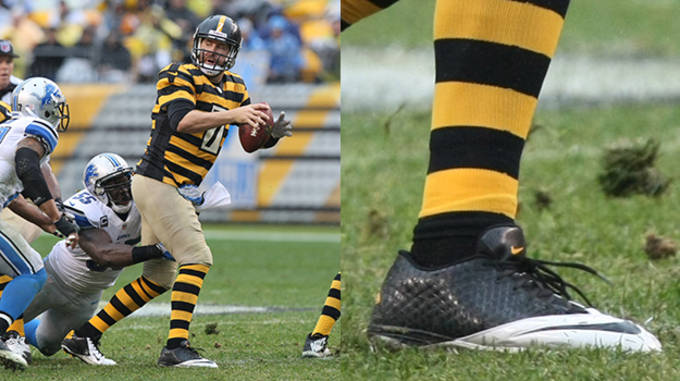 Shoe: Nike Lunar Superbad Pro D
Player: Ben Roethlisberger
Game: Pittsburgh Steelers vs. Detroit Lions
It's been a pure struggle season for the Pittsburgh Steelers and Ben Roethlisberger. The Steelers quarterback has his lowest quarterback rating since 2008 and would like to rebound for the rest of the season even if the Steelers fail to make the playoffs. Roethlisberger put on a retro and signature type of performance with 367 passing yards and 4 passing touchdowns. The Steelers ended up taking a 37-27 win over the Lions, pushing their record to a disappointing 4-6 record, but they're still in it with some time left in the season.
Rafael Canton is a freelance writer from Queens, NY and contributor to Sneaker Report. Anytime there is a conversation about the NBA, music, or nutella, he can be found in the thick of the discussion. He can be found on Twitter @RafelitoC7.
RELATED: The Shoes That Won Last Night: Florida State, Ohio State, and Alabama Remain Undefeated, Kyrie Irving Slays Wizards with 41
RELATED: The Shoes That Won Last Night: LeBron Drops 39 on Dallas, ACC Teams Win Big in Men's College Hoops