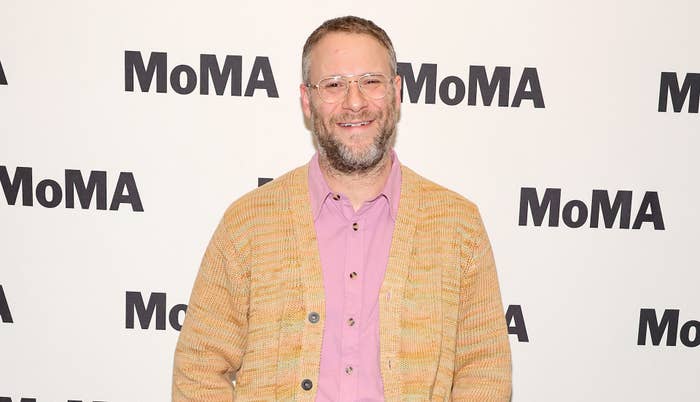 Seth Rogen's looking to make some more TV.
The 40-year-old got a straight-to-series order, per Deadline, for an Apple TV+ comedy that'll see him starring and executive producing. He'll also co-direct with longtime partner in crime Evan Goldberg, and co-write with Goldberg as well as Veep alums Peter Huyck and Alex Gregory. The latter two are the showrunners.
The outlet reports the project is "about a legacy Hollywood movie studio trying to survive in a world where it is increasingly difficult for art and commerce to live together," which brings to mind—at least tangentially—showbiz-adjacent films of Rogen's like The Disaster Artist, Zack and Miri Make a Porno, and The Interview.
Variety notes Apple TV+ nabbed the new show in "a competitive situation with multiple bidders," and that Rogen was previously announced to be starring in the platform's Platonic with his Neighbors co-lead Rose Byrne.
Seth Rogen has recently acted or lent his voice to shows and limited series including Pam & Tommy, Curb Your Enthusiasm, and Big Mouth. He's also appeared in projects produced by his and Goldberg's Point Grey Pictures company such as The Boys and Invincible. This fall's buzzy The Fabelmans from Steven Spielberg will mark Rogen's first movie role in more than two years, following An American Pickle in mid-2020. He's also been cast in Dumb Money—about the GameStop short squeeze that wrought financial mayhem on Wall Street—with Pete Davidson, Sebastian Stan, and Paul Dano.
And then, of course, there's the recently revealed series continuation of 2016's raunchy Sausage Party, coming in 2024.
"Film used to be the superior art form to television, and we humbly reached the pinnacle of what can be achieved with film in our remarkable opus, Sausage Party. But now that film is completely dead and TV is the forever-king of entertainment," Rogen and Evan Goldberg cheekily stated, "we've decided to continue the epic adventures of our culinary crew in the soon-to-be-legendary televised masterpiece Sausage Party: Foodtopia. It's got all the heart, double the puns, and triple the food-on-food sex. In other words, it's exactly what the world needs right now."