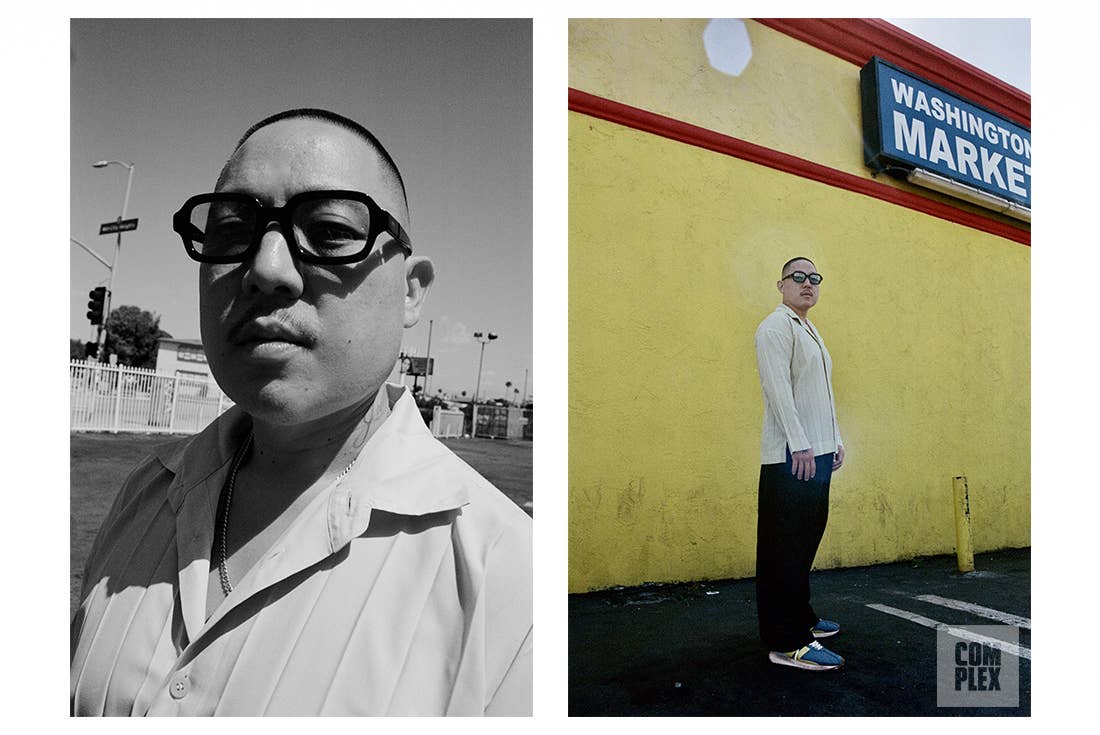 Eddie Huang has spent the past decade building a brand around himself that's steeped in rebellion, cultural understanding, and free-flowing creativity. Blending his Taiwanese American heritage with an earnest hip-hop swagger, the celebrity chef, a one-time attorney, built a significant following by simply doing him. From expressing his experiences growing up through a best-selling memoir to adapting said material into a groundbreaking prime-time family sitcom, Huang has risen as Asian American representation in pop culture has grown more prevalent. For his next trick, he's tackling cinema through directorial debut Boogie. 
Also written by Huang, the film is something that feels directly lifted from his mind. A coming-of-age sports drama starring first-time actor (and former Huang assistant) Taylor Takahashi, Boogie tells the story of its adolescent titular character caught between NBA hoop dreams and fulfilling his Taiwanese American parents' aspirations for him. There's also a love story revolving around Boogie and Eleanor, portrayed by Taylour Paige. More recently, Paige has found herself as an A-lister in the making with breakout roles in both Ma Rainey's Black Bottom and the upcoming Zola. 
Boogie also stars the late Pop Smoke opposite the lead as basketball rival Monk, and the Brooklyn drill icon has a handful of exclusive songs on the film's drill-heavy soundtrack. Huang himself even lends a hook to a track from Taiwanese rapper Bad Boy Raco G.
Released in early March exclusively to theaters still figuring out how to operate post-COVID-19, Boogie is is out now on VOD. Its multi-hyphenate creator, Huang, caught up with Complex over the phone to talk about the inspiration behind Boogie, delivering nuanced portrayals of Taiwanese American and Black culture, combating violence against Asian Americans, and the idea behind his next film.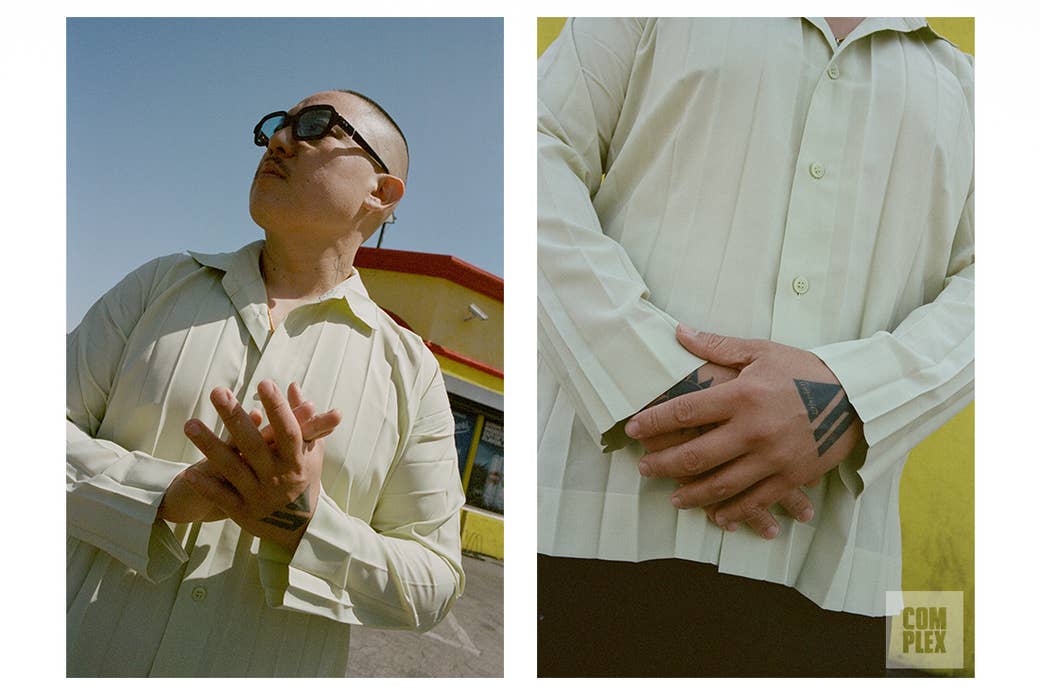 I read most recently you showed up at the AMC Century City 15 for the screening of Boogie. We're at a time where, I guess, the film industry has hit a crossroads with everything going on post-COVID-19. In what ways did the pandemic change how you saw the release going?
I'll be honest. I'm a weird person. I really didn't think about the release. I was just like, "cool." There's other things to worry about. I love the film and I'm on top of it. I talked to Focus on an everyday basis about what's going on, but I was just like, I believe in the film. I knew the audience, for this size of film, I believe our budget was somewhere, after taxes, in the six range. For a film this size to be No. 4 at the box office behind $100 million films, I think it's phenomenal. I'm quite happy with the rollout. I'm happy with the reception. I think there's a lot of other stuff going on that I was a little more concerned about.
I think it's cool to see an urban New York coming of age basketball movie in this era, like Sunset Park, Above the Rim. How much were you influenced by those films? Because I see bits and pieces of them, a little bit, in Boogie.
Yeah. What are the films? I guess that people would look at those films first and see the inspiration. I love those films, but that's not really where I got the inspiration from. My inspiration really came from watching Goodwill Hunting, and then Rocky. Rocky I thought was a really cool film, where it's not really about boxing, but it's taking you on a tour through Italian American Philadelphia, and the generational struggles.
I do think Above the Rim does that quite well. I definitely watched Above the Rim during production. If there is an Above the Rim influence, it's in the soundtrack. And it's in the way we probably approached merchandising the film. Above the Rim to me is a music film and I really liked that. That's a big aspect of it. Of all the basketball films, I'd say Above the Rim and then really Love & Basketball, because at the end of the day this is-
A love story.
Yes, this is a love story. I think that's why, when you initially throw them out, I'm like, "I don't know if that's necessarily where this comes from." I draw a lot of inspiration from Taiwanese cinema, films like Rebels of the Neon God. If you watch that film, a lot of this film, the scenes that we shot in the home are quite reminiscent of that film.
Speaking of the soundtrack, you have the "Plug Speak Taiwanese" joint on there with Bad Boy Raco G. Is rapping the next thing for you to creatively explore? 
It's funny. I'm definitely not coming out with an album anytime soon. But what happened was, I feel like there is a drill movement going on around the world. You got drill from London. You got it in Brooklyn. You got it in Chicago. I was in Taiwan for a year and I knew these rappers. They're the only rappers I liked in Taiwan. They're the only dudes that do what they say in the songs. I was like, "Look, y'all listen to drill music. Why don't you make drill music?" They're like, "Word? We could do that?' I was like, "Yeah, you don't have to ask anyone for permission. Just, if you like a beat, put it up."
I actually am good friends with Benny Blanco. Benny Blanco had a high school friend named Dave Clark that was in Taiwan. He linked me with Dave. Dave sent us a pack of beats. I liked one in particular and we put the beat up. I was like, "Look, if we're going to make a Taiwan drill song, we should call it 'Plug Speak Taiwanese,'" because Taiwanese is a patois. It's not written. The written language is still Mandarin Chinese, it's what everybody reads in Taiwan. 
Taiwanese people speak a patois. And also because of our history, Taiwanese dudes were always known as the gangsters in the street dudes because after the civil war in China and the Cultural Revolution, the Chinese nationals were backed by gangs. They were backed by gangsters. When we lost the civil war, Taiwan was flooded with Chinese gangsters. Even after the Cultural Revolution and China opened it back up, and Taiwanese people could go to China, Taiwanese dudes were known as the gangsters of East Asia. A lot of the time, your plug speaks Taiwanese. I was like, "That's the concept for the song."
They were like, "Yo, that shit is hard," because no one else is going to know it. But if you're in Taiwan, you're in China, it's just like Taiwanese dudes being like, "We're still the plug."
Speaking of that, you got Pop Smoke. You've talked about his role constantly and how great he was. 
He is phenomenal.
What kind of work went into securing his music for the soundtrack, alongside just the curation with the rest of the soundtrack?
Well, it really wasn't that difficult because Rico Beats and Steven Victor are amazing partners. We love those dudes and we've known them for a very, very long time. I've known Steven and his wife and his family through friends of mine. We have a good rapport. And my best friend, the EP on the film, Rafael Martinez, has worked with Steven for quite some time. It's easy, man. When you work with friends and everybody respects each other, it's easy to get things done. 
Since the end of the film, me and Pop had been talking. We were going to do the "Gatti" video together. And then, it got a little crazy. I think he got accused of stealing a car. The video got thrown together real quick, but I always kept in touch with Pop and Steven and we were trying to work on a video together because we had so much fun together on the movie that we were like, "Yo, let's get this on the music side."
They would continuously send us music, but we loved "AP." We loved "Fashion." 808Melo was great. 808Melo tuned up "Plug Speak Taiwanese" big time. I got to mention that. The beat from Dave was cool. It was cool, but it wasn't what it currently is. 808 got in there and just tightened that thing up and really made it go. It's not hard when you're working with Melo.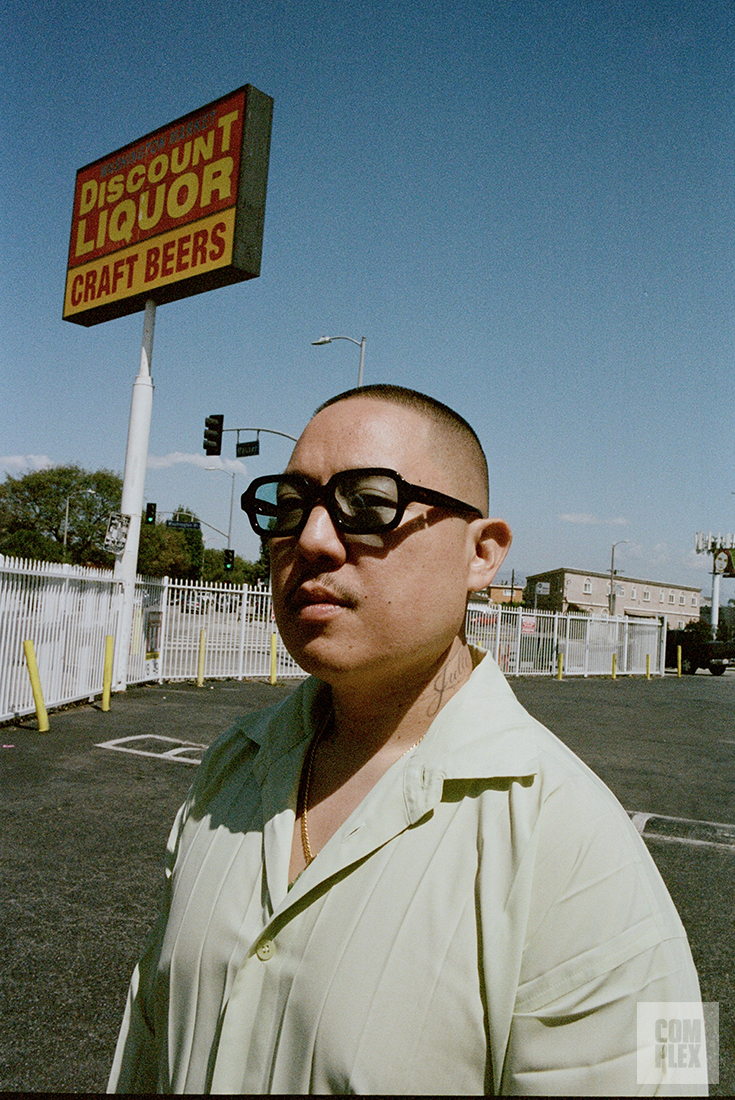 How did you get the chemistry right between your assistant and first-time actor Taylor Takahashi and an actress as seasoned as Taylour Paige?
Well, I think a lot of it starts with Taylour Paige's generosity, just to keep it 100. There were a lot of established actors we went out for in regards to that role and their response sometimes was, "I don't know about acting across from a first-time actor with a first-time director."
I've known about Taylour for quite some time because I boxed in the same gym as Jesse Williams. I'm friends with Jesse, but then also I saw Taylour in White Boy Rick. And then, my casting director passed me one of her auditions. I was like, "Wow, she's wonderful." I was like, "She feels like the one." We sent it to her and she gravitated towards it immediately. That deal got done within a matter of days.
Taylour Paige is so cute. She went right to it. I don't even think the deal was done yet, but she got my phone number and we talked and she was excited and she had ideas. We jumped right into rehearsal. She had so much energy for the role. I really do think that Taylor Takahashi was able to lean on her. He got a lot of mentorship and advice from our entire village of actors, Jorge Lendeborg, Dom Lombardozzi, Pamelyn, Mike Moh.
They all were able to lend them a hand because the film was really special to all of us. We all knew that we got one shot to do this Asian and Black American film. It's a sports film and it's an indie film and it's a first-time director. They knew how hard I'd worked to get here and how much I fought to be able to tell this story.
For actors like Pamelyn or Perry Yung, they'd been trying to do this for a decade and the opportunities have not come along. All of us were like, "For this thing to be good, we all got to help Taylor Takahashi." To Taylor Takahashi's credit, he soaked up all the knowledge. He would ask everybody questions. He would take the advice. He was never too big to have a learning moment.
There's this funny scene when Charlamagne's character called the teacup "the official beverage of the sunken place." I started asking, was that something that you wrote? Or was that something that Charlamagne improvised?
I gave him that. I'll tell you. The people on the film, I really had a lot of fun directing, because they're basically comedians and we could just throw ideas at each other. Charlamagne, Despot, who's the assistant coach, the white guy with the mushmouth, and then, Pop Smoke. Those three, when we were hanging out on set, making the movie, it just felt like we were playing ball like, "Try this thing. Try this thing." 
And Charlamagne, he'll correct me if I'm wrong, but I remember we were talking about what he was going to drink. It's Taiwan beer, with tea. I was like, "Yo, it can be some Get Out shit." He was like, "Oh yeah, I got that." Charlamagne came with the exact wording, the official beverage of the sunken place.
I love it. I had a good time, man, because I've really been around this shit. That's the thing I think that shows through the film. And he's been around this. He knows this culture. He knows what he's doing and his actors feel comfortable. It feels real. I will go back to your initial questions, but that is very reminiscent of Above the Rim. I think the reason why I say my inspirations, the things I studied were Good Will Hunting or Rocky, because I don't know that world. 
That world of South Boston, I don't know that. Italian Philadelphia, I don't know that. Those films really opened my eyes to that. I watched Above the Rim. I know those parks. I know those streets. I've been around that. I think sometimes I may watch Above the Rim and I'll take it for granted because, "Oh yeah, we were already going to do that. We already got to have Pop like Birdie, who Tupac played as. The more I think about it, you're absolutely correct. Above the Rim is a huge influence.
How crucial was it for you to always be mindful of showing the cool parts of Taiwanese and Black culture?
Yeah. I love that you asked that question because it's funny. I'd be at other media outlets sometimes and you get some nerdy journalists. It's like, "Where's the line between appropriation and..." Lady, I don't know what era you lived in, but if you played ball and you went outside and you want to eat Jamaican food, you're going to interact with this culture. It's not like Black people live in a dungeon that we couldn't meet. Come on, man. And it's also, why do you act like Black people have never seen a Chinaman before? Where do you think everybody's buying fucking wings from?
Matter of fact, I was a Louisiana Fried Chicken loyalist myself prehypertension. 
See, everybody got their spot. Me, I fuck with American Deli. You're walking around Brooklyn, you start seeing chicken bones on the street, 95 percent [of the time], you're going to turn this corner and see a Chinese guy. He could be right there. He could be right there with the duck sauce and that's where the chicken wing came from. 
My thing is, I think that a lot of writers and a lot of directors do a disservice to our communities because they get to Hollywood and they meet these executives. They're in these studios and you get asked a lot of questions, "Hey, how are we going to handle the color of this person's skin? How are we going to handle the way this person integrates into this community or talks about this community?"
Then it becomes very unnatural because every line you write, everything, has to have an excuse or reasoning or logic. For people like you or me, the way we talk on the phone, we have the same cultural references.
You're from Inglewood. I'm from Orlando, but we're absorbing and we're aware of the same culture. I think that we really have to push ourselves to be more natural and stick up for this intersectional and more diverse life than we've been living because my friend group is very diverse. It's not something that I want to go to a studio and tell them about it. You just see it in the work. I hope that over time, we just get used to seeing this and that there's a generation of people that can participate in Black culture and present images influenced or inspired by Black culture without being predatory, without being vultures, without appropriating.
It just becomes a fabric of ourselves. I don't think there's a magic board. It's not like, "Hey, did you hire Black people?" Of course I hired Black people. Of course I hired as many as I could. And then, it's also all of the things I write. These are the things I've experienced and I felt, so it's not like I'm making it up or I'm sensationalizing. I think it's just about, did you live this life? Is it real? Does it come from an honest place? Did you make sure that that moment is landed and presented in the voice, in the body of the person that you got it from? I hope that makes sense.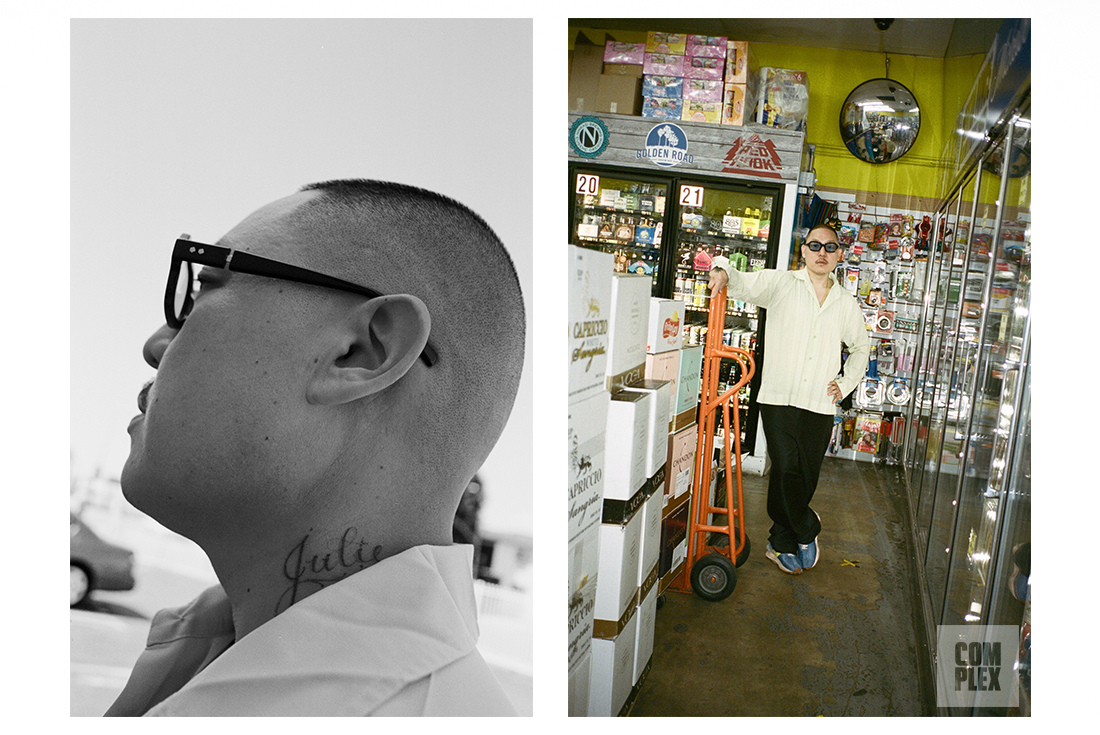 Even speaking of food, a lot of these glorious shots of our lead eating really cool Taiwanese food. Some time ago, you were on a campaign to stop the usage of Chinese restaurant syndrome. You do a great job of showing your activism even through those shots. 
It is activism, but I do it in a quieter way in the film. You just see it. I think it's really important to start to see these things in [their] natural habitat and not make it a talisman, so to speak, where it's just, "Yeah, I see these guys eat MSG. It's the noodles." It's just, they do and it's cool. It's part of the film. It's part of Boogie's life. I'm not necessarily drawing so much attention to it. It makes me think, but just, the more familiar we become with each other, the better life is going to be. You just got to see and taste it once and be around a family in their backyard. And then it's like, "Oh wait, don't make sense to me."
Also, every culture uses it. You go to a Jamaican kitchen, you damn sure know Maggi. You go into Cuban dude's house, there's going to be Sazon. That's all MSG. That's all how we get flavored because in our cultures, we're used to cooking with bones. We're used to having glutamates. I'll say this too. Lawry's Seasoned Salt got MSG. How do you protest Lawry's?
On a more serious note, we're not far removed from the horrific situation in Atlanta. From your perspective, what don't people understand about white supremacy extending to violence against Asian Americans? 
I don't know if it's that they don't understand. What's really heartbreaking is to see this happen and the guy literally targets these Asian spas, Asian massages, and kills Asian people, and then, have others tell us he had a bad day or people in the comments saying it's not a hate crime. What I think those people do not understand, to answer your question, is we don't want it to be a hate crime. There's not a single Black person or Muslim person or Asian person, or gay person, or a woman that wants to wake up and be like, "That guy killed those people because he hates that race or that gender or that sexuality."
This isn't new behavior, racist white folks, though. 
It's not. What they don't understand, they'll comment or they'll yell at us, "It's not a hate crime. He's a sex addict." My answer is, "What you don't understand, I wish this wasn't a hate crime." I wish there weren't people trying to kill us because of the color of our skin. I wish that I lived in a nation with this much diversity where we all were treated like whole human beings with the equal protection and application of the law. That is not our reality. Black people have been treated like three-fifths human beings for hundreds and hundreds of years. It continues.
Asians have been fragmented as well. Asian women have been brought to this country as sex workers for also hundreds of years. This has been going on. These things are all hateful and this is an extreme situation, which is absolutely a hate crime, but for them to try to write it off like it's not a hate crime or that these things aren't going on, on a daily basis, that we don't face these microaggressions constantly, in the wake of something this clear, that's the most upsetting.
Last question before we wrap up. Let's just say hypothetically, you were working on another film after your directorial debut. What genres are you interested in?
I did write a script and I basically want to make a Hong Kong gangster film set in LA, shot in that style, done in that way, but with a very LA character, Asian American. Rolling around Mid-City and Inglewood, and all those things. I think there's going to be a lot of fun. That's a film I want to make.
Eddie Huang's Boogie is available to rent via Amazon Prime Video or wherever you go for your VOD needs.