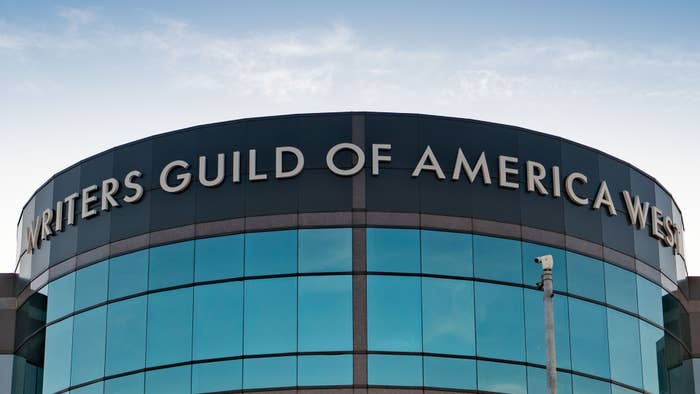 The Writers Guild of America is on strike for the first time in 15 years as writers are once again tasked with fighting for a living wage.
Issues detailed as being at the center of this strike include establishing minimums for streaming projects, preservation efforts for writers' rooms (i.e. a minimum of six writers, including four writer/producers, for pre-greenlight rooms), fairer residuals for streaming and foreign streaming, viewership-based streaming residuals (to be established separate from current fixed residuals), and more.
In a statement shared Monday night, the WGA negotiating committee said the strike would begin on Tuesday, May 2, at 12:01 a.m. PT.
"Here is what all writers know: the companies have broken this business," the committee said. "They have taken so much from the very people, the writers, who have made them wealthy. But what they cannot take from us is each other, our solidarity, our mutual commitment to save ourselves and this profession that we love. We had hoped to do this through reasonable conversation. Now we will do it through struggle. For the sake of our present and our future, we have been given no other choice."
Prior to the strike, the WGA's negotiating committee had been in talks with studios including Netflix, Apple, Amazon, Disney, and more. The Alliance of Motion Picture and Television Producers represented the studios in these talks. However, the studios' responses to the guild's proposals were "wholly insufficient"—more firmly, the guild said, the stance being held by the companies in power will only contribute to the "further devaluing" of the profession to which the entire film and TV industry owes everything: writing.
The increasingly concerning issue of artificial intelligence is also included in the guild's proposals. Per the WGA, they are asking for the regulation of use of AI—specifically, AI shouldn't be allowed to "write or rewrite literary material" and "can't be used as source material." Additionally, the guild has (so very rightfully) argued, their material can't be used in the training of AI tech.
As they did under the AMPTP on several of the issues in this strike, the studios rejected the AI proposal entirely. The studios instead suggested, quite notably a manner one could easily mistake for a ChatGPT form letter, holding meetings about general tech issues once a year.
The issue of AI is a particularly important facet of the strike, and one that has been at the center of concerns across multiple industries in recent months. In theory, sure—any so-called tech development could be used for good and put toward improving the daily life of everyday people. But such an "in theory" positing ignores the fact that CEOs are almost always looking for the fastest way to make more money. Art, to them, is just a bunch of dollar signs and charts on a spreadsheet. Such individuals most certainly do not, and arguably never do, have anyone's best interests at heart other than their own—especially when it comes to considering the livelihoods of writers, or the human requirements for truly great art.
To put it all in perspective, ponder this: Even if you don't consider yourself someone who is artistic, which in and of itself is quite a self-limiting way of looking at one's life (but I digress), there is quite literally zero chance your life hasn't been greatly improved by the work of numerous Hollywood writers. You prefer watching blockbuster-y mainstream fare like The Mandalorian? Well, the words coming out of Star Wars characters' mouths all start with someone opening up their laptop and typing relentlessly in Final Draft. More partial to headier, critical darling series like Barry? Again, it all starts with a writer, or multiple writers, and there is simply no way of replicating that without paying actual humans enough to live—not enough to merely exist, but to actually live.
If all of the above doesn't hit home for you, you're either unfathomably dense or you're a soulless and artless CEO. Maybe both.
The 2023 strike's impacts will be immediately felt. On the late-night front, per Deadline, we can expect The Late Show, Jimmy Kimmel Live, The Tonight Show, and Late Night to all cease new broadcasts. Shows of this variety on ABC, NBC, and Comedy Central have been confirmed to have plans on running reruns.
"I wouldn't have a show if it wasn't for my writers and I support them all the way," Jimmy Fallon told Variety at the Met Gala on Monday.
"I also feel very strongly that what the writers are asking for is not unreasonable," Seth Meyers said during a recent episode of his show, adding that striking is not something that is "done lightly."
At this point, it's unclear how long the strike will last. The most recent such strike in 2007 and 2008 spanned more than three months.