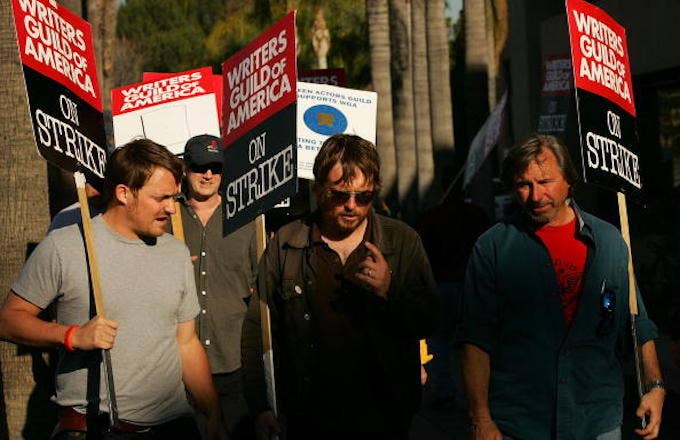 Hollywood is now facing another potential writers strike.
The news was revealed Monday, after Writers Guild of America members voted to authorize a strike against studios and producers. Entertainment Weekly reports about 96 percent of the 6,310 writers who cast ballots voted in favor of the strike, which would authorize a walkout from sets across the country. About 68 percent of all eligible WGA members reportedly participated in the vote, marking a record-high turnout for the union.
It's important to note that the results do not necessarily mean a strike will go down. Many view it as a negotiating tactic, as the WGA contract with the Alliance of Motion Pictures and Television Producers is set to expire May 1. The AMPTP responded to the strike authorization, insisting it is open to negotiations; however, officials warned about the far-reaching effects the 2007-2008 strike had on everyone.
"Writers lost more than $287 million in compensation that was never recovered, deals were canceled, and many writers took out strike loans to make ends meet," AMPTP wrote in a statement. "We remain focused on our objective of reaching a deal with the WGA at the bargaining table when the Guild returns on April 25th."
WGA is calling for an increase in wages to offset market changes—specifically for those who write for stream-only shows with fewer episodes than traditional programs. They're also looking to improve health care and pension coverage for WGA members.
Negotiations began March 13 and will resume Tuesday.