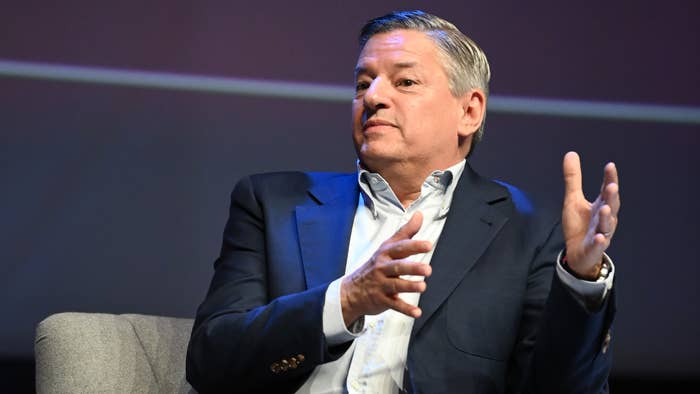 Ted Sarandos, Netflix's chief content officer and co-CEO, has again addressed ongoing discussions surrounding stand-up offerings from comedians including Dave Chappelle and Ricky Gervais.
Recent specials on the streamer, particularly Chappelle's, have been at the center of a slew of headlines after being called out as transphobic. The criticism of the material has also grown to include other comedians, including on the same platform, all while misleading (or downright false) claims of censorship were thrown around by defenders of the material.
Per a report from Deadline on Thursday, Sarandos addressed the controversy during a Cannes Lions panel event this week.  According to Sarandos, who also touched on the status of Netflix's impending launch of an-supported option, the Netflix platform has "always been a supporter of the art" aimed at reaching a variety of viewers.
"We won't make everyone happy, but that's the beauty of on-demand: you can turn it off," he said. "The reason comedy is hard is we don't all laugh at the same thing. We all cry at the same thing so drama is a little easier to pull off, but when it comes to comedy, it's all very different."
Elsewhere, Sarandos referenced Eddie Murphy's 1983 special Delirious as an example of such work not being, in his words, "frozen in time." While Delirious is "pretty out of step" now, Sarandos added, it was widely well-regarded for years. Adding to that point, Sarandos argued stand-up is a form requiring both the finding and crossing of lines.
"Part of the art form is to cross the line, and part of the art form means you only find where the line is by crossing it sometimes," he said, per Deadline. "Supporting expression is really important."
Echoing his prior comments to Variety last October, Ted Sarandos also expressed regret on Thursday over how he handled the concerns of Netflix staff last year, admitting he had initially given a "matter-of-fact answer about expression" instead of rising to their concerns on a direct level.
Shortly before that aforementioned 2021 apology, as previously reported, Sarandos had said in an email to employees that it was the company's stance that "content on screen doesn't directly translate to real-world harm."
Chappelle, meanwhile, again defendedThe Closer while speaking at a ceremony this week in connection with the naming of a student theater at his alma mater, the Duke Ellington School of the Arts. As first reported by the Washington Post, Chappelle declined having a new theater at the school named after him. Instead, the facility will be known as the Theatre for Artistic Freedom and Expression.