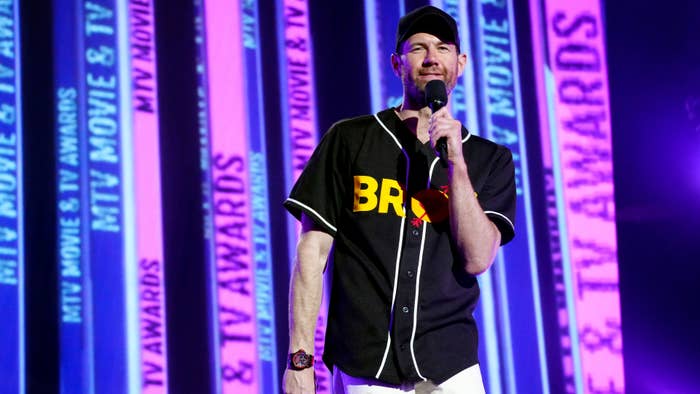 Stand Out: An LGBTQ+ Celebrationhit Netflix on Thursday. In it, comedian Billy Eichner—who served as the host for the event—mentioned the streaming platform's support of Dave Chappelle, whose own Netflix special The Closer was widely criticized as containing transphobic content.
First, Eichner made a passing reference to the Hollywood Bowl incident involving the comedian, who was attacked at the venue last month.
"Let's be honest, no one knows what's going to happen tonight," he said in the new special. "Comedy is a very violent place these days, alright? There are comedians getting attacked at the Oscars, there are comedians getting attacked at the Hollywood Bowl. But we are the LGBTQ community. We are sophisticated, we are chic, and we are above all that nonsense, right? So let's please hold ourselves to a higher standard. Please, nobody jump onstage and try to body slam Lily Tomlin."
Moments later, Eichner took a serious tone when addressing the litany of politically driven attacks being waged against the LGBTQ community in the U.S.
"Tonight is about laughter and queer joy but we do need to acknowledge the reality of the moment," he said. "We all know how backwards and dangerous the Don't Say Gay laws are. Queer people and especially trans people are under legislative attack in this country. Trans people are being demeaned, they're trying to dehumanize trans people, they're trying to erase trans people. And I'm not even talking about Florida, I'm talking about Dave Chappelle's latest Netflix special!"
Amid the audience's reaction, Eichner joked that he didn't have "Jamie Foxx to defend me" but instead had "Rosie O'Donnell and the entire Gay Men's Chorus." 
Mae Martin also appeared in the special, perVariety, and mentioned Chappelle (alongside Ricky Gervais and Louis C.K.) during their joke about using Beauty and the Beast as an explainer of sorts for those who willfully fail to grasp the gender identity spectrum.
Stand Out: An LGBTQ+ Celebration—which was filmed at the Greek Theatre in Los Angeles last month and also features Eddie Izzard, Margaret Cho, Tig Notaro, Wanda Sykes, and more—is available now.