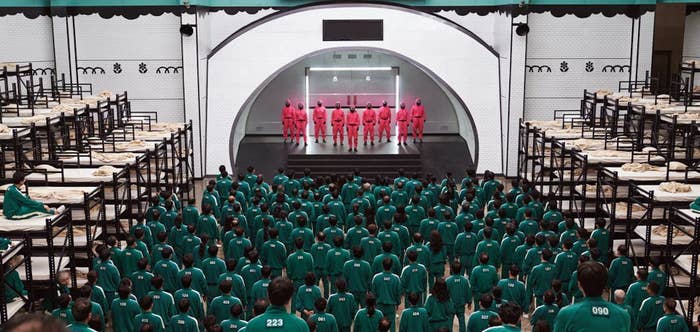 Those still rewatching Netflix's global megahit Squid Game can take some solace in recent comments from series creator Hwang Dong-hyuk.
"It's all in my head," the writer/director said during a recent red carpet event, per Reuters, when addressing the potential for another season. "I have the basic storyline, the broad plan, so we're in the brainstorming stages. I think with the success as big as this one, I almost feel like it would not make sense to create a Season 2 and I also feel like there are going to be some fans kind of trying to stalk me where I live and do something to me if I don't give them a second season. So I'm going to go ahead and say there will be a second season. But as for when I cannot tell you now."
Complex has reached out to a rep for Netflix for comment.
Last month, Hwang explained in an interview with the Hollywood Reporter that he hadn't yet made a firm decision regarding a return to the survival game parable. At the time, the Silenced director said he was "wrestling" with the simultaneous feelings of pressure regarding a new season and the global support from fans that could potentially prove inspirational for future episodes.
Squid Game, in Hwang's own words, was written as "an allegory or fable about modern capitalist society," with its inherent competitiveness made literal in the form of the games down-on-their-luck players are required to complete.
After debuting on the Nielsen streaming rankings in September with 1.9 billion minutes of viewing, the South Korean hit again bagged the top spot for the week of Sept. 27  through Oct. 3, this time with a whopping 3 billion minutes of viewing.
For fans looking for more in lieu of new Squid Game episodes, Netflix recently added three films directed by Hwang Dong-hyuk including the aforementioned Silenced. The Fortress and Miss Granny were also added.