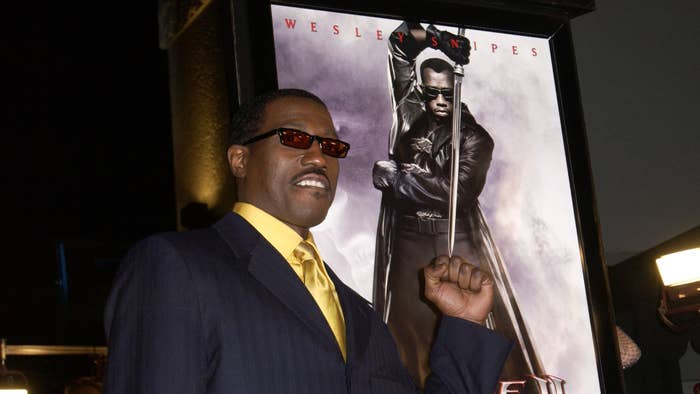 Production on Bassam Tariq's Blade doesn't kick off until next July, but the director—whose 2020 entry Mogul Mowgli is currently stacking up a fresh round of strong reviews—is already giving fans assurance that the impact of previous franchise star Wesley Snipes will indeed be felt in this new Marvel chapter.
Speaking with Ryan Lattanzio for a recent IndieWire piece, Tariq detailed the excitement he and his team are feeling about doing something new while also building on the undeniable work of Snipes. Notably, the new Blade will see acclaimed True Detective and Moonlight star Mahershala Ali taking on the title role.
"What's exciting about the film that we're making is [there] hasn't been a canon for Blade, as we're reading through the comics and everything," Tariq said. "Him being a daywalker is the one thing that's been established, and you know we can't deny what Wesley Snipes did, which was he basically got this whole ball rolling."
Continuing, Tariq—who's bringing Blade back to the big screen with screenwriter Stacy Osei-Kuffour—further elaborated on how Snipes' work in the previous trilogy helped bring the character to where he is today.
"A Black man created the superhero world that we're in, that's just the truth," he said. "For me to now be working with somebody as talented and a juggernaut as Mahershala Ali, and the writer Stacy Osei-Kuffour, I'm just so—I'm so honored to be working with real Black juggernauts and Black talent. For me to just be with them in this room and listen and learn as I build this out, it's really an honor."
Back in the summer of 2019, Snipes urged fans to join him in supporting this new era of Blade, explaining that Ali's "surprise" casting is indeed good news for those hoping for a befitting revival of the franchise for a new era. Originally, Snipes was widely said to be aiming to reprise the role himself. Snipes' final appearance as the character can be found in Blade: Trinity, the 2004 trilogy-closer directed by David S. Goyer.
A release date for the new Blade has not yet been announced.