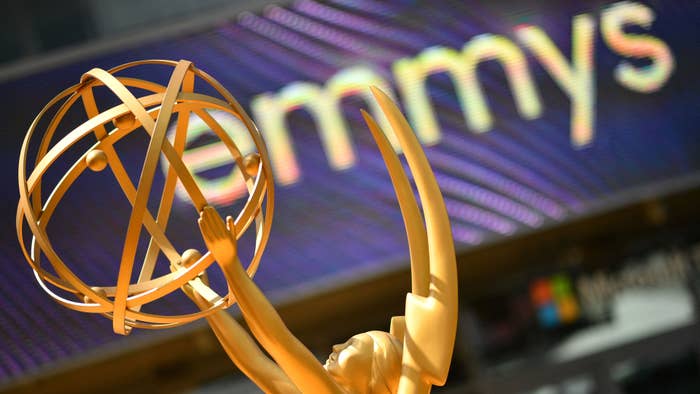 UPDATED 8/10, 9:32 a.m. ET: As expected, the Television Academy and Fox have announced a delayed date for the 75th Emmy Awards ceremony.
Per a press release, the ceremony will now take place on Jan. 15, with the proceedings being broadcast live from the Peacock Theater at LA Live.
See original story below.
The 2023 Emmy Awards are being pushed back as studios continue to deny striking writers and actors a fair and equitable deal.
In their coverage Thursday night, the Hollywood Reporter cited sources close to the production as stating that the original date (Sept. 18) was "no longer in consideration." While a new date was not mentioned, a separate report from USA Today points to January of next year.
Complex has reached out to reps for the Television Academy for comment. This story may be updated.
The 75th Emmy Awards ceremony was intended to air live on FOX on Sept. 18. Earlier this month, this year's class of nominees was unveiled, with (as expected) Succession leading the pack at 27 nominations. Other highly nominated entries included The Last of Us (24 nominations), The White Lotus (23), and Ted Lasso (21).
"As we approach the remarkable milestone of the Emmy's 75th anniversary, the Academy is more appreciative than ever of another year of extraordinary content," Television Academy Chair Frank Scherma said when announcing this year's nominees. "We are honored to recognize those who have elevated the world's favorite global medium."
Shortly after the nominations were announced, SAG-AFTRA joined WGA writers who have been on strike since May.
"Here's the simple truth: We're up against a system where those in charge of multibillion-dollar media conglomerates are rewarded for exploiting workers," the SAG-AFTRA TV/Theatrical Negotiating Committee said when providing an update on the strike last week.
Among the issues at stake for both guilds is a need for images and performances to be protected from being replaced by artificial intelligence tech. Bryan Cranston touched on this facet of the fight in a recent speech to his fellow striking artists during which he directly called out Disney CEO Bob Iger.
"We don't expect you to understand who we are but we asking you to hear us, and beyond that to listen to us when we tell you we will not be having our jobs taken away and given to robots," the Breaking Bad and Malcolm in the Middle actor said in New York last week.