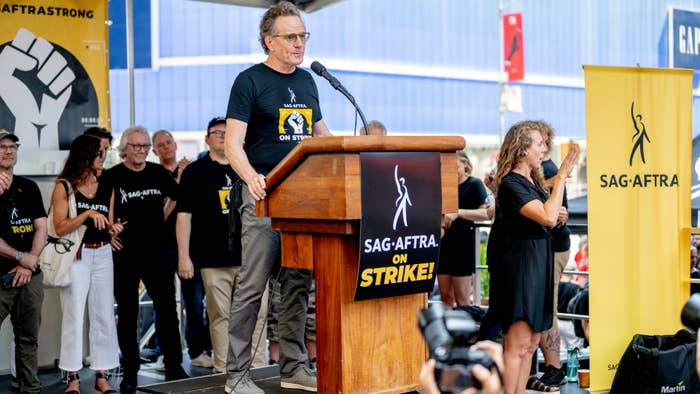 As the industry's historic dual strike continues, Bryan Cranston is making comments directed at Walt Disney Company CEO Bob Iger that actors and writers "will win this fight."
The beloved Breaking Bad and Malcolm in the Middle actor, who most recently appeared in Wes Anderson's Asteroid City, was among those who gathered in New York on Tuesday for SAG-AFTRA's Rock the City for a Fair Contract rally.
During his speech, Cranston also touched on the concerns surrounding AI, which has been a key issue in both the SAG and WGA strikes.
"I know, sir, that you look through things through a different lens," Cranston said. "We don't expect you to understand who we are but we asking you to hear us, and beyond that to listen to us when we tell you we will not be having our jobs taken away and given to robots,. We will not have you take away our right to work and earn a decent living. And lastly, and most importantly, we will not allow you to take away our dignity. We are union through and through, all the way to the end."
Jessica Chastain, Christian Slater, Brendan Fraser, Matt Bomer, Ellen Burstyn, Rachel Zegler, Michael Shannon, Jane Curtin, Nancy Giles, Chloë Grace Moretz, and many more were also on the ground in NYC this week.
As previously reported, Iger is apparently incapable of self-awareness. When talking about the dual strike during an interview with CNBC, Iger—whose reported annual income is alleged to be $27 million—used the phrase "very disturbing." He also said that what artists are asking for "is just not realistic."
As for the current status of the strike, SAG-AFTRA said Tuesday night that the Alliance of Motion Picture and Television Producers (AMPTP) had "declined" to resume bargaining toward a fair deal.