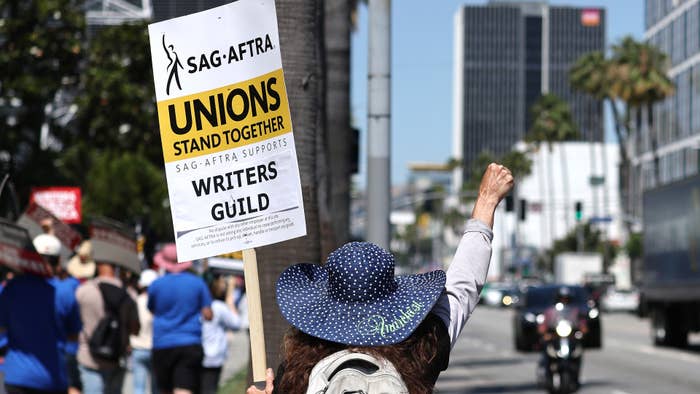 Hollywood actors are now on strike thanks to the continued greed and all-around incompetence of major studios.
SAG-AFTRA's Television/Theatrical/Streaming officially contracts expired on July 12 at 11:59 p.m. PT without an agreement. This followed more than four weeks of attempted bargaining with the Alliance of Motion Picture and Television Producers (AMPTP), which represents major studios and streaming providers. The AMPTP, SAG-AFTRA said, "remains unwilling to offer a fair deal."
In a joint statement released ahead of Thursday's National Board meeting and strike order vote, SAG-AFTRA president Fran Drescher and national executive director/chief negotiator Duncan Crabtree-Ireland pointed to the "many long days, weekends, and holidays" spent trying to reach a deal.
"As you know, over the past decade, your compensation has been severely eroded by the rise of the streaming ecosystem," Drescher and Crabtree-Ireland said. "Furthermore, artificial intelligence poses an existential threat to creative professions, and all actors and performers deserve contract language that protects them from having their identity and talent exploited without consent and pay. Despite our team's dedication to advocating on your behalf, the AMPTP has refused to acknowledge that enormous shifts in the industry and economy have had a detrimental impact on those who perform labor for the studios."
The Writers Guild of America (WGA) has been on strike since May 2, resulting in a production pause on a slew of projects in solidarity with striking writers. With SAG-AFTRA now also on strike, even more projects will temporarily cease shooting in solidarity; Variety reports, for example, that Ridley Scott's Gladiator sequel and Simon McQuoid's Mortal Kombat 2 were both prepared to halt work as of Thursday morning.
The dual strike, notably, marks the first total shutdown since 1960. Showing definitively the general grotesqueness with which the extremely wealthy move through the world, Disney CEO Bob Iger used the word "disturbing" when addressing what artists are calling for to bring the strike to an end.
"I think it's very disturbing to me. … There's a level of expectation that they have that is just not realistic," Iger, who makes a reported $27 million annually, said.
This kind of detachment from the realities of working class writers and actors is in line with how execs at large are reported to be handling their response to the strike. This week, an unnamed exec was quoted in Dominic Patten's Deadline piece as claiming the goal is to "allow things to drag on until union members start losing their apartments and losing their houses."