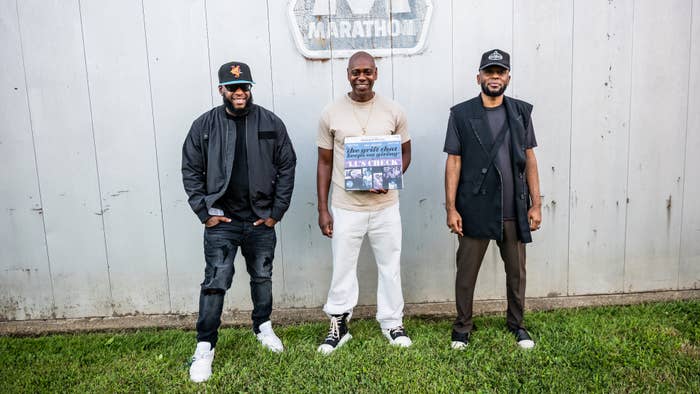 Luminary's The Midnight Miracle podcast is coming to vinyl.
On Tuesday, the podcast platform announced that fans in the U.S. can now purchase the vinyl edition of the show with an annual subscription. The vinyl release features "The Grift That Keeps on Giving" on Side A and "LL's Check" on Side B.
The show, as previously reported, launched its inaugural season with recordings taken from conversational sessions held in Ohio in 2020. Hosts and creators Dave Chappelle, Talib Kweli, and yasiin bey also welcomed special guests as part of these sessions, as well as wove in a selection of curated music. The project was notably followed by the long-awaited return of Black Star, the duo comprised of Talib and yasiin whose sophomore album No Fear of Time was released earlier this year, also via Luminary.
In a statement shared with Complex, Luminary CEO Rishi Maholtra said this vinyl-focused endeavor marks both a continuation and expansion of the platform's original aim.
"Our view is that great audio experiences deserve to be translated beyond digital, into live performances and preserved in physical formats. … Great art always transcends mediums," Maholtra said.
A second season of The Midnight Miracle is slated to debut on Luminary later this year. Last month, the show recorded its first audience-assisted edition as part of the Blue Note Jazz Festival in Napa Valley, California.