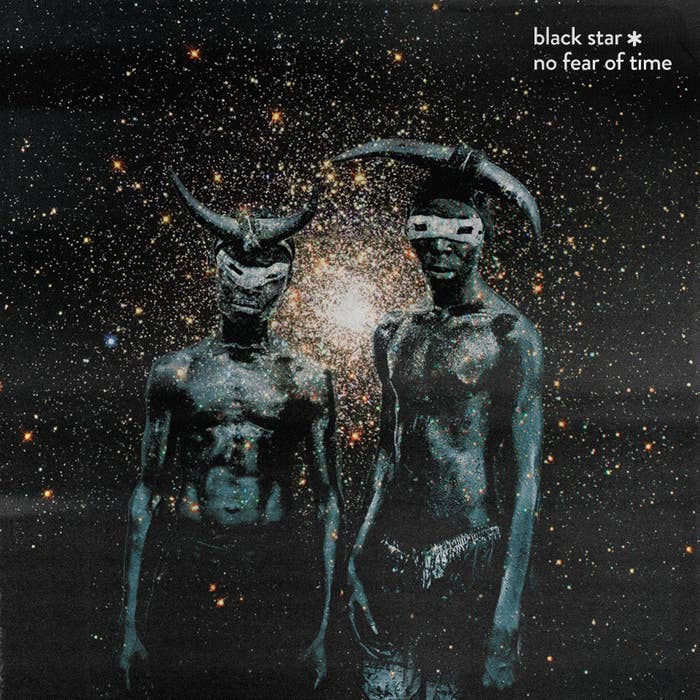 With a long-awaited new album recorded in "hotel rooms and dressing rooms across the globe," Black Star is back.
The oft-discussed duo of Yasiin Bey and Talib Kweli first alerted fans to the impending rollout of No Fear of Time, produced by Madlib, with a formal announcement in April. The follow-up to the 1998 classic Mos Def & Talib Kweli Are Black Star is billed as having been completed "guerrilla style" in multiple locations.
The nine-track experience opens with "OG" and takes listeners on a patience-rewarding journey through songs like "National Sunday Law" and "Yonders" before wrapping with the album's title track, which itself closes with some timely words about the power of memory.
As previously revealed, No Fear of Time is launching exclusively via the Luminary platform, meaning fans will need to subscribe to the platform to listen. Click here for more info and to access the album.
"With No Fear of Time, Black Star has crafted an important record and a different kind of record release, partnering with Luminary—a cultural label that is becoming home for the world's most thoughtful artists," Luminary CEO Rishi Malhotra said in April.
Ahead of the No Fear of Time drop, Luminary also rolled out new episodes of The Midnight Miracle, a podcast featuring Bey and Kweli alongside Dave Chappelle. One episode, titled "Mineral Mountain," featured a new freestyle from Black Thought. A full second season of the podcast series will be rolled out this summer.
Nearly 24 years ago, the aforementioned debut from the duo was released to widespread acclaim, with its reverence only growing in subsequent years. Two singles were released from the album, including the Common-featuring "Respiration." Revisit the song's video below.