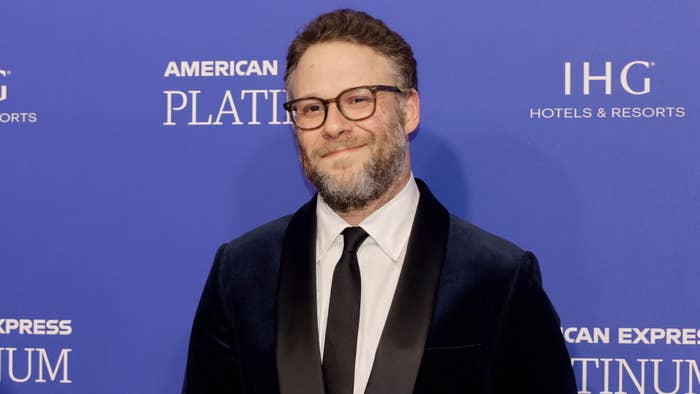 Seth Rogen wasn't a fan of the 1993 live-action film, Super Mario Bros.
Rogen saw the Bob Hoskins and John Leguizamo-starring movie when he was 11 years old, explaining his reaction to the film in an interview with Variety.
"I was so excited," Rogen said. "But it's one of the worst films ever made. I was so disappointed. I think it made me realize that movies, like, could be bad. That never occurred to me until that moment."
The 40-year-old actor is set to voice Donkey Kong in The Super Mario Bros. Movie, which is out this week. "It really bummed me out," Rogen continued. "It's nice to vindicate that moment. It's nice to know that 11-year-olds out there … won't be disappointed in the same way that I was."
The new Super Marios Bros. movie is rounded out with Chris Pratt as Mario, Charlie Da as Luigi, Jack Black as Bowser, Anya Taylor-Joy as Princess Peach, and Keegan-Michael Key as Toad.
"It's nice because when you're doing a voice, you just get to focus on coming up with jokes that maybe children will laugh at," Rogen added.
While fans praised Taylor-Joy being cast as Princess Peach, they were less ecstatic about Pratt playing Mario. "All I can tell you is the voice that he's doing for us and Mario is phenomenal," Chris Meledandri, CEO of Illumination, the animation studio producing the movie alongside Nintendo, told TooFab back in November 2021.
He also responded to the lack of Italian or Italian-American representation in the film, telling IndieWire last year, "We are collaborating with [Pratt] and his experienced team to not just create a character-licensed film, but a new piece of entertainment which brings Super Mario Bros. to life on the screen, and allows everyone to enjoy whether or not they know about the game."
He continued, "I'm not sure this is the smartest defense, but as a person who has Italian-American heritage, I feel I can make that decision without worrying about offending Italians or Italian-Americans…I think we're going to be just fine."