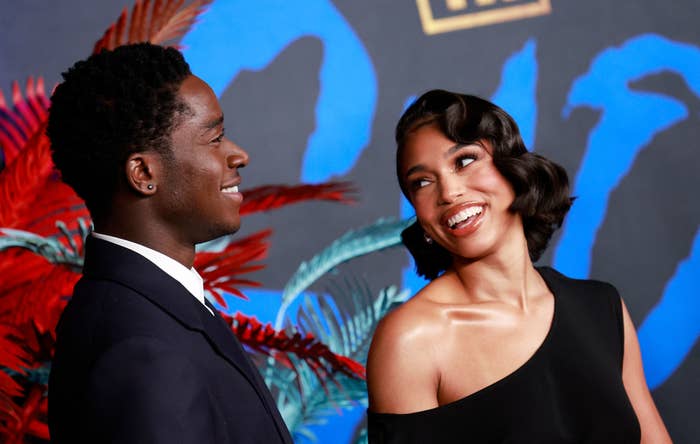 Lori Harvey and Damson Idris entered this year with a bang as they announced their relationship to the world and quickly became one of the year's cutest couples. But as 2023 closes, so does their relationship.
In a surprising twist, the model and British actor have split ways. The news comes after rumors speculated that the two broke up after removing pictures of each other from their social media profiles, along with unfollowing one another. The pair then released a joint statement confirming their break-up that read, "We are at a point in our lives where our individual paths require our full attention and dedication."
Throughout their relationship, some fans believed that Idris would be the one for Harvey, while others called the couple's ending from a mile away—in large part due to Harvey's dating history. In the past, Harvey dated some of Hollywood's most popular bachelors including Michael B. Jordan, Future, and Trey Songz, with the internet regularly teasing how "quickly" she moved on from each one.
In a conversation on E! News with host Adrienne Bailon, Harvey spilled the tea on her father's blueprint relationship advice saying, "Just remember that you're the prize, always. [That] means not compromising my values, my happiness, my peace, not settling for less than what I know I deserve, and not being afraid to walk away from a situation if it's no longer serving me."
Now that Idris has been added to the list of guys who aren't worthy of Ms. Harvey, here is a complete timeline of their yearlong relationship.
Harvey and Idris spark romance rumors
Date: December 2022
Toward the end of 2022, Harvey and Idris' romance rumors began to swirl after the two were seen together at Catch LA. In photos obtained by The Daily Mail, they were seen arriving together for a Saturday night out.
Social media went into a frenzy after learning of the coupling. Many users jokingly mourned Idris' bachelor status via viral memes and TikToks.
Harvey and Idris make their relationship official
Date: January 2023
Among Harvey's many birthday wishes, the one that struck out most was from Idris who posted an Instagram story of him kissing Harvey's forehead with the caption "Happy Birthday Nunu." The birthday wish essentially confirmed the couple's relationship status to the public.
They spend Valentine's Day together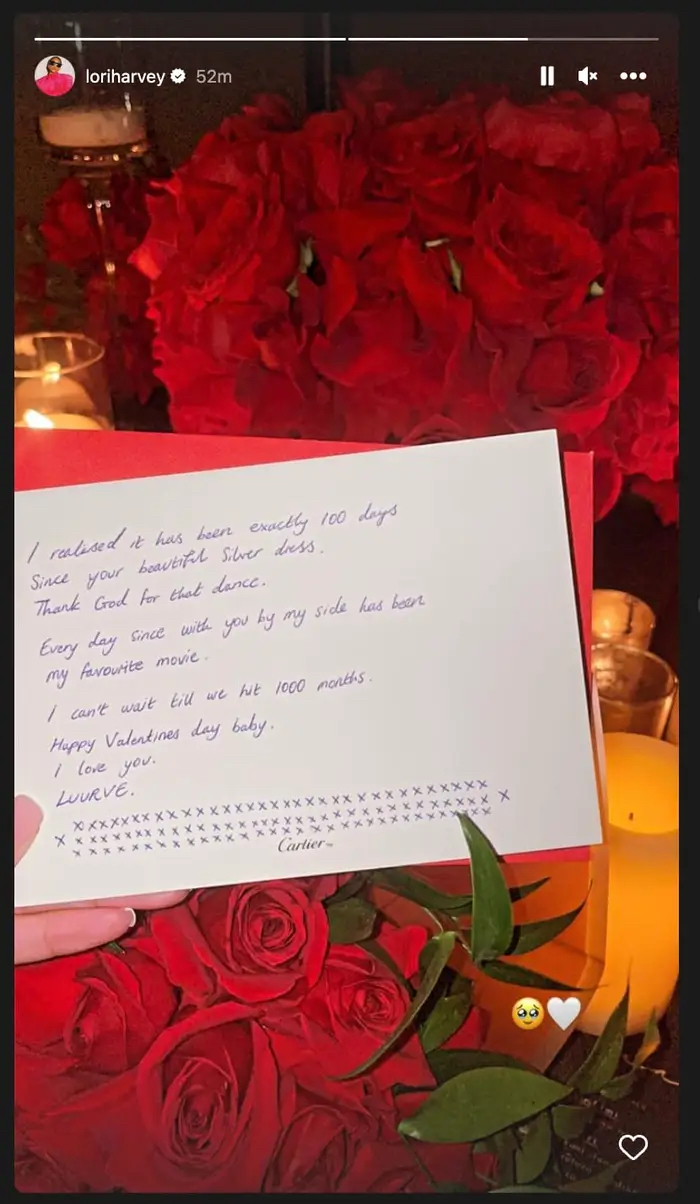 Date: February 2023
Fans got a glimpse of Idris and Harvey's Valentine's Day private dinner through a post from the actor. In the video, the pair were seen enjoying an intimate dinner together with Idris even capturing a kiss between the two.
In addition to Idris' post, Harvey took to her Instagram to share a cute handwritten note that her boyfriend wrote for her, marking their 100th day anniversary. "I realized it has been exactly 100 days since your beautiful silver dress. Thank God for that dance," wrote Damson. "Every day since with you by my side has been my favorite movie. I can't wait til we hit 1000 months. Happy Valentine's Day, baby. I love you. LUURVE."
The couple attend Snowfall's Season 6 premiere together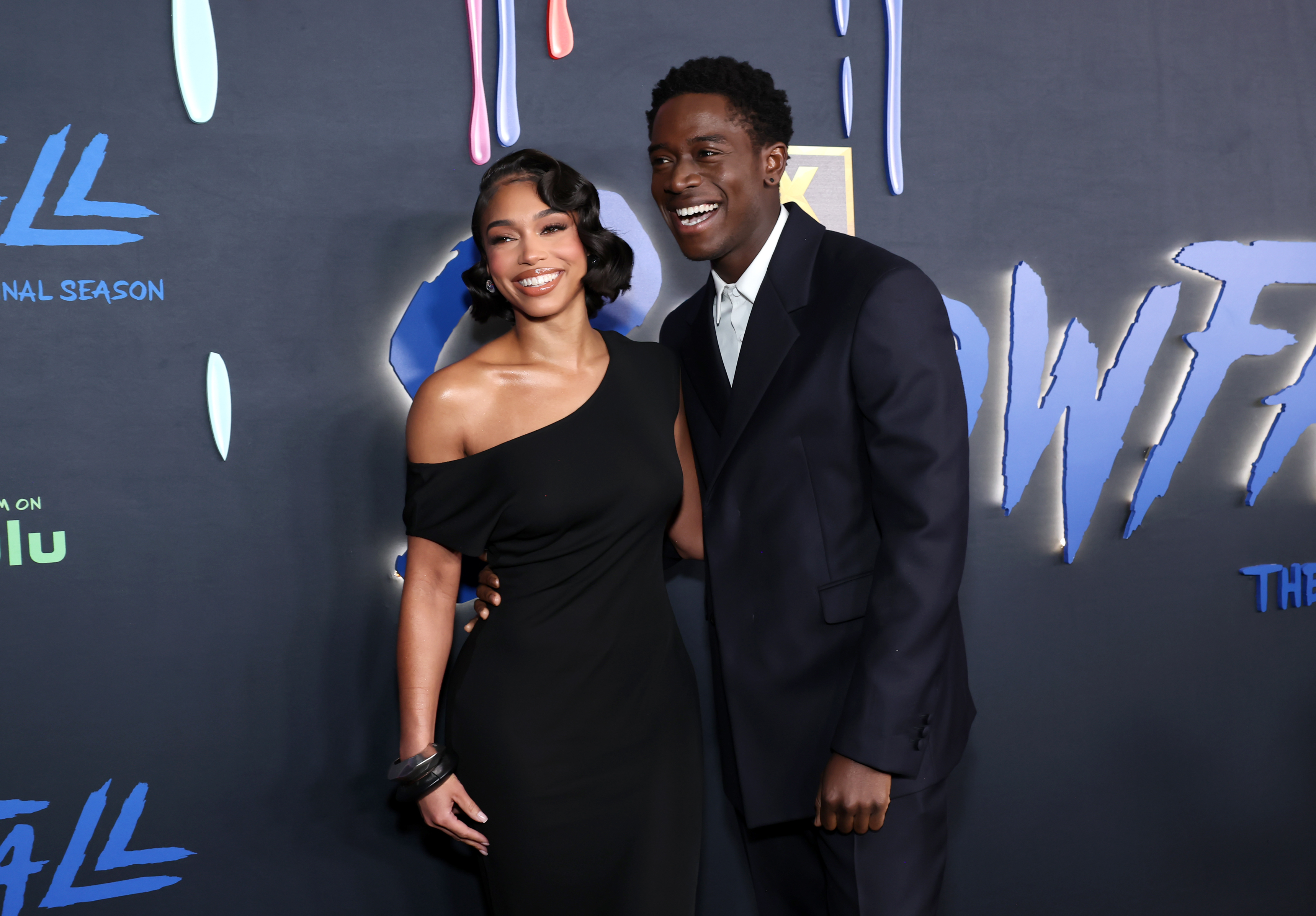 Date: February 2023
The new couple made their red carpet debut at the premiere for the sixth and final season of Idris' show Snowfall. Seemingly in love, the pair complimented each other throughout the night and packed on the PDA for the cameras, with Idris giving Harvey a sweet kiss on her head.
Amidst their first public night out, trolls surfaced online to criticize their partnership. One Instagram user judged the couple, saying the two have "no chemistry. Look how far apart they're standing lol" in the Shade Room's comment section. Harvey clapped back at the comment, defending her new relationship by saying, "Or maybe I just had on body makeup and told him don't stand too close to me because I didn't want to get it on his suit lol y'all try to find a problem with everything."
A date at Beyoncé's Renaissance World Tour
Date: May 2023
The pair enjoyed a special night out at Beyoncé's Renaissance World Tour stop in London. Harvey and Idris were seen cozying up to one another as they watched the queen's performance in awe.
The SKN by LH owner shared a glimpse of her night with her millions of followers on Instagram. In videos she uploaded, she and the Snowfall actor were all smiles as he planted a kiss on the side of her head.
In addition to this sweet snippet, Harvey also posted a video of Idris singing and dancing to "Diva," which she penned "Go off."
The two vacay in Cabo, Mexico
Date: August 2023
Toward the end of summer, Lori and Damson appeared to be in great spirits as they took a romantic getaway to Cabo San Lucas, Mexico. The 26-year-old it girl shared a gallery of photos of her oceanic views, date night fits, and beach attire. "Living La Vida Loca ft. @yevrahswim," she captioned the post.
Her beau commented on her photo dump with sweet words confirming their latest trip together. "I don't wanna hear no more 'baby you take horrible pictures.' Look at this art," he penned (which was indeed spectacular).
The couple are spotted at the Warriors vs. Lakers game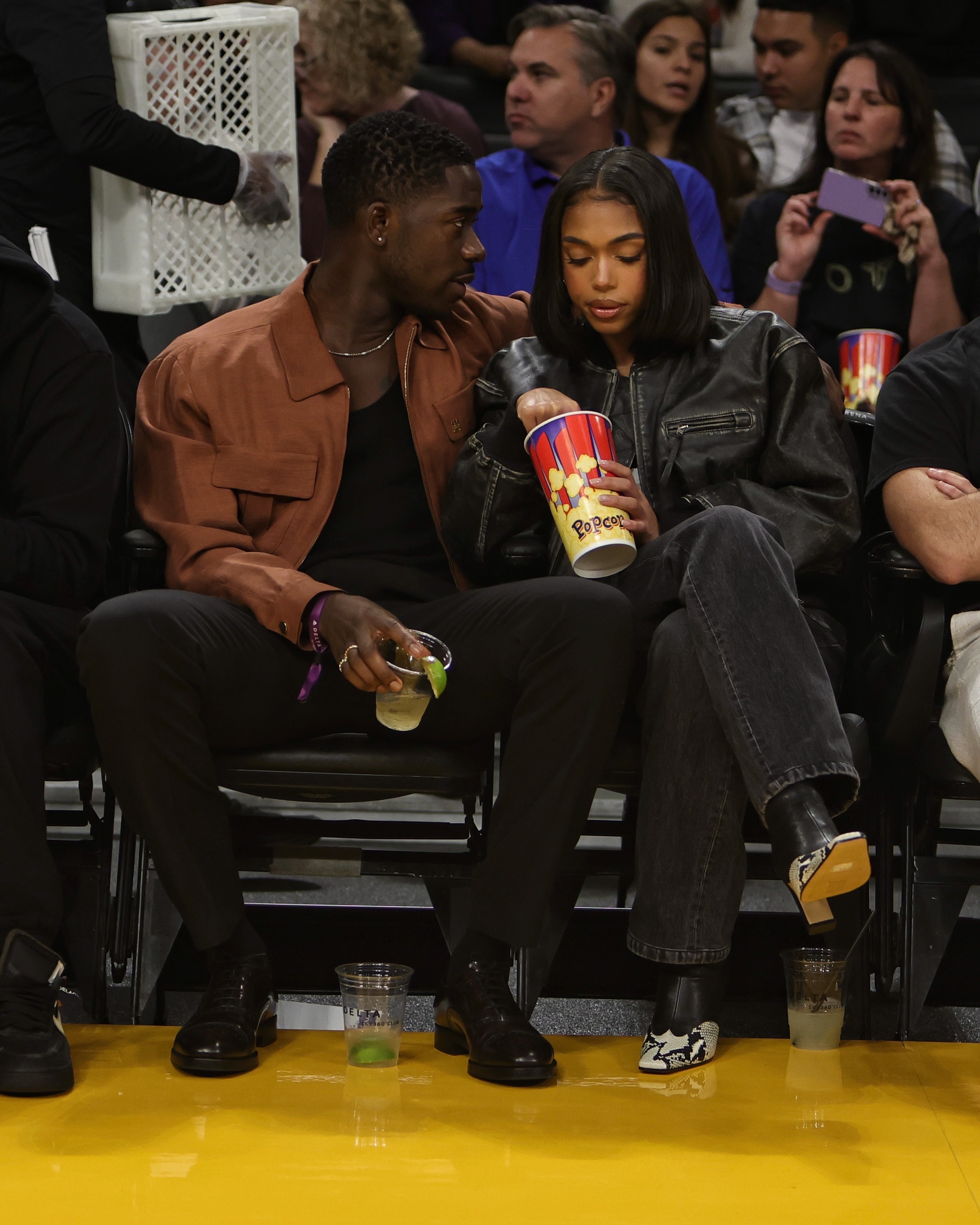 Date: October 2023
The two lovebirds were spotted snuggling up to each other at the front row of the Golden State Warriors vs. Los Angeles Lakers game. Paparazzi snapped photos of the two enjoying their night as Harvey dug into her popcorn with Damson wrapped around her.
Harvey and Idris confirm their breakup
Date: November 2023
Harvey and Idris' love story took a turn after break-up rumors surfaced in early November.
Social media speculated the two's yearlong romance was over after they wiped their social media clean of one another and unfollowed each other. Rumors heightened after they were seen arriving at Odell Beckham Jr.'s Birthday party in NY separately.
Harvey and Idris confirmed their abrupt split in a shared statement to The Hollywood Reporter. "We are at a point in our lives where our individual paths require our full attention and dedication. We part ways, remaining friends with nothing but love and respect for each other and the time we shared together," read the statement.