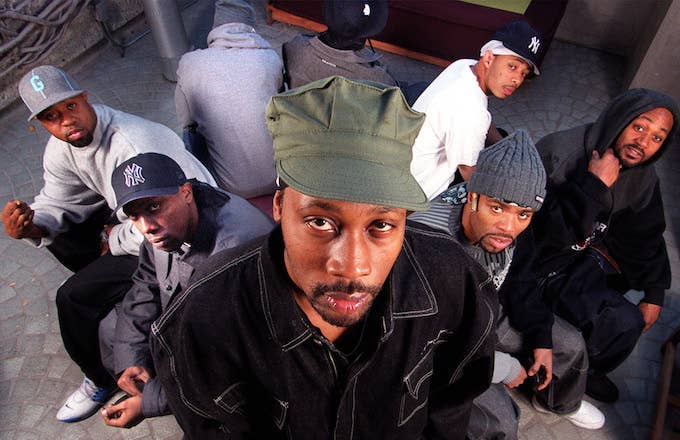 Hut one, hut two, hut three, huuuuut, Hulu has ordered a Wu-Tang drama series, that's definitely not live, or uncut. According to the press release, Wu-Tang: An American Saga was created by the rap group's OG co-founder, the RZA, and Superfly screenwriter, Alex Tse. It will be executive produced by RZA, Tse, fellow Wu member Method Man, and Imagine's Brian Grazer and Francie Calfo (of Empire and Genius). Imagine Television creative executive James Seidman is overseeing the project.
"Ayo u know what it is, Wu-Tang is forever." Ghostface Killah said in the release. "We're stepping into new chambers with Hulu and bringing our fans with us." God bless Tony Starks.
Wu-Tang: An American Saga will borrow inspiration from must-have Wu literature, The Wu-Tang Manual, the Tao of Wu, as well as the actual story of the Shaolin soldiers who blew up the early 90s rap game. It's that time period where the story begins, showcasing the Clan's formation in cannabis-soaked Staten Island basements, and the bridge their members traveled from hustling crack on the streets to going platinum multiple times as the most dominant group of emcees ever assembled.
"Ever since I heard Da Mystery of Chessboxing on the B-side maxi-cassette single of C.R.E.A.M. I've been a lifelong Wu fan, Tse says in the release. "I'll be celebrating this by buying a pair of Clarks Wallabys." 
For older Wu fans, don't worry about a watered down version of your favorite kung-fu loving rappers. Ghostface, Inspectah Deck, Masta Killa and GZA, as well as the estate of ODB, will be consulting producers on the project.
"Imagine, Hulu and Wu-Tang - I'm thrilled with this collaboration. This is a major win for hip-hop," Method Man said in the release.
"I'm delighted to be partnering with Hulu and Imagine to explore the vast story of the Wuniverse," RZA said. "Wu-Tang through our music has always strove to inspire as we entertain. This opportunity to continue the Wu - Saga in a 10-episode series will exponentially increase our inspirational style of entertainment. In the immortal words of ODB "Wu-Tang is for the Children."