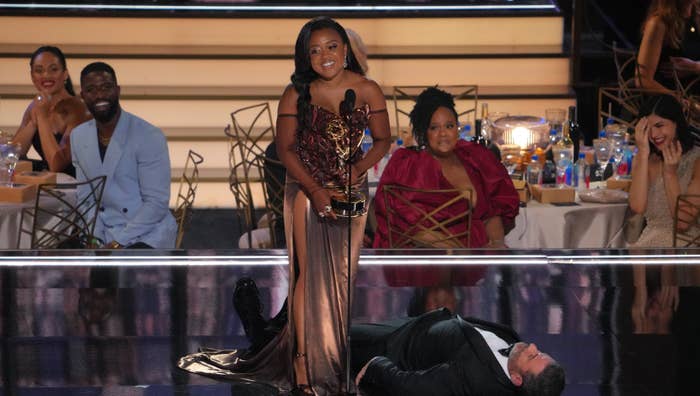 Quinta Brunson has spoken out after Jimmy Kimmel's odd bit during her Emmys acceptance speech spurred backlash online.
Will Arnett and Kimmel served as the presenters for Best Writing in a Comedy Series at Monday's ceremony, with the former dragging out the latter on stage. He went on to quip that this was "13th time in a row" Kimmel had lost at the Emmys and that "he just got into the skinny margaritas" backstage. Kimmel fully leaned into the bit, appearing to be passed out on stage even as Brunson took to the podium to accept the prize for her ABC sitcom Abbott Elementary, her first-ever Emmy.
Arnett even attempted to move Kimmel out of the way to make room for Brunson, who told the late-night host, "Jimmy, wake up. I won." But besides giving a thumbs-up, Kimmel committed to the bit until he was dragged off stage by Arnett after Brunson's speech. The antics spurred backlash online, with many accusing Kimmel of taking away from Brunson's historical moment.
Regardless, Brunson reportedly appeared content backstage, telling THR, "It didn't bother me much."
"I think in that moment, I was just really happy that it was Jimmy up there," she said. "I kind of consider him one of the comedy godfathers; I'm a huge fan of Will Arnett, so I was wrapped up in the moment. I don't know — tomorrow maybe I'll be mad at him. I'm gonna be on his show on Wednesday, so I might punch him in the face. I don't know. We'll see what happens."
Notable journalists were among the swarms of people who criticized Kimmel's behavior, with HuffPost editor Philip Lewis tweeting, "Jimmy Kimmel should have left the stage during Quinta's speech. Highly disrespectful." New York magazine's E. Alex Jung also wrote "kimmel better get his ass out of the way for quinta." 
Abbott Elementary, which focuses on a group of public school teachers at a West Philadelphia elementary school, won two awards on Monday night. Sheryl Lee Ralph won for outstanding supporting actress in a comedy series, the second Black actress to ever win the award. After accepting the prize from presenters Amy Poehler and Seth Meyers, Ralph burst into song, singing a verse from Diane Reeves' 1993 song "Endangered Species."
"I am an endangered species, but I sing no victim song," she crooned. "I am a woman, I am an artist, and I know where my voice belongs."