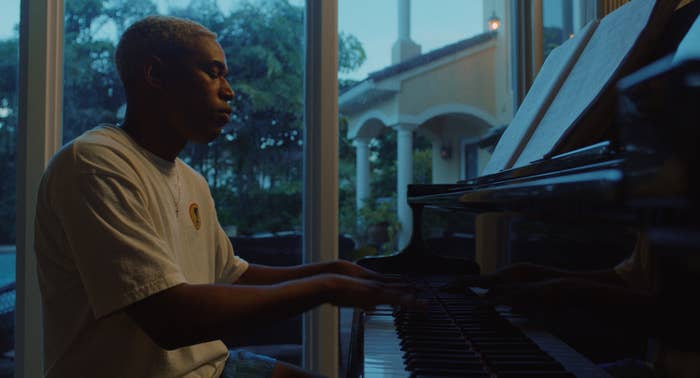 If you're not aware of Kelvin Harrison Jr. yet, don't trip; he's just getting started. Over the last two years, he's carved out an impressive filmography, putting on strong performances in a string of indie gems. In 2017, many of us were introduced to him via his work in Trey Edward Shults' horror It Comes At Night. Since then, he's popped up everywhere: Assassination Nation, Monsters and Men, JT LeRoy, and others. In 2019, he's had a trio of stand-out performances: Luce, where he stood tall alongside Octavia Spencer, Naomi Watts, and Tim Roth, and in the festival darling Gully. His latest film, A24's recently-released Waves (which is also a Shults film) finds Harrison Jr. doing what he does best: fully embodying a strong, complicated character.
The film follows a family as they quickly slide into a horrible situation, and follows their journey out of it. With strong performances from Sterling K. Brown (as Ronald, the father of Harrison Jr.'s Tyler), Taylor Russell, Lucas Hedges and alongside Euphoria's own Alexa Demie, Harrison Jr. always finds ways to make sure you're paying attention. The blonde hair is obvious, but the way he slowly starts to dominate the screen—you feel like you're watching your next favorite actor.
Complex caught up with Harrison Jr. before the release of Waves to talk about working with Shults on the storyline beats within the family, how he digs into his characters, and the importance of stories like this in today's America.
It's been crazy to see your rise over the last couple of years. How are things going?
Honestly, I'm just chilling. It's been really interesting. Coming from New Orleans, I never expected to like be able to do the movie, [to] get the chance to do the work the way I've been able to do it. I'm grateful that I get to tell the stories and that we've been able to push the boundaries and the types of stories that we're telling so all of it's a whirlwind.
The first time I saw your work was in It Comes at Night. What was it like working with Trey again on Waves? What's your relationship with him like?
It's been so nice because he's really like my big brother now. During It Comes at Night, it was like I had just started off. I was so nervous and I was still learning like how does this work? And I've watched so many interviews of actors that I love and admire about how they work in their process. I was scared and very nervous every day; to have him [there], it really brought me a lot of comfort to see how he handled his own intelligence and his patience and his willingness to understand other people and love other people despite whether or not we had the same upbringings or not. It just made me feel more comfortable in not industry as a whole. That has been so incredible to witness and go on that journey with him from It Comes at Night to now Waves, which is way more personal for the both of us and really has been dope.
With him being understanding and patient as you say, I was wondering; Waves at its core is a story about a black family, with some moments of racial tension or what have you in there. Did you and Trey or you, Trey and Sterling have a conversation about approaching certain aspects of a black families and black father/son relationships?
Trey had started writing this script way beforehand and it was mostly just his story and his interpretation of Tyler and from like the first half and then he came up with the concession of the second half, which is the sister and that was all done before he even met me. By the time we met and he started talking to me about the part, he was like, "which part do you want to play? Do you want to play as a brother in the first half? Or the boyfriend in the second half? The brother in the first half is a wrestler and I know you could barely chop wood [from working] in my first movie." That was something I was interested in tackling, the concept sounded interesting. The idea of playing a wrestler was interesting. What did that mean physically and what does that do to the acting and what does that mean for the character; that's all I had, he didn't even have a script yet, but then from there he started texting me and was like, "tell me about your romantic relationships and 'cause I want to tell this role for you, Kelvin. Tell me about your relationship with your dad and tell me what it was like growing up in the South. What was your experience like and does race play in your experience? What was it like growing up with the digital age of social media and Instagram and Facebook?"
He was asking all the right questions and we were having phone calls and by the time I got the script I got to read it and I couldn't believe how much he actually listened to me. We'd have long conversations over the phone, random stuff that wasn't specific to the movie [but was] specific to the nuance of what all my experiences of just being a black male in the world right now. He heard me and then from there it was [me telling him where he could] tighten it up even more. He really wanted to make sure that it made sense if I was playing the part.
Ultimately there was this universal truth between us, that bonded us even further that was about a boy who made a mistake. It didn't define him. For me and Sterling, we even have a kind of conversation about wanting the big accidents in the middle of the movie to be with you and unconcerned about some of the themes and if we're perpetuating certain things about these cliches and stereotypes about who we are. My biggest argument was it's a great part and if we're not showing the full humanity of what we are, you're dehumanizing us. I just wanted to be authentic.
What do you feel the film is saying about fatherhood?
We talked a lot about, specifically with this family, the expectation that's been thrust upon this kid. I think there's this generational gap where someone like Ronald, he's made certain sacrifices and he's made certain rules in his life and had to handle things a certain way in order to get the beautiful house that they live in and have the opportunities that they have and to have that great truck and to be able to dye his hair blonde. This is a very progressive family and he did all of that so he can live, but there is still a weird disconnect and an impasse where they're not communicating the best and the best way they can.
Even though [Ronald] allowed him to have those privileges, he's still not giving him time to breathe and live in those privileges. That is one of the biggest things that are going on with kids right now. I think they feel like they can communicate with their parents and parents are trying so hard to make sure, especially in minority families, that kids have the opportunity to thrive as much as they did and to do better than they even did. They made sacrifices so the kid could just be a kid. In Ronald and Tyler's relationship, Tyler's like, "I just want to be excellent to do my thing. I don't have to be the best at anything. I'm going to do it because I can because I enjoy it and I want you to support me and love me because of it." You can say that. You don't have to do like this masculine [thing] that has to encompass your whole being in order to define yourself because you have to be strong. It's okay.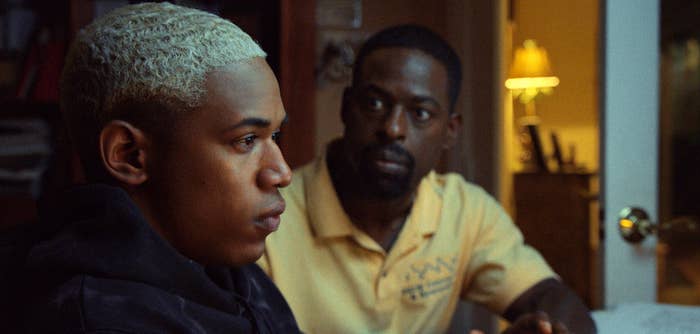 Do you feel roles that like Tyler and Ronald will able to help broaden the scope of how audiences see black men and masculinity in film?
They challenge us to see ourselves in the mirror. The biggest thing is like, even with my own dad, he was so hard up; it took a lot for him to warm up to people in the family. My mom talked about this a lot and it took my sisters to come into the picture and to grow up for him to soften, to make him laugh more, to make him smile more, to make him listen more. My sister said to me recently, "I love my dad because now he finally took an opportunity to get to know me." He didn't do that for so long because he didn't have that. His dad never did that. I think he didn't even understand that love language. You don't understand what it was that he needed to do to break that wall that boundary that was created and what it took to get to your kid.
Seeing this movie and seeing the two parts of the story, the tragedy and the healing, for me as a black audience number, I can look at it and go, "is my relationship like that and what can I do to do better?"
On Waves, you're working with Alexa, and I'm going to assume this was shot before Euphoria was even a thing. Is it important for you to be a part of this wave of Hollywood TV movies spotlighting what's going on with Gen Z kids right now?
I'm excited to be part of it. So much is going on in the world right now and there has to be an awareness in order to protect your future. It's exciting that we're getting the scripts, that we're getting the stories and that all of us are taking ownership of our opportunity, in our voices.
It feels like you're at the precipice of getting into more major studio work. Do you have any plans on taking time off or are you hitting the ground running?
I really am trying to keep it moving. I think you get these opportunities like never. Coming from New Orleans, I remember we were just happy to get a day's pay. To be getting these roles—I'm excited and I'm eager and I want to keep working. I'll get a break when I ain't got nothing else to say, I guess.