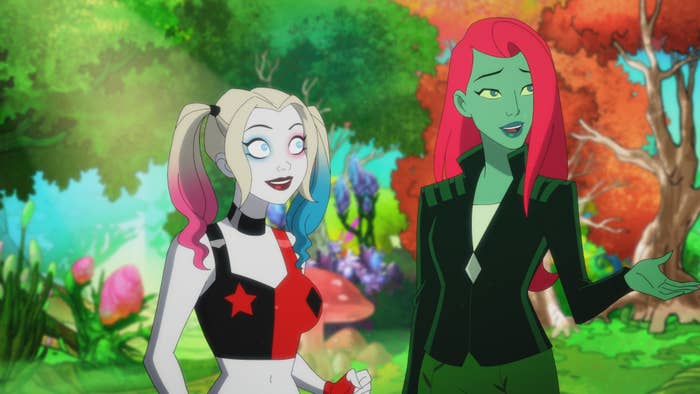 If you're still on a high after watching Nope last weekend, you're not alone. There's still a chance to watch the Jordan Peele film in theaters again this weekend to catch all the things you may have missed the first time around. But if you're looking for something completely new, we have some titles that dropped this week that you may want to check out right from home. 
The first season of Paper Girls is arriving on Prime Video on Friday, July 29, while Netflix attempts to recreate the success of last year's Maid with a new limited series titled Keep Breathing, starring the incredible Melissa Barrera. Hulu is being brave this week with a satirical comedy Not Okay about a girl who poses as the survivor of a deadly attack for Instagram fame. Sick, right?
And of course, HBO Max is not to be outdone by the other streamers. While Rap Sh!t is also picking up steam on the platform, Season 3 of the animated series Harley Quinn arrived on Thursday, July 28. Season 5 of grown-ish is bringing all the fun over on Freeform, while AMC's Better Call Saul Season 6 continues to be one of the best shows on TV. 
Check out our suggestions for what to watch this weekend below, and come back to see all the exciting new releases heading our way for the first week of August.  
'Harley Quinn' Season 3
'Paper Girls'
'Keep Breathing'
'Not Okay'
When: Monday, July 25

Where: AMC
After Better Call Saul took its one huge piece off the board last week and jumped closer in time to the events of Breaking Bad, the logical thought for this week's episode, "Nippy," was that we'd finally get a set of long-rumored and anticipated set of cameos. But Saul is often as slippery and unpredictable as its lead protagonist, and as such, the show returned to its long-gestating Gene Takovic timeline to give the audience an update on what Saul's post-Breaking Bad life is. Part of Saul's appeal is how it's often zagged when its audience has anticipated it to zig. 
The episode (directed by longtime Gilligan and Gould collaborator Michelle MacLaren with a script from Alison Tatlock) saw Saul pull off one last con, returning not to the Saul Goodman persona but to that of Slippin' Jimmy as he worked out a way to solve his problem with Jeff the cab driver (an excellent Pat Healy, stepping in to replace actor Don Harvey who couldn't continue the role due to scheduling issues with HBO's We Own This City) in the most Jimmy way possible. MacLaren and Tatlock manage to make something as simple as fencing some goods as electric and tense as Breaking Bad's "Dead Freight" train job while also diving deep into the process-first approach that's defined so much of Better Call Saul. Along for the ride is the incredible and legendary Carol Burnett as Marion, Jeff's mother, who effortlessly slides into this world; her chemistry with Odenkirk is among the episode's many highlights.
But the most striking moment in an episode full of them comes in the final moments. As Gene wanders around the scene of the department store crime, he comes across a shirt and tie combination that feels very akin to what Saul Goodman would have worn once upon a time. He takes it off the rack, holding it against himself in the mirror, before putting it back on the end cap of the rack. It's almost as if it's an intentional pause to signal that we might not yet be done with this era of the Jimmy McGill story. With three episodes left, let's hope a return to Cinnabon Gene is still on the table. —William Goodman