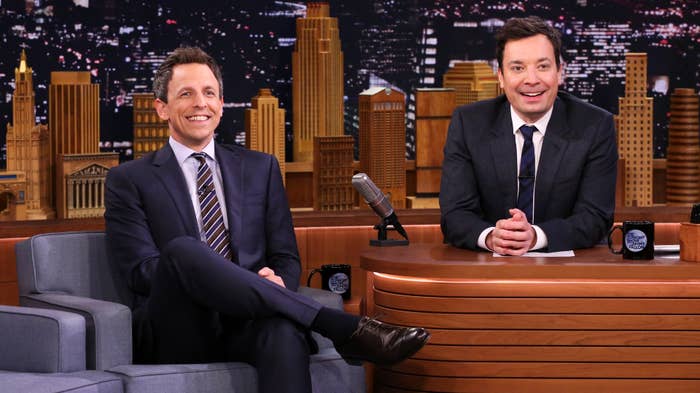 The Tonight Show and Late Night staff were informed Wednesday that NBC, along with Jimmy Fallon and Seth Meyers, will cover their pay for three weeks during the Writers Guild of America strike, which has shut down the programs.
According to The Hollywood Reporter, NBC intends on providing the first two weeks worth of pay, with Fallon and Meyers personally covering the third week for their respective employees. Health insurance was also guaranteed through September. 
The announcement was made during production calls attended by Fallon and Meyers, who do not typically participate in those meetings. 
Fallon's attendance comes one day after Sarah Kobos, senior photo research coordinator at The Tonight Show, publicly called out the host over his absence in a meeting where his own crew were initially told that NBC would only pay them for one more week, and their healthcare would expire at the end of the month.   
Kobos said she heard Meyers was in the Late Night production meeting that same day, and that he vowed to try and take care of his team when NBC no longer would. 
Kobos provided an update today with an outline of the plan for the upcoming three weeks, similar to what has been reported by THR.