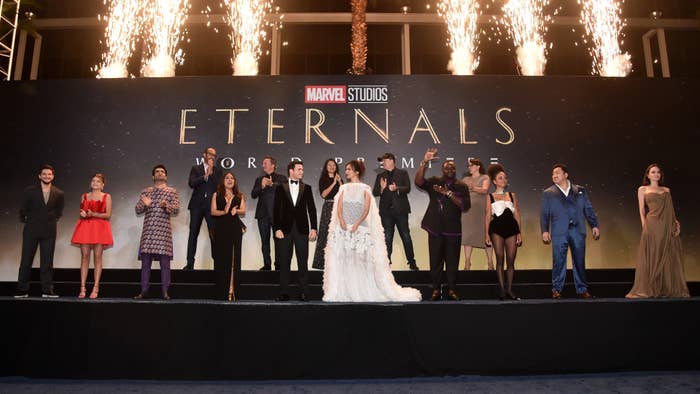 Marvel Studios held its long-awaited world premiere for Eternals in Los Angeles Monday night, and early reactions have started to come in. 
From the moment Marvel Studios announced Chloé Zhao would helm Eternals, it was an interesting choice since the studio has been known to box in directors in an effort to stick to its tried and true formula. It felt like Zhao could challenge these conventions and make a superhero film that was authentically her own.
One review from Erik Davis of Fandango and Rotten Tomatoes indicates that Marvel allowed Zhao to flourish from a visual perspective. 
Marvel Studios president Kevin Feige told Variety that Zhao "was really fighting for practical locations," as part of her vision for the film. "And I had to keep saying, 'This is right out of a camera; there's no VFX work to this at all!'" Feige said of an Eternals sample reel shown to Disney execs. "Because it was a beautiful sunset, with perfect waves and mist coming up from the shore on this giant cliffside—really impressive stuff."   
Feige later saw similarities between that Eternals sample reel and Zhao's Oscar-winning film Nomadland, leading him to the realization that she was incorporating her "signature style" into the latest Marvel Cinematic Universe entry. (Nomadland took home Best Picture in April, also earning Zhao a Best Director win and Frances McDormand one for Best Actress.)
Forbes film critic Scott Mendelson suggests that, at its best, Eternals—which has a stacked cast featuring Salma Hayek, Angelina Jolie, Gemma Chan, Kumail Nanjiani, Brian Tyree Henry, and Game of Thrones alums Richard Madden and Kit Harington—"plays like Marvel playing in the DCEU [DC Extended Universe] sandbox."   
In recent years, it appears DC has come to the conclusion that it must not try to replicate Marvel's success, and instead carve out its own lane. The approach has led to giving the likes of James Wan and Patty Jenkins the freedom to steer Aquaman and Wonder Woman, respectively, and allowing Todd Phillips to use Joker as a Trojan horse for, well…however you interpret Arthur Fleck. 
If Marvel did indeed loosen the reins for Zhao's Eternals, it's an encouraging sign of what's to come out of the MCU in Phase 4 and beyond. 
Eternals is set to hit theaters on Nov. 5 and evidently—SPOILER ALERT—features Harry Styles, whose only acting credit thus far is 2017's Dunkirk, unexpectedly appear in a potentially titanic role. The news came from Variety, the L.A. Times, and more; Complex has reached out to Styles' representative for comment. Disney president of marketing Asad Ayaz tweeted a request that early viewers not spoil the movie for everyone else.  
Get a taste of the early critical responses to Marvel's Eternals below.
Speaking about the Eternals' post-credits scenes, let's get into the one everyone is talking about. 
SPOILER ALERT
The Los Angeles Times confirms that Harry Styles makes a brief appearance as Eros a.k.a. Starfox, brother of Thanos, who is known for his carefree personality and romantic charm. It comes after a Variety reporter tweeted out the news shortly after the conclusion of the film. Disney president of marketing Asad Ayaz is asking that early viewers not spoil the movie for everyone else.