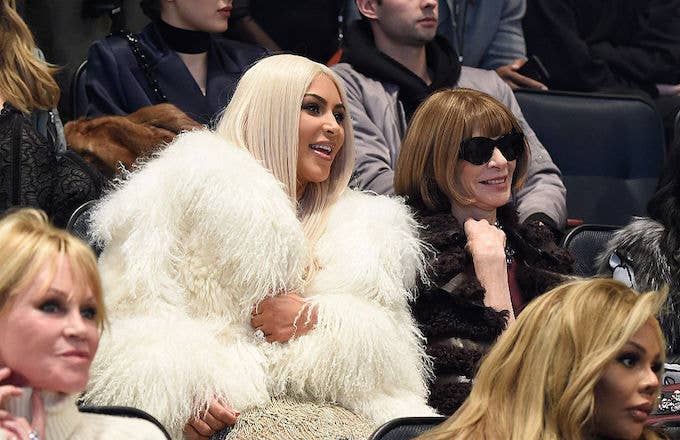 Since her appointment three decades ago, Vogue editor-in-chief Anna Wintour has become synonomous with fashion itself. As one of the most formidable, influential faces in the industry, her opinions definitely have the power to affect the way fashion is consumed, both positive and negative. In a recent Vogue episode of Go Ask Anna, one of the show's participants asked Wintour her opinion of the Kardashians' style, and given the relationship the publication has developed with the family over the years, she had nothing but praise—with the slightest hint of shade.
"What do you think about the Kardashians' style?" a participant asked Wintour.
"You have to admire how they have created an empire, obviously through their personalities, and the creative genius of their mother," the Vogue editor explained. "How they live the way they do I can't possibly understand or fathom, living so much in the public eye, but obviously it works."
Wintour went on to discuss how Kim Kardashian specifically has changed in her stylistic evolution since escalating to her current celebrity status. "Kim of all of them I feel has possibly changed the most. I personally admire the way she has become a little bit more minimal in the way that she's dressing, a little bit more covered," Wintour said.
Many likely remember when Wintour defended her decision to place Kim Kardashian and Kanye West on the cover of Vogue in 2014 after the commotion the public created. "I think if we just remain deeply tasteful and just put deeply tasteful people on the cover, it would be a rather boring magazine," she admitted at the time. 
Wintour went on to unsurprisingly applaud Kendall Jenner, who Vogue has partnered with consistently since the supermodel began her career in high fashion. "Obviously the Kardashian we've had the most experience with at Vogue is Kendall. People thought that she wouldn't last, and I give her a lot of credit for perservering in her highly successful modeling career," Wintour noted. She also expressed how Kendall is very "direct" when it comes to her professional aspirations, explaining that the Jenner sister solely wants to be a model. "She's worked hard at it, and I hope she continues."
Anna then paralleled Kendall's intentions and success to those of '90s supermodel Linda Evangelista. "She reminds me in many ways of Linda Evangelista, who was always happy being a model. I think that maybe some of the other girls who came up at the same time wanted other careers—they wanted to be actresses or entrepreneurs or hosting TV shows, whereas Linda wanted to be a model and as a result was a gift to us all. And I see Kendall in very much the same way. It's just whether, with everything else that she's doing, she can keep up the pace."
You can watch the full Go Ask Anna episode here.